"It would be time we listen to them" by Tendai Makufa
We love it when South African artist Tendai Makufa completes a new painting because we are often amongst the first to see the latest art work he has so brilliantly created.
Tendai was born in Zimbabwe (1979) but now lives in South Africa. His work arises out of his close association with his rural roots and the closeness of his people to the earth.
His paintings are alive with colour and shape which meld to create the composition of the men and women working the crop in the field.
His latest painting Free and Fair election is shown below featuring women lifting a lot of harvest. It is acrylic on canvas, 1.20 x 1.26m (2021).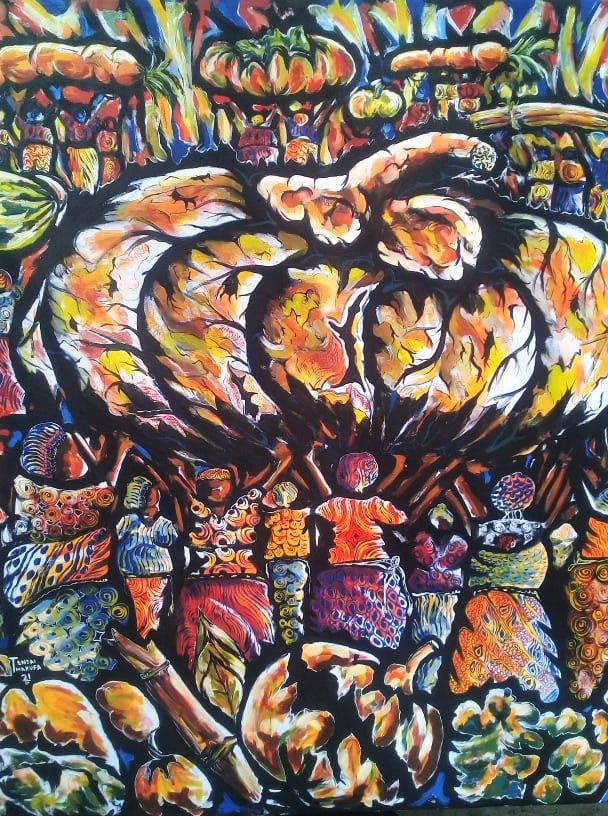 I will let Tendai Makufa speak to you about:
IT WOULD BE TIME WE LISTEN TO THEM
Long time women and men worked, curved on the earth, with their eyes full of it, until the day it closed on them. It is difficult to live like this, in accepting everything and the only thank you in Heaven. Tendai Makufa's characters did this way and they gave thanks to the Creator when the harvest was good.
A few months ago, the painter says work is the only guarantee of salvation. He knows what he's talking about, since he's from this earth. But that dialogue should also be established with the king. The women asked him for hearing. The painting was called One Voice.
This time, Tendai goes a little further. He advances on that path where the voice comes to the plural and wishes to be respected. Women have lifted a lot of harvest. It's an important fruit, they bear it, and it gives some great profit. So they don't refuse, but they want the voice heard.
The painting is called Free and Fair Elections.
The same way he figures the cheerfulness, in colors similar to his thanksgiving, Tendai Makufa painted this demonstration of justice. Women are under considerable weight, and they lift their powerful arms high. Even though some fruits fell to the ground, they keep moving forward.
In this time that wants to solve everything in submission and silence, there is an essential place to speak, whether it is capitalized or not. Free elections, free speech and movements that go with it.
Photos: T. Makufa
Contact: https://www.facebook.com/tendai.makufa
If you would like to learn more about Tendai and his paintings, check out the links to earlier posts as given below.



© Thank you to Tendai Makufa who kindly gave permission for the image and explanation of his work to be shared on AnArt4Life.