Indulging in some Escher Print Making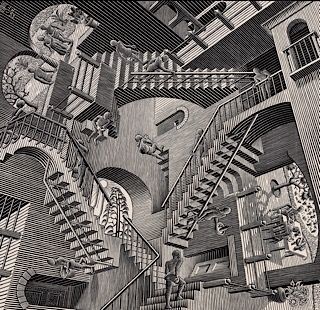 Recently Jane and I took in the Escher Between Two Worlds Exhibition which has been running at the National Gallery Victoria for some months. As you can imagine I have been to a great number of art exhibitions and without doubt this is the best exhibition I have ever been to. It was absolutely brilliant, awe-inspiring! Trevor of Canberra also saw the exhibition and found it excellent. So today I want to inspire you to take up your pencil, some pen and ink, or a chisel and have a go at creating an image. I've given details about the methods Escher used to create his prints to assist you.
One of Escher's best known works is the lithograph Relativity (1953) as shown above. To see it in the flesh is just wonderful. Try copying just a tiny section to help you enter Escher's world.
Dutch artist Maurits Cornelius Escher (1898-1972) is best known for his prints. He created mathematically inspired woodcuts, lithographs and mezzotints many of which examined perspective in the physical and natural world. I took this photo at the exhibition which summarises Escher's print making.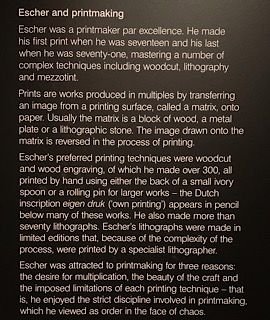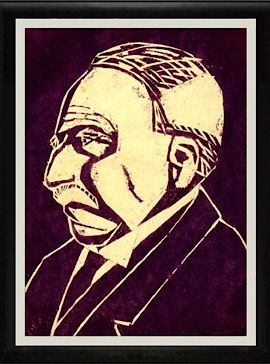 Early in his career, he drew inspiration from nature, making studies of insects, landscapes, and plants such as lichens, all of which he used as details in his artworks. (Wikipedia)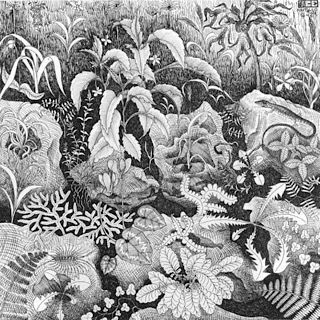 Escher traveled in Italy and Spain, sketching buildings, townscapes, architecture and the tilings of the Alhambra and the Mezquita of Cordoba, and became steadily more interested in their mathematical structure. (Wikipedia)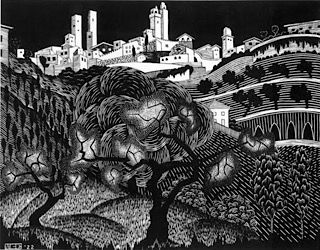 I also like Citadel of Calvi, Corsica, another Escher woodcut made in 1928.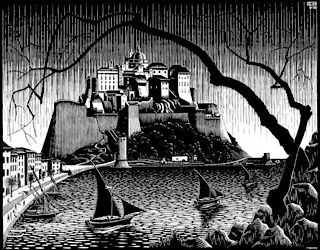 In Trajan's Column (below), a woodcut from the Nocturnal Rome Series (1934), Escher has begun to experiment with different shading techniques. In each image Escher came up with a different system of mark-making to depict the city's iconic architecture which, through harsh floodlights, turned into complex arrangements of light and shadow at night. In this striking image...beams of light emanate from a hidden source, illuminating the buildings in the background while throwing into silhouette the doomed church in the middle ground. Cleverly, Escher used the straight white lines of the light beams to create the entire composition. (Taken from the Exhibition Label)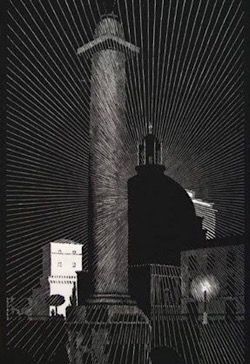 Below is a lithograph titled Fireworks made in 1933. In this print, rather than building the composition with black lines and shading on white, Escher began by spraying a tint onto the entire surface of the lithographic stone, resulting in a smith black finish. He then scratched away the lighter parts of the print-the flares of the firework piercing the night sky and the people below who look up in wonder at the spectacle, briefly lit by its glow. (Taken from the Exhibition Label)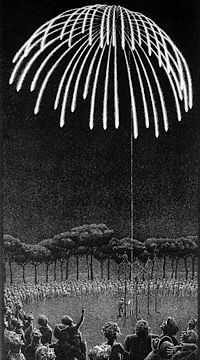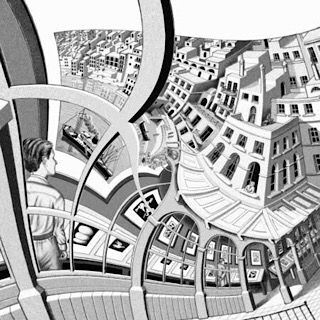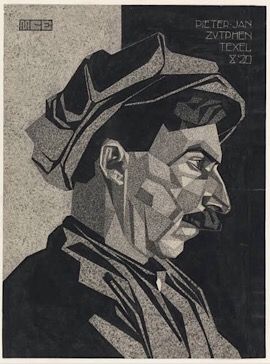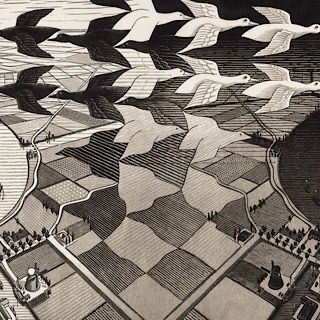 But we have looked at Escher before in the blog so you might like to check out these back posts if you are interested in his style.
M.C.Escher
And for the dedicated art lover check out the website dedicated to Escher
Tomorrow I want to explore in a little more depth how Escher perceived Reflections, Crystals & Platonic Solids.