Hudson River School Art Trail: Part Two
Moving along The Hudson River School Art Trail from yesterday's Blog. It's important to realise that this school of painters not only revolutionised the American art scene but also gave the nation a greater awareness and appreciation of their environmental wonders. Through their paintings the painters sought to capture a sense of the divine, envisioning the pristine American landscape as a new Garden of Eden. Some claim that these artists paved the way for the conservation movement and the National Park System.
Site 6: North South Lake is now part of the Catskill Forest Preserve near Palenville, New York. The lake was a favourite subject of the Hudson River School especially its founding member Thomas Cole. I would have liked to show the work of one of the other painters but couldn't find an example. Here is one of Thomas Cole's paintings titled Lake with Dead Trees.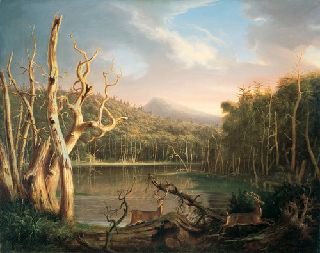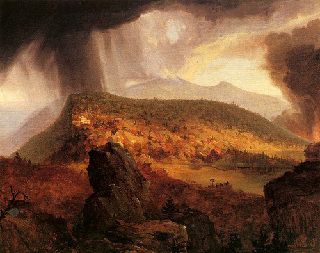 Site 8: Catskill Mountain House is a famous hotel opening in 1824 and popular with US presidents! The surrounding scenes were favoured by the artists who probably couldn't afford to stay in the hotel! And yes, here is another painting by Thomas Cole but I couldn't resist as the composition is wonderful with the hotel towering over the artist in the foreground.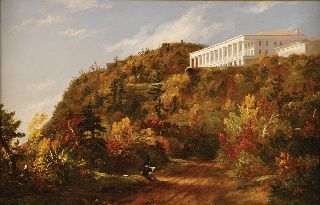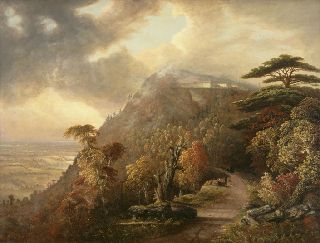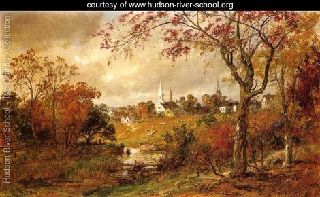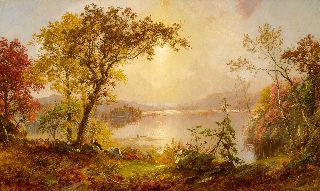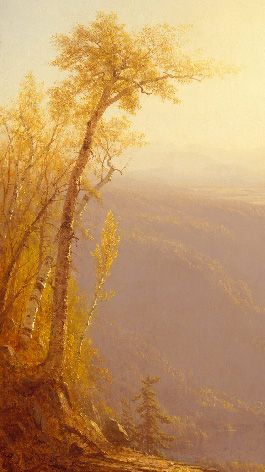 The Hero Image today is a piece of Valley of the Yosemite by Albert Bierstadt.
The Hudson River School Art Trail is a project of the Thomas Cole National Historic Site, presented in partnership with Olana, the home and workplace of Frederic Church, and with the National Park Service Rivers & Trails program, with assistance from the Greene County Tourism Promotion Department. The Trail project is funded in part by a grant from the U.S. Department of Transportation, with special thanks to Congressman John Sweeney for his support.
I'm off to stay at the Catskill Mountain House overnight. But before I go I know some of you want an answer to: Were there female painters in the Hudson River School? Yes there were but they have received almost no attention. So tomorrow before we set off for Melbourne, Victoria, Australia, we will give them some attention.
What happened to our visit to the French Riviera? Soon. I have some new subscribers coming on board who will enjoy a little saunter along Port Phillip Bay before having to trek off overseas again.