Hokusai: Old Man Crazy to Paint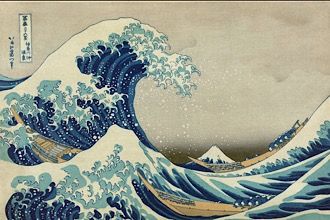 As we have been looking at the painting of water by the Australian artist John Pickup it is a natural segue to look at the Japanense artist Hokusai made famous by the woodcut print above, titled: Great Wave off Kanagawa.
Katsushika Hokusai was born in 1760 in Edo which is now Tokyo. He died in 1849 at the age of 88 years. Along with the above print he is best known for his woodblock prints showing 36 Views of Mount Fuji. I will only show you two! As our latest theme has been water I have chosen images of Mt Fuji that include water.
Mount Fuji by Katsushika Hokusai2
Mount Fuji by Katsushika Hokusai3
It is believed Hokusai's father was a mirror maker and that Hokusai was painting, (and possibly helping his father with the decoration around the mirror frame), by the time he was 6 years old.
Although he became quite famous during his lifetime he lived in poverty most of the time. He regularly moved his resting place and studio, travelling, drawing and painting, finding the greatest inspiration for his unique style through interactions with common folk and engaging with nature.4
Below is Moonlight on the Yodo River which so aptly illustrates Hokusai's close connection to his people.
Moonlight on the Yodo River by Katsushika Hokusai5
Katsushika Hokusai is regarded as one of the most influential and creative minds in the history of Japanese art. His unique social observations, innovative approach to design and mastery of the brush made him famous in the Edo-period of Japan, and globally recognised within a decade of his death. 4
He is known for painting in the Ukiyo-e style which is a genre of Japanese art from the C17th to C19th. Its artists produced woodblock prints and paintings of such subjects as female beauties; kabuki actors and sumo wrestlers; scenes from history and folk tales; travel scenes and landscapes; flora and fauna; and erotica. The term ukiyo-e (浮世絵) translates as "picture[s] of the floating world".6
From his series A Tour to the Waterfalls in Various Provinces this is The Falling Mist Waterfall at Mount Kurokami Shimotsuke Province.
The Falling Mist Waterfall at Mount Kurokami Shimotsuke Province by Katsushika Hokusai7
And from his Remarkable Views of Bridges in Various Provinces series is The Drum Bridge at Kamjeido Tenjin Shrine.
The Drum Bridge at Kamjeido Tenjin Shrine by Katsushika Hokusai8
Hokusai is also known for his Manga works, which are comic books and graphic novels. He created thousands of manga drawings, which were dedicated to realism and an accurate portrayal of life. The Hokusai Manga was initially created to attract art pupils and earn money, but they are also regarded as works of art in their own right. They include images of animals, religious figures, people, and the supernatural, and many of the drawings are humorous in nature. Hokusai created over twelve books of manga drawings, which were very popular at the time, and immediately became a success. After his death, three more books of Hokusai Manga drawings were published. 9
Here we see some images of bathers from the Hokusai Manga.
Bathers by Katsushika Hokusai9
Regrettably I have run out of time today to bring you more of the works by Hokusai so please take a look at the on-line exhibition of Hokusai works presented by the National Gallery Victoria.
Credits
1. artsology.com
2. photos.com
3. openclipart.org
4. ngv.vic,gov.au
5. fineartamerica.com
6. en.wikipedia.org
7. mfa.org
8. ukiyo-e.org
9. wikiart.org