Harbour City with Kevin McKay

Even though I live in Melbourne and love my pretty city - Sydney is one of the most spectacular cities in the world largely because of the breathtaking views across the harbour. These views, and others of urban Sydney form a large part of the oeuvre of Sydney artist Kevin McKay.
Today we are very privileged to see the latest paintings from Kevin's easel as his Harbour City exhibition opened on 26 Novemeber at Flinders Street Gallery which can be found at 61 Flinders Street Surry Hills, Sydney if you are lucky enough to be able to drop in for a look.
I'll let Kevin tell you a little more about the thought processes behind the paintings in this exhibition.
This series was inspired by sailing ventures with my brother last summer on Sydney Harbour. It was an exhilarating experience and I enjoyed the liberating sense of space in relation to the city and sky and the other elements of the harbour.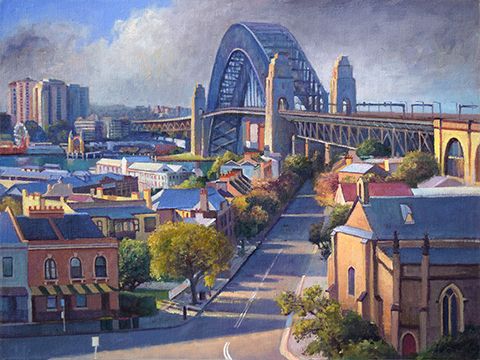 This includes its famous bridge and opera house and grinning Luna Park facade as well as its islands that have become relics of their former functions, whether that be in military service, ship building, or as convict prisons.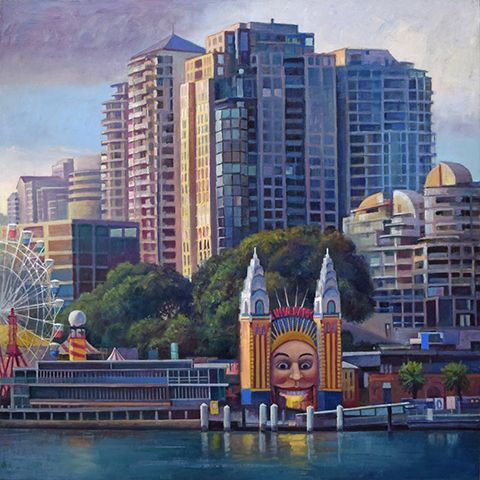 While waterside mansions possess million dollar views, I was impressed with the democratic space that the harbour provides for commuters on the iconic green and gold ferries as well as a range of leisure craft to suit all demographics. From this perspective one is very conscious of our place in the natural world and its formidable power especially when under a sail, a very old technology harnessing renewable energy.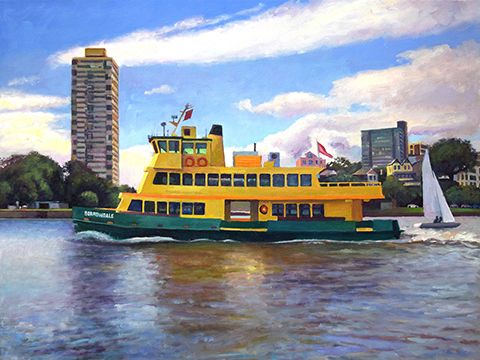 As an artist more comfortable painting streetscapes in which the architectural subject does not move, the fluid aspect of water and atmospheric skies provided a new challenge along with the motion of water craft within this flux. The end result, in places, is more painterly.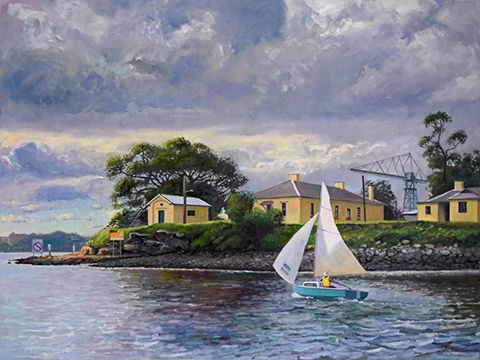 I will now tell a little more about the environment Kevin has used for his latest works - especially for our overseas subscribers and followers.
The Sydney Harbour Bridge was built by the English firm Dorman Long of Middlesbrough under the direction of John Bradfield of the New South Wales Department of Public Works and opened in 1932.1 It is an icon known universally and for good reason - it is one of the most beautiful bridges in the world in spite of being called The Coathanger locally!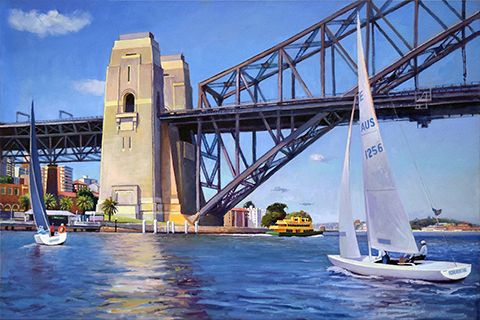 But equally iconic are the harbour ferries which have chugged courageously back and forth across the deep waters since early Europen settlement - from oar power, to paddle steamers, diesel power and with recent plans to convert the fleet to electric power.1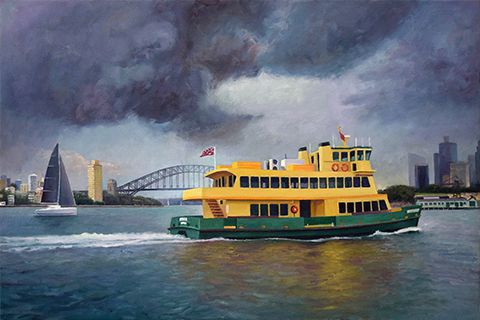 As Kevin explained to us, much of the motivation behind this series of paintings came from sailing on the harbour with his brother. Yachts are as iconic in Sydney as the ferries especially as one of the most dangerous yacht races in the world starts in Sydney on Boxing Day each year.
The Rolex Sydney Hobart Yacht Race creates one of the most spectacular scenes you can imagine as the maxi yachts are shepherded across the harbour and out into the Pacific Ocean on the way down south to Hobart by hundreds of small yachts.
Kevin has featured much of the water craft icons in his paintings because daily life in Sydney is framed by water and sea vessels.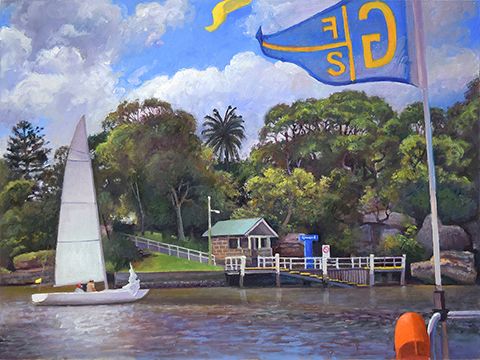 The land and shorline around the harbour is equally magnificent with majestic private homes forming the audience to the breathtaking scene. Down on the shoreline much is going on that defines the daily life of folk who are fortunate enough to live this life. Boatsheds.....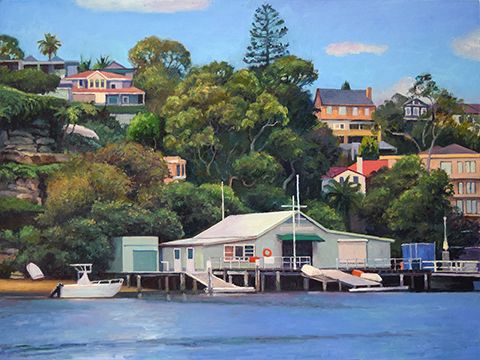 Buoys to protect those who love to sail...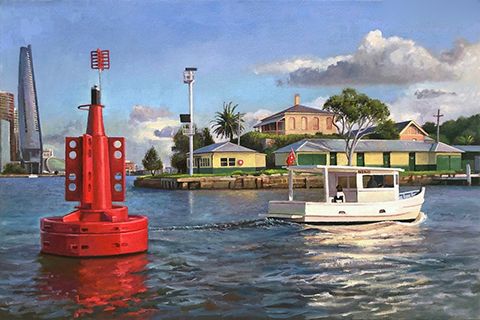 Even a dry dock is captured by this astute artist as this is part of the history and narrative of the harbour.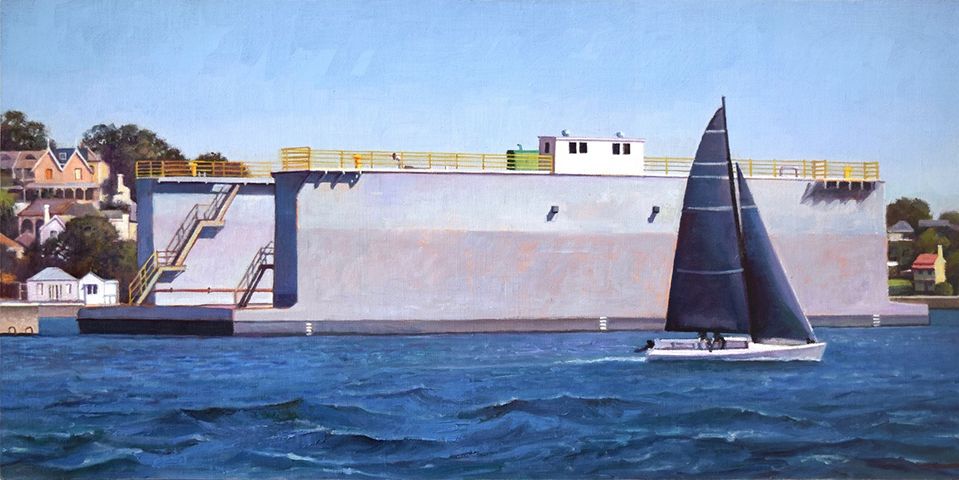 Life guard stations... as Australians love to swim as much as to sail.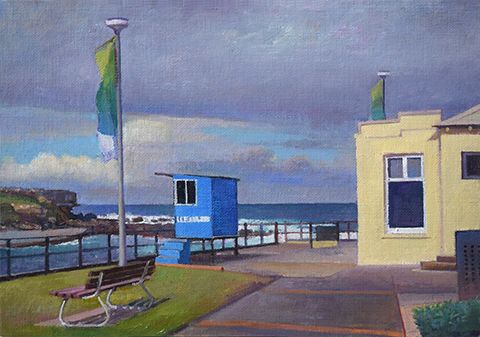 Kevin's keen eye spots a building being renovated adding to the narrative which always forms the warp and weft of his images.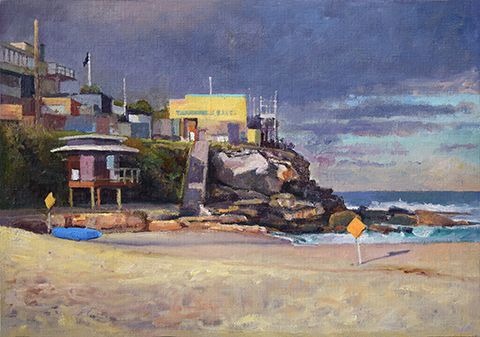 As a plein air painter himself Kevin's exhibition would not be complete without recognition of the iconic figure of the lone artist - caputured and capturing the beauty of this glorious environment.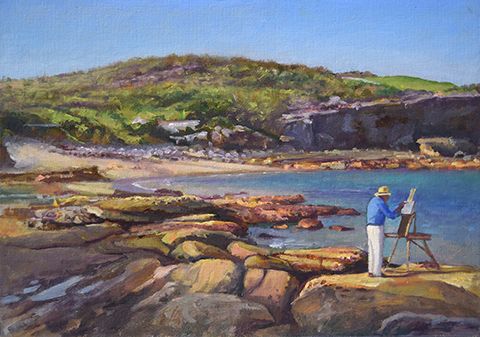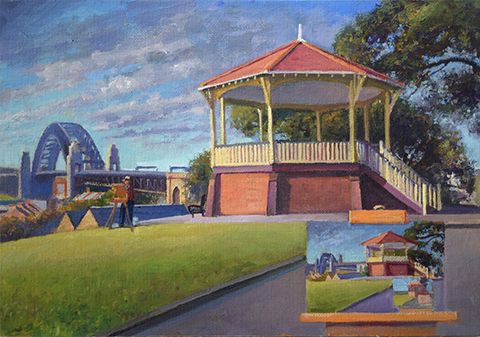 Kevin chooses the composition for his paintings deliberately often because they are central to the history of the city. Cockatoo Island as featured below is a UNESCO World Heritage Site at the junction of the Parramatta and Lane Cove River in Sydney Harbour....Between 1839 and 1869, Cockatoo Island operated as a convict penal establishment, primarily as a place of secondary punishment for convicts who had re-offended in the colonies.1
Cockatoo Island was also the site of one of Australia's biggest shipyards, operating between 1857 and 1991. The first of its two dry docks was built by convicts. Listed on the National Heritage List, the island is significant for its demonstration of the characteristics of a long-running dockyard and shipbuilding complex, including evidence of key functions, structures and operational layout. Cockatoo Island contains the nation's most extensive and varied record of shipbuilding, and has the potential to enhance understanding of maritime and heavy industrial processes in Australia from the mid-19th century.1
In July 2010, UNESCO proclaimed Cockatoo Island as a World Heritage Site, and has been managed by the Sydney Harbour Federation Trust since 2001.1

I am sure you will all agree - a most wonderful narrative visual record of Harbour City life in all its dimensions and signifance. Congratulations Kevin and we all wish you great success at the exhibition.
Sydneysiders - please do drop in to Flinders Street Gallery at 61 Flinders Street Surry Hills to view Kevin's Harbour City which is on show until 17 December 2022.
© Thank you to Kevin McKay who kindly gave permission for the images of his work to be shared on AnArt4Life.
If you would like to see more paintings by Kevin please visit his website by clicking here.
Please use the search icon on the menu at the top of each post if you would like to peruse past posts from the AnArt4Life blog showcasing more of the artistic work by Kevin McKay.
Credit
1. en.wikipedia.org