Happy Mother's Day in recognition of Anna Marie Jarvis, Julia Ward Howe & Janet Heyden
The recognition of the role played by women in our lives commenced with the work and dedication of three women:
Julia Ward Howe, Anna Marie Jarvis and Janet Heyden.
The modern Australian celebration of Mother's Day actually grew out of calls for peace and anti-war campaigns following the American Civil War (1861-65).1
In 1870, American writer and women's rights activist Julia Ward Howe, best known as the author of the Battle Hymn of the Republic, appealed to women to unite and bring peace throughout the world (later known as the Mother's Day Proclamation).
She proposed that a mother's day for peace be commemorated every year in June.1
But the idea of a mother's day did not gain traction until 1908, when West Virginia woman Anna Marie Jarvis held a church memorial to honour the legacy of her mother, Ann Reeves Jarvis.1
Ann Jarvis had been a peace activist who nursed wounded soldiers during the Civil War and created mother's day work clubs to address public health issues.1
Anna Jarvis wanted to continue her mother's work and pushed to have a day set aside to honour all mothers.1
In 1914 her campaigning paid off, when US president Woodrow Wilson officially declared the second Sunday in May to be Mother's Day.1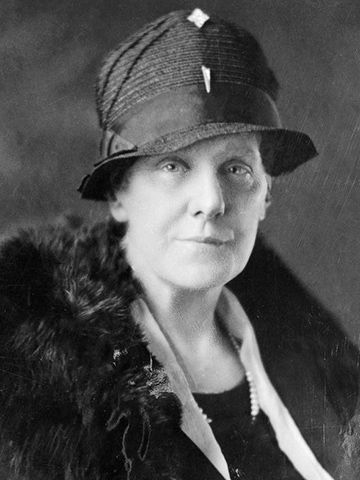 But it was not until 1924, following the losses of World War I, that Mother's Day was first held in Australia.
Sydney woman Janet Heyden started the tradition after becoming concerned for the lonely, forgotten aged mothers at Newington State Hospital where she regularly visited a friend.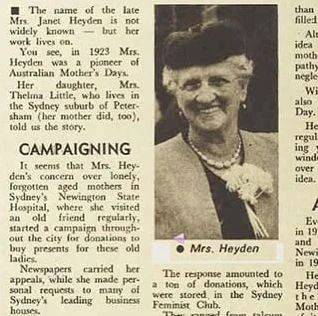 She successfully campaigned for local schools and businesses to donate gifts to the ladies.1
"There were so many mothers who were no longer mothers, so many wives who were now widowed because of WW1, and there were also so many women who never had the prospect of becoming mothers or wives because a whole generation had been wiped out in the trenches of the Western Front," Professor Waterhouse said.1
"There was this mood for Mother's Day, and the American Mother's Day fitted better than other mother's days that were celebrated in other countries."1
In Hobart, Tasmania, Australia there are four statues created in recognition of almost 13,000 convict women and more than 2,000 free children who arrived in Van Diemen's Land from 1803 to 1853.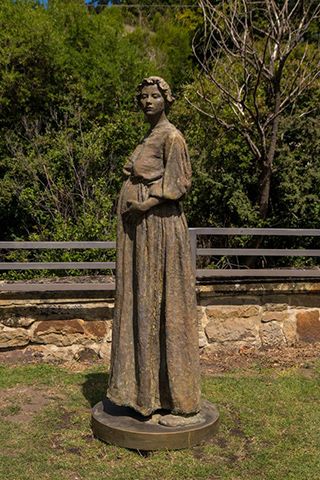 Follow these bookmark links to learn more about these wonderful statues to women in Australian history.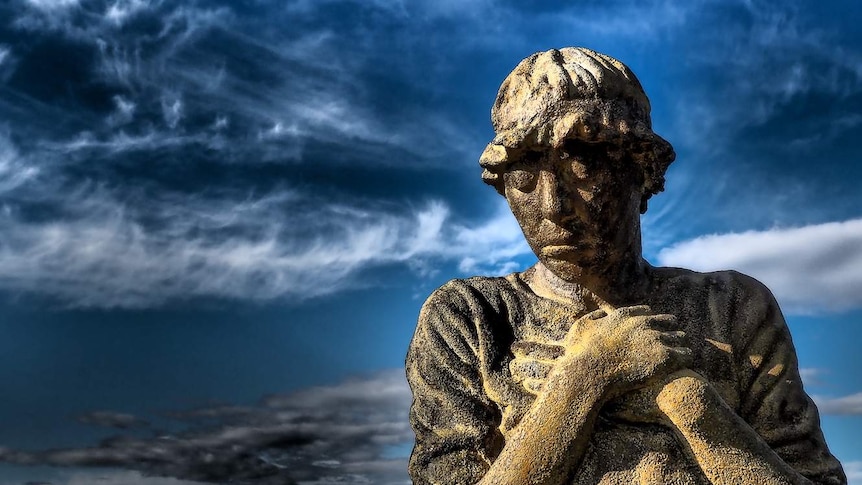 Late Mail
On my walk around Broken Hill before farewelling this memorable mining city I came upon the memorial shown below dedicated to:
The women of Broken Hill who have stood by their men during troubled industrial times.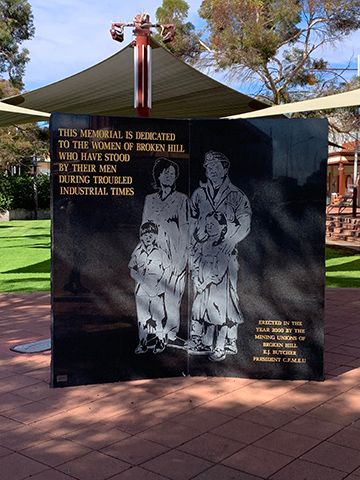 Mothers, Grandmothers, Aunts, Sisters, Godmothers, Friends: Thank you
It's Mother's Day here in Australia and in the USA and we celebrate all women who have made and continue to make our lives so rich and fulfilled.
Credits
1. abc.net.au
2. commons.wikimedia.org
3. mamamia.com.au
4. heritage.tas.gov.au