Gustave Caillebotte - a benevolent friend.
Today I am writing about another of the Impressionists but before I do so I would like to welcome a new subscriber - E.O. of Virginia, USA.
You may not have heard of this Impressionist, yet he was a man of many talents and diverse interests besides painting, including yacht building, boat racing, gardening, photography, textile design and stamp collecting. He inherited substantial wealth at quite a young age, which he used to help and promote his struggling artistic friends, as well as funding his hobbies. (Source: Wikipedia)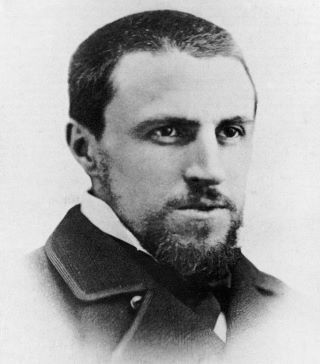 I wanted to write about him as he kept "bobbing up" in my research on some of the other Impressionists, particularly Monet and Renoir, with whom he was good friends, despite being quite a few years younger than them both.
Gustave Caillebotte (pronounced "Kay-bot-te) was lucky enough to be born into a wealthy family, on 19th August 1848. Whilst he sketched and drew as a child, he followed an academic path, obtaining degrees in both engineering and law, (so he was obviously clever). However, his artistic aspirations were never quite forgotten despite his academic achievements. But just as he had earned his certificate to practice law, the Franco-Prussian war began and he was called up to serve in the National Guard (the defence force), as did Degas and Manet. So, both his career and his artistic bent were temporarily shelved.
After the war finished in May, 1871, the Impressionists slowly returned to Paris from either serving in the war, or from their various exiles in safety. Claude Monet had fled to London, but returned with a new appreciation of freedom and "en plein air" painting. He acquired a boat from which he could study and paint the effects of light and reflections on the water. The Caillebotte family had an estate at Yerres, not far from Argenteuil, on the Seine, and it was here, in 1872, out boating, that Caillebotte met Monet, and was inspired to take up his painting again. He also met Renoir and the three became good friends.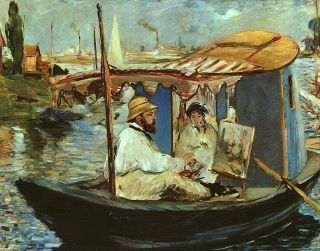 Monet and Renoir had many idyllic times together, painting side by side at Argenteuil. You may remember these two paintings (below) that I included in the blog on Renoir, of exactly the same scene there, (top left, Monet and top right, Renoir). Caillebotte later also painted the same scene, (below, left and right)!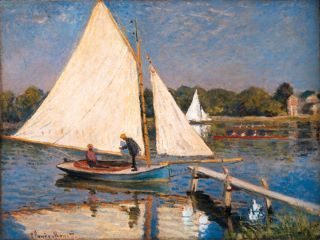 In 1874, when he was just 26, Caillebotte inherited substantial wealth from his father (built up from the family's military textile business as well as astute property investment) and so he never needed to work again. Instead, he was able to concentrate on his art full time, and fund his many other interests and hobbies. He also began to build a substantial collection of the work of his various friends. But more about that later.
In 1875, Caillebotte submitted a painting The Floor Planers to The Salon. It was rejected as being too crude and vulgar. The Impressionists, by contrast, praised and admired his work, which spurred him on to develop his own style, and align himself with them in rejecting the academic, classical style required by The Salon.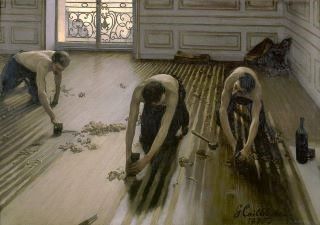 Caillebotte appreciated the friendship and support of the Impressionists, and so he chose to use his wealth to help his struggling artist friends. He funded many of their exhibitions, which he also participated in, and started to buy a substantial number of their paintings, (at an inflated price), to provide them with some income.
Whilst influenced by the Impressionists, Caillebotte had his own more realistic style, and painted many diverse subjects of still lifes, people, street scenes and landscapes, many depicting his beloved pastime of boating. His style became known as Realism or Neo-Impressionism. Do you like his work? Can you see how his style differs from that of the other impressionists?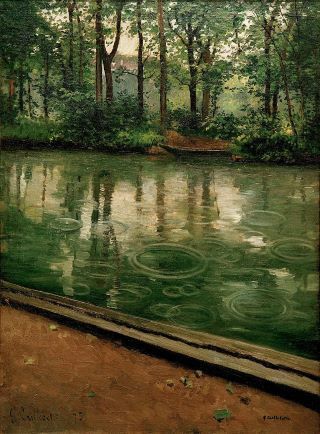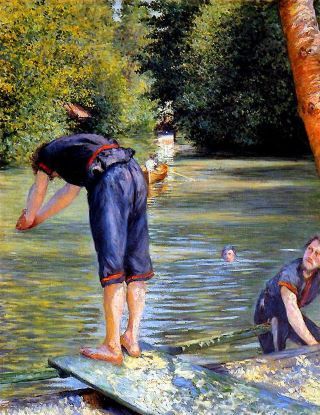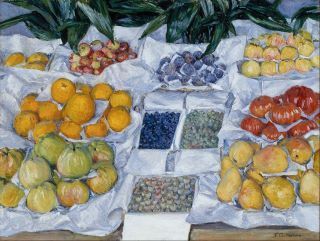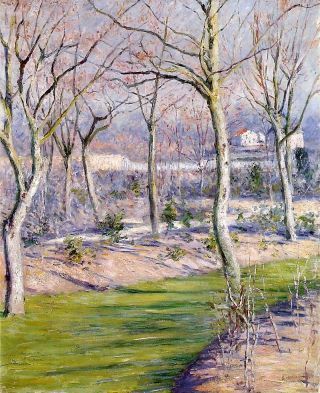 In 1881, Caillebotte acquired a property at Petit-Gennevilliers, on the banks of the Seine near Argenteuil, and he moved there permanently in 1888. He ceased showing his work at age 34 and devoted himself to gardening, in particular growing orchids, and to building and racing yachts. He spent a lot of time with his youngest brother, Martial, and his friend Pierre Renoir. Renoir often came to stay at Petit-Gennevilliers, and they engaged in far-ranging discussions on art, politics, literature, and philosophy.
In fact, you may recall that Caillebotte was one of the figures in Renoir's 1881 painting, Luncheon of the Boating Party. He is on the bottom right.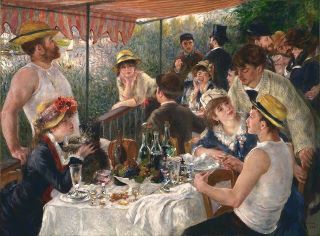 Caillebotte had two brothers, the youngest of whom, Rene, died at the young age of only 26. Caillebotte was then convinced that he himself would also die young, and wrote his Will while only in his twenties. Unfortunately, Gustave was right about his own demise. He died of pulmonary congestion whilst working in his garden, on 21st of February, 1894, aged only 45.
He had nominated Renoir to be his Executor, and left his purchased art collection of some seventy paintings to the French government, to be enjoyed by the general public. Many people today credit the prominence of the Impressionists to him, in leaving his collection to be accessible to all.
It is also said that Caillebotte is not as well-known as many of the other Impressionists as his own paintings were left to family, and not included in his government bequest. His art was stored away and largely forgotten until the 1950s, when his descendants began to sell the family collection.
Seventy years after his death, however, art historians began re-evaluating his artistic contributions. His striking use of varying perspective is particularly admirable and sets him apart from his peers. Perhaps his most famous, and most analysed, work is Paris Street – Rainy Day which is still a major drawcard at the Chicago Art Institute since it was bought in 1964. This painting also plays a prominent role in the 1986 film, Ferris Bueller's Day Off, written and directed by John Hughes and starring Matthew Broderick.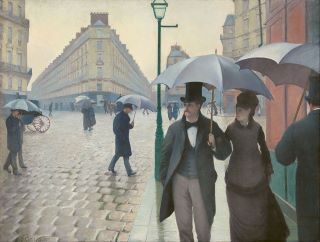 Caillebotte had also inherited a substantial stamp collection from his father, which he and his brother, Martial, added to. After his death, Gustave was inscribed in the Roll of Distinguished Philatelists, and the impressive collection he had formed with his brother Martial is now in the British Library.
Caillebotte didn't ever marry, but appears to have had a serious relationship with Charlotte Berthier, a woman eleven years his junior and of the lower class, to whom he left a sizeable annuity.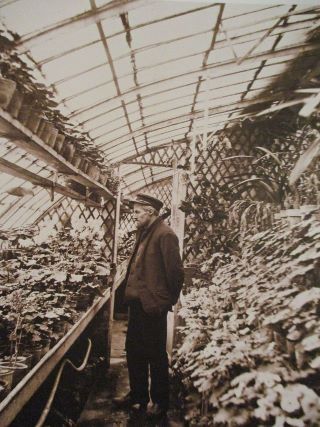 Gustave Caillebotte is buried at the famous Pere Lachaise cemetery in Paris, which I was able to visit when I was in Paris in September 2019.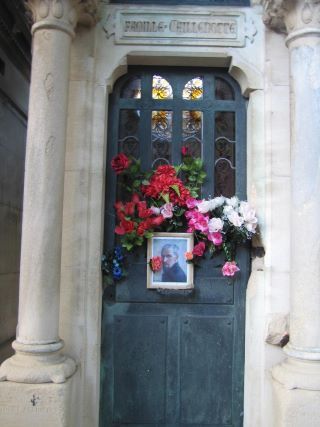 If you would like to read more detail about Gustave Caillebotte, click here.
If you would like to read our earlier blog about Pierre Auguste Renoir, Click here.
If you would like to make a comment about the blog, please do so below: