Gog and Magog – Keeping watch in Melbourne for 130 years
In a recent post about window displays, we mentioned The Royal Arcade in Melbourne, the oldest shopping arcade in Australia, which dates back to the 1870s. It connects Bourke Street Mall (home of the Myer Christmas windows) to Little Collins Street, with a side offshoot to Elizabeth Street.
Due to its significance, the Arcade is listed on the Victorian Heritage Register, as well as by the National Trust of Australia.
It holds a special place in the hearts of many Melburnians because it has changed very little since the 1890s. All the shop fronts were made into bow fronted windows between 1890-1894 and various central kiosks were added. The main alteration was in 1934 when the wooden floor was replaced by the black and white tiles which remain today. You can read more about the Royal Arcade here.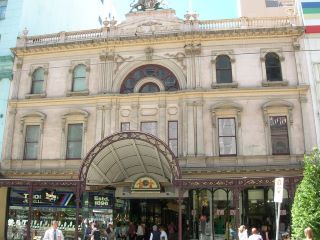 But apart from the nostalgia of the arcade itself, many visitors come to the Royal arcade to see the big statues of Gog and Magog, which have graced the southern end of the arcade (the Little Collins Street end) since 1892. Gog and Magog are seven foot tall statues which were installed by clock and instrument maker Thomas Ambrose Gaunt ( 1829 – 1890) on either side of an enormous clock.
Every hour on the hour, Gog and Magog strike the bells with their arms. Even today, people gather in the Royal Arcade to see this spectacle.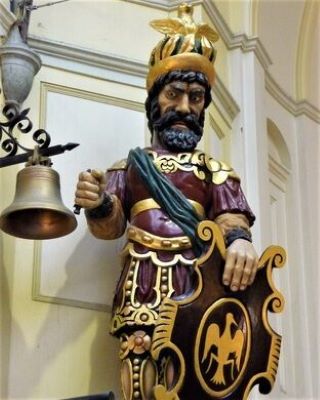 But who were Gog and Magog? Well, there are a number of different references to them.
Gog and Magog feature in the Hebrew Bible, Gog as the prophesied invader of Israel (a man) and Magog as the land from which he came. In the Christian New Testament they appear as evil forces opposed to the people of God. Although biblical references to Gog and Magog are relatively few, they assumed an important place in apocalyptic literature and medieval legend. They are also discussed in the Qurʾān (known as Yājūj and Mājūj in Islamic mythology). 1 There is more detail about the religious references here.
Another separate legend of Gog and Magog surrounds two nine foot wooden effigies in the Guildhall, London. The Guildhall dates back to the Romans and in Saxon times, it was the place where you came to pay your taxes. The current Guildhall building was completed in 1440, and is still used for official functions today.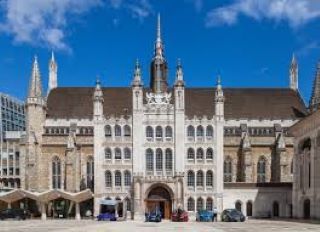 The Guildhall statues of Gog and Magog are thought to represent two giants who were taken to London to serve as porters at the gate of the royal palace after their race was destroyed by Brutus the Trojan, the legendary founder of London (Troia Nova, or New Troy). Effigies of Gog and Magog have existed in London from the time of Henry V (who reigned 1413–22). The first figures were destroyed in the Great Fire (1666) and were replaced in 1708. The second pair was destroyed in a German air raid in 1940 and again replaced in 1953. 1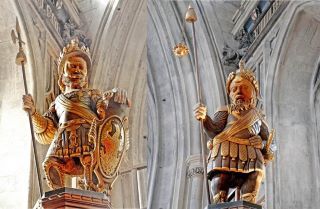 In Melbourne, Thomas Gaunt had the two statues in the Royal Arcade carved in pine by a man named Mortimer Godfrey. They were modelled on the figures in the Guildhall in London. It's not known why Gaunt decided to do this, but as he also had his workshop at that same south end of the Arcade as Gog and Magog and the large clock had T. Gaunt & Co written across its face, we can only assume it would have been very good advertising for his business and a fabulous demonstration of his clock and instrument making capabilities, which were considerable!
For example, in 1876, Thomas Gaunt built the chronograph used for timing races at Flemington Racecourse, which was accurate to a quarter of a second! In 1885 he built and patented an electric board system which ensured that notification of race scratchings was made simultaneously throughout the course as soon as notified to the secretary.2 Amazing technology for the times, don't you think!
Scientific instruments produced by the company included instruments to both measure and chart temperature and humidity as well as mercury-in-glass barometers and thermometers. T Gaunt & Co. also manufactured ten of the Caulfield (race) Cups, as well as gold and silver religious jewellery and ornaments, notably for St Patrick's Cathedral in Melbourne, as Gaunt was a prominent Catholic. 2
Thomas Gaunt made many public clocks and we know he had many clockmakers working for him, some for up to 30 years. We are lucky enough to know exactly who made the clock in the Royal Arcade - it was made by German-born Johann Friedrich Wilhelm Ziegeler, the great grandfather of one of our Facebook Followers, Gayle Neylan. At this point in his career Ziegeler was working for Thomas Gaunt. We will return to look at the Ziegeler clocks in another post.
Pictured below, on the top left, is the original clocktower of the 1880s at Flinders Street station. This clock now resides at the Scienceworks museum, in Spotswood, Melbourne. The current clock was also made by Ziegeler and was installed in the current building on Elizabeth Street in 1907, and the photo on the right was taken not long after it was installed. (Don't you love these old photos of yesteryear with their horses and carts!)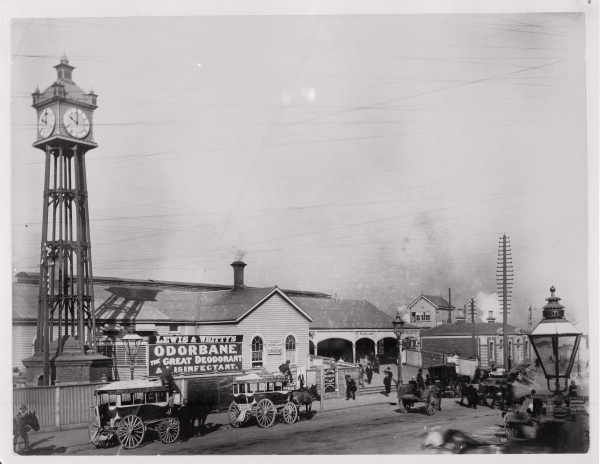 But to return to Gog and Magog. It is a testament to the meticulous clockmaking skills of that era that Gog and Magog still perform their ritual every hour, just as they have since 1892! Let's hope they continue to stand guard over the Royal Arcade for at least another 130 years!
You might like to watch this short video of Gog and Magog in action, just discernible above the spectator din!
Footnotes
With thanks to
Britannica.com
Wikipedia
Late Mail
A shout out from DownUnder to our newest subscriber - David in Ireland - we do hope you enjoy receiving our daily art offering.