Gloria Keh: Part Two - the Artistic Process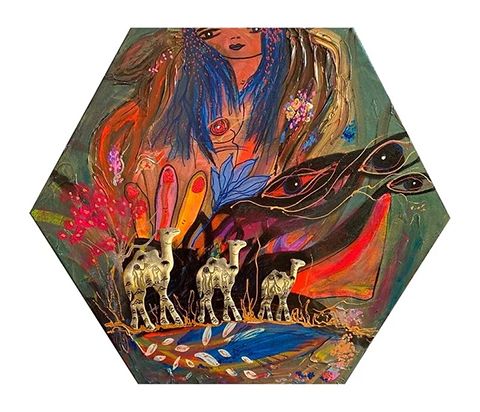 Yesterday we began to look more closely at the paintings being created by Singapore artist Gloria Keh whom we first met in the AnArt4Life September 2022 Mailbag.
Today we are going to begin to learn more about Gloria's creative process and the thoughts behind her vibrant works which dance out to meet you and take you in and on a journey with her passion and ideals.
We can glean much about Gloria from a couple interviews conducted by the Contemporary Art Curator Magazine2. First Gloria was asked: What kind of artist do you ultimately see yourself?
In answer Gloria said:
An artist of freedom. To paint without having to concern myself with selling. I just love to paint but dont like the marketing aspect of it. I hate competition. Thankfully, now at 69, I do not have to paint for a livlihood. All my artworks are sold to support charities. But sadly certain types of art sells, and because I raise money for charities through the sales of my art, I need to paint things like flowers, portraitures, landscapes etc. Dont get me wrong, I love flowers, but my real love is to just paint abstracts. I hope one day the demand for my abstracts will outweigh the popularity of my flowers, and recognisable art.2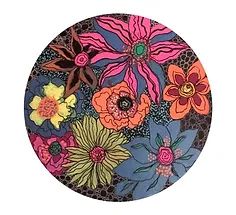 Gloria was then asked: What are you hoping to communicate to the viewer through your work?
Gloria responded: Depends on my subject matter. With some paintings, the purpose is to ignite an energy to uplift. With some works, it is hoped to instill feelings of peace. And with some works, the message would be an appeal for support of some issue; eg empowering women, standing up against war or animal abuse. Always aimed at increasing overall awareness. But when I paint abstracts, I hope the work will stimulate the minds of viewers to stir emotions, and ponderings: to allow the forms and colors to transport their minds to different realms. To finally just have that little glimpse that transcends thought and the intellect. To just arrive in a stillness state of being. A state of no-mind.2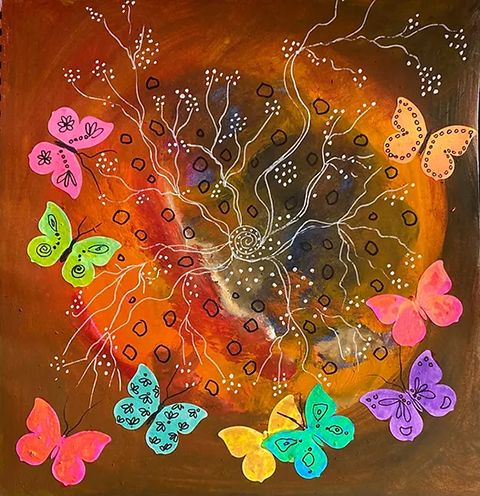 It is fascinating to be able to learn how an artist goes about creating a work of art and through the interview in the Contemporary Art Curator Magazine Gloria shared some of the process when she said:
I paint from intuition. I do not sketch on the canvas. I have a ritual using paints to first 'bless' the blank canvas. Then I invoke the spirit of that canvas to work with me in the creation of a painting. I talk to my paintings. Of course, I have an idea in mind; usually I have pre selected my colors, but as Picasso said the painting is more powerful than me. The painting usually has a mind of its own and calls the shots. I am just the servant - as someone had to hold the brush. And clean up after the painting. I keep a daily art journal and I firmly believe this essential practice forms a springboard for my larger works on canvas.2
To read the full interview published in the Contemporary Art Curator Magazine please click here.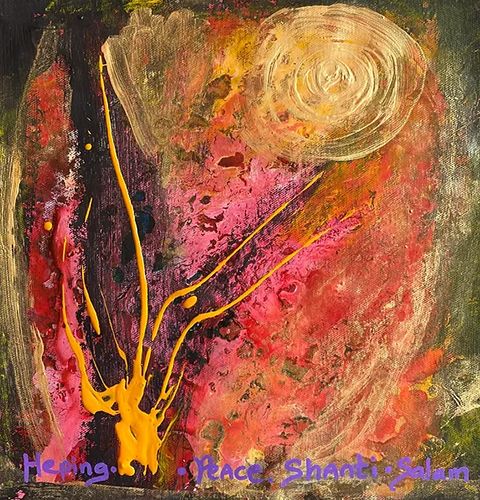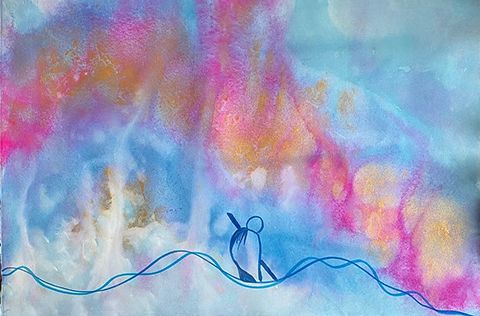 In 2022 the Contemporary Art Curator Magazine again interviewed Gloria, this time about her current projects and inspirations for the near future, her new art project titled Environmental Series. 2
The paintings below are both part of Gloria's Environmental Series which was launched in May 2022 in South Korea. Art with a Purpose seems to be very much an essential part of Gloria's oeuvre.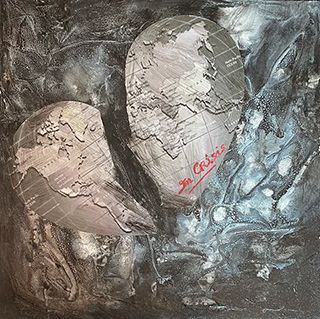 To learn more about Gloria as an artist you can read the whole interview here and also see further paintings on the environmental theme.
Before we conclude this post, a little about Gloria's relentless passion and commitment to raise money for charities dear to her heart through the sale of her paintings. My research has revealed Gloria's generosity is spread across an extensive field of deserving organisations and appeals.
Below is an example where Gloria donated three paintings in support of the Cerebral Palsy Alliance Singapore.

And these four paintings were successfully sold with the proceeds going to Lakeside Family Services, a Singaporean charity serving the local community.

We introduced you to Gloria Keh yesterday by saying this remarkable woman is more than an artist. If you would like to learn a little more, please read this delightful interview with Gloria Keh: the woman, and not so much the artist can be found by clicking here.
Gloria's vibrancy and versatility is contagious and I will leave you with her painting of Mexican artist Frida Kahlo - another artist who painted her journey and passions from the heart.
If you use the search icon on the AnArt4Life website you will find several posts we have also written on Frida.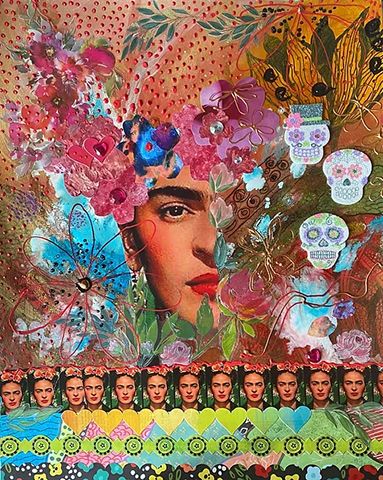 © Thank you to Gloria Keh who kindly gave permission for the images of her work to be shared on AnArt4Life.
Facebook users can follow Gloria on her page as Gloria Fu Keh.
Instagram users can follow Gloria here.
And a direct link to the website of Gloria Keh can be found here.
I am sure we will be showcasing more inspiring works from Gloria Teh in the not too distant future. And both Gloria and the AnArt4Life team will appreciate any responses left in the comments box below.
Credits
1.Art by Gloria Keh (gloriakeh.com)
2.contemporaryartcuratormagazine.com