Games, fun and food over Easter!
Today we thought we would have a look at some of the games played over Easter, and some of the traditional food from around the world that is usually eaten over the holiday.
(Sourced from Wikipedia. Images are courtesy of Unsplash unless otherwise stated).
Egg games
Many of us will be familiar with the Egg Hunt. But the types of decorated eggs do vary around the world - they can be hard-boiled chicken eggs, chocolate eggs, or artificial eggs containing candies.
The eggs may be hidden both indoors and outdoors for children (of all ages!) to find. When the hunt is over, prizes may be given for the largest number of eggs collected, or for the largest or the smallest egg. This German tradition was fostered in England by Queen Victoria, whose German-born mother instigated the tradition for her children and it spread to other countries of the Empire. In Australia, there is often great excitment to go outside on Easter morning to see if the Easter Bunny has been!
My fellow bloggers, Jane and Caroline, and their mother, Elisabeth, are of Dutch descent, and they remember, as children, the excitement of searching the garden for eggs - coloured and decorated by their father.
Then the competition began! Who would survive the egg hitting with an unbroken egg? There is a knack – which is a closely hidden secret by Jane, Caroline and Elisabeth!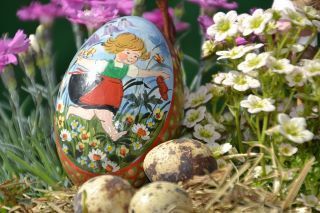 Egg rolling is also a traditional Easter egg game played with hard boiled eggs. In the United Kingdom, Germany, and other countries, children traditionally rolled eggs down hillsides. This tradition was taken to the New World by European settlers, and continues to this day with an Easter egg roll along the lawns of White House on Easter Monday.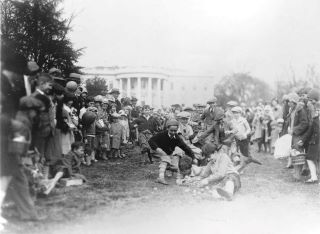 The Egg dance is a traditional Easter game in which eggs are laid on the ground or floor and the goal is to dance among them without damaging any eggs. It originated in Germany. In the UK the dance is called the hop-egg.
In England, the Pace Egg plays are held over Easter. They are traditional village plays, with a rebirth theme. The drama takes the form of a combat between the hero and villain, in which the hero is killed and brought back to life.
In many European countries, including Italy, Bulgaria, Hungary, Croatia, Latvia, Lithuania, Lebanon, Macedonia, Romania, Serbia, Slovenia, Ukraine, Georgia, Russia, parts of Austria, Bavaria and German-speaking Switzerland, Cyprus, and Greece, decorated eggs are used as decorations around the house. Then, on Easter Day, young kids would duel with them, breaking and eating them. In other countries, on Easter Sunday, friends and family hit each other's egg with their own. The one whose egg does not break is believed to have good luck in the future.
In the North of England, during Eastertide, this traditional game is also played, with hard boiled pace eggs. They are distributed and each player hits the other player's egg with their own. This is known as "egg tapping", "egg dumping", or "egg jarping". The winner is the holder of the last intact egg.
The annual egg jarping world championship is held every year over Easter in Peterlee, Durham, UK!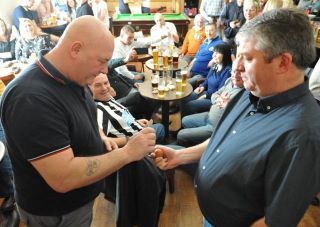 And of course, with so much activity over Easter, there is a need for some pretty special food!
In Greece, the traditional Easter meal is Magiritsa soup, a hearty stew of chopped lamb liver and wild greens seasoned with egg-and-lemon sauce. In other European countries countries, roast lamb with vegetables is the traditional Easter fare. In places such as Austria and America, an Easter Ham is traditional. In Brazil and other South American countries, the famous Feijoada stew is eaten. It is made of beans, beef and pork, and served with rice and assorted sausages.
Then for the sweet tooth, there is the sweet bread, Cozonac, found throughout Europe, but called different things. Sometimes, as in Italy and Greece, it is braided, and in some countries, sultanas and spices are added. In Poland it is called the Babka, and chocolate, cinnamon sugar, apples, sweet cheese, Nutella, or raisins are added, and it is then topped with a sugar syrup in order to preserve freshness and make the cake more moist. There are also Paczki, Easter doughnuts. In Brazil, an Easter dessert is Quindims, which are gel-like circular custards made with egg yolks, butter, grated coconut, and sugar.
In United Kingdom, Ireland, Australia, India, Canada, New Zealand, South Africa, the United States and some parts of the Americas, Hot Cross Buns are eaten from Good Friday onwards. This is a sweet fruit bun with a white cross marked on the top, though there are also many variations to it available in these commercial days.
In the UK, a traditional Easter fruit cake is the Simnel cake. Can you match the descriptions with the pictures below? Do you have any other Easter foods or games that have not been mentioned here?
And of course, in many countries, there are also copious amounts of chocolate eaten!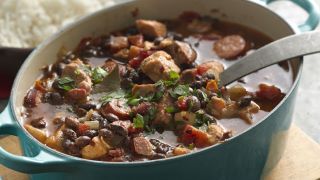 A few years ago, our co-blogger, Jane, enjoyed an Easter with a Polish family. On Easter Saturday, baskets were prepared - lined with a white linen or lace napkin and decorated with sprigs of boxwood (bukszpan), the baskets would often contain a sampling of Easter foods: pisanki, a piece of sausage or ham, salt and pepper, bread, a piece of cake and boiled eggs – one painted by each member of the family. This was then brought to church to be blessed on Easter Sunday. Then, after Mass, we gathered to eat breakfast. Before the meal, we shared wedges of the blessed Easter eggs from the basket and exchanged wishes - Wesołego Alleluja -Joyful Hallelujah. It was a special and memorable Easter for Jane!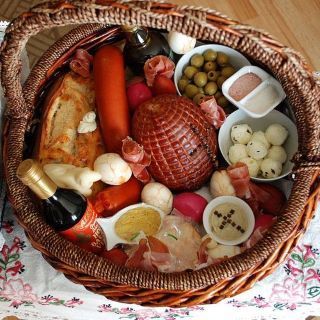 </div>
We know that wherever you are in the world, Easter is probably not the same as usual this year. Nevertheless, we hope that you are still able to enjoy a little of your special traditions.....