Friday's Feature: The Ninth Wave
I want Friday to be the day we show you just one Creative Feature for you to think about. It might be a sculpture, a painting, an installation, a cartoon, a photograph, a building. And we welcome submissions.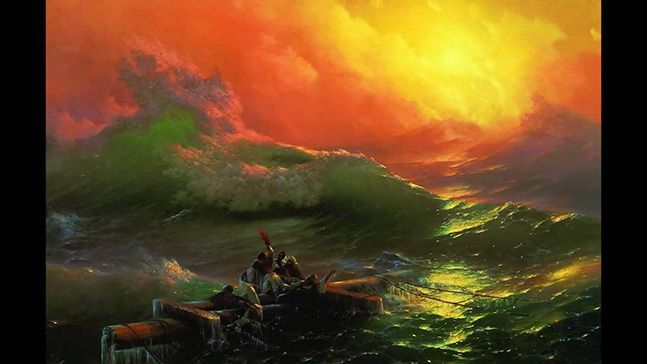 Today's feature is a painting that was voted as the fifth best painting of all time and is titled The Ninth Wave created in 1850 by Russian Armenian marine painter Ivan Aivazovsky. It is considered to be his best work and hangs in the State Russian Museum, St. Petersburg.
The Ninth Wave is a huge oil on canvas painting measuring nearly 11 feet (3.3 meters) by 7 feet (2.2 meters).
The Ninth Wave (1850) Artwork Description & Analysis:
The Ninth Wave portrays a group of people clinging to flotsam from a wrecked ship, in the midst of a tempestuous sea surrounded by the brilliant gold tones of the sunrise. The title refers to a traditional nautical belief that the ninth wave is the last, largest and most deadly wave in a series, at which point the
cycle begins again. Painted when Aivazovsky was 33 years old, it is characteristic of his mature Romanticism in technique, theme and populist appeal.
The Christian message is less explicit, being confined to the cross-like form of the mast and the pleading attitude of the unfortunates clinging to it, as they look to the rising sun just before the big wave strikes. Displaying the classical academic discipline of composition and palette that Aivazovsky had been taught
and then observed in the galleries and salons of the European capitals, The Ninth Wave has all the melodrama of Aivazovsky at his most febrile and all the grandeur of his most strident efforts to impress. The epic quality, which according to Russophile writer and poet Rosa Newmarch, in her perceptive early comments about his work, had become "increasingly pronounced" by this point, did not yet consistently offer the more "truthful vision" of which she found Aivazovsky to be capable. (theartstory.org)
Watch the video of The Ninth Wave so you can live in the painting, in the paint and go beneath the waves into the mind of Ivan Aivazovsky.