Friday Feature: The Plinth and the Worm
The aim of our Friday Feature is to bring you something from The World of Art that is magnificent, unusual, provocative. The aim is to give you something that stands out and makes you think, wonder, be amazed.
I was so delighted when I heard of an empty plinth. Call me strange but I am interested in plinths. I remind you that E in London provided us with the information about the Fourth Plinth in Trafalgar Square outside the British Art Gallery.
And then more recently I introduced you to the sculptures of Anthony Caro who created without a plinth.
When you can add in a little story about The Royal Family and a mystery- The Disappearance of the Queen- you are on a winner.
Finally this Royal Mystery and Earthy Replacement took place in the Edinburgh Gardens so you would think, understandably, it was all taking place in the Northern Hemisphere.
But not so. The Empty Plinth, The Missing Queen and The Worm is a story that has taken place here in DownUnder Melbourne- more specifically the Edinburgh Gardens in North Fitzroy.
Below is the magnificent conclusion to the story which is a 1.5-metre-high golden worm created by sculptor Kathy Holowko.
And to add to the intrigue Holowko has titled her sculpture The Unsung Hero- a title that gets you thinking just that little bit more.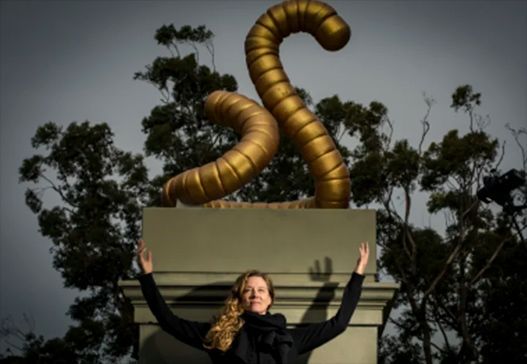 The story commences in 1901 when an effigy of Queen Victoria was erected soon after she died. Someone, identity unknown, Stole The Queen! Reason? Also unknown!
The Plinth stood Unadorned and Unadored until the local council decided to introduce the idea of A Rotating Art Piece following in the practice associated with The Fourth Plinth in Trafalgar Square London.
The Worm exalted to The Unsung Hero status won and will inhabit the plinth until Mar 2021.
Sculptor Kathy Holowko who is going to have a Worm Party to celebrate, reminds us that this little creature:
toils hard beneath our feet — eating our green waste and nourishing the soil with its poo —
And finally The Worm is being recognised in its Rightful Lofty Place in Society.
The environment organisation The Gould League is hosting a free composting workshop if you attend The Worm Party in The Edinburgh Gardens, North Fitzroy at 1pm on Sunday 20th October.
Reference: Forget old royals and footy stars, park statue honours the worm
By Carolyn Webb
The Age Newspaper