Friday Feature: Field of Light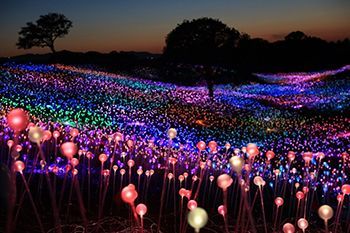 Today's Friday Feature comes to us from M of Wheelers Hill who has sent me this information about Fields of Light being created all over the world by British artist Bruce Munro.
The Field of Light is a large-scale site-specific light-based installation created by British artist Bruce Munro.
Field of Light was originally conceived in 1992, when Munro took a farewell road trip through central Australia with his fiancée (now wife), prior to their return to England, camping at Uluru/Ayer's Rock. To Munro, the red desert had an incredible feeling of energy, ideas seemed to radiate from it along with the
heat. "There was a charge in the air that gave me a very immediate feeling which I didn't fully understand, the artist said, "It was a moment when I felt at one with the world[2]....I recorded thoughts of creating a sculpture on a landscape scale, incongruous in size and location, and experienced by the transient visitors...I saw in my mind a landscape of illuminated stems that, like dormant seeds in a dry desert, quietly wait until darkness falls, under a blazing blanket of southern stars, to bloom with gentle rhythms of light." The Field of Light installation was one idea that landed in the artist's sketch book and refused to dislodge from his mind, until finally realized for the first time in 2004.' (en.wikipedia.org)
Munro made his first prototype Field of Light for London's Harvey Nichols department store. Shortly after Field of Light was exhibited at the ''Brilliant!'' Exhibition at the Victoria and Albert Museum in 2004, Munro developed a larger version of the installation for Long Knoll Field in Wiltshire –a field adjacent to his studio that is bisected by a public footpath.[4] Subsequently Munro has continued to produce site-specific iterations of the artwork in a number of places, often as one element among many within a large solo exhibition.(en.wikipedia.org)
I have chosen to showcase images from the Field of Light exhibition at Uluru in Central Australia. The photos were taken by Josie Wanders who takes us on a magical journey of illuminations across the desert.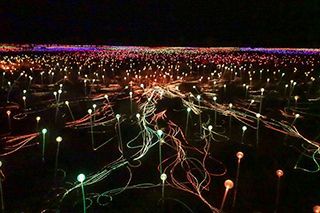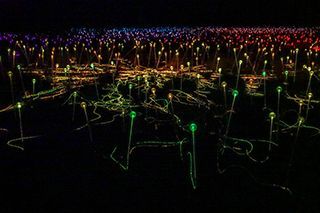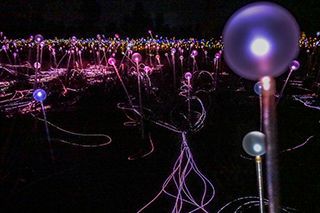 A new light exhibition by world-renowned artist, Bruce Munro, is expected to attract thousands of new tourists to Darwin. The light exhibition titled, 'Bruce Munro: Tropical Light' will run from November 2019 to April 2020, attracting more visitors to the Top End over the shoulder tourism season.
It will be the largest Australian exhibition undertaken by Mr Munro, featuring eight immersive large-scale light installations through the Darwin CBD and Waterfront precinct.
The display will include collection of new and existing work that reflects Mr Munro's experiences in Australia and the Territory, including Darwin's natural beauty, distinct wildlife, welcoming locals and spectacular sunsets. https://www.tourismnt.com.au
Below is a beautiful video where you can walk through the fields of light created by Bruce Munro at Sensorio in Paso Robles, California.
A 15 acre walk-through artwork, Field of Light is a sculptural composition that covers Sensorio's rolling hills with an array of over 58,800 stemmed spheres lit by fiber-optics, gently illuminating the landscape in subtle blooms of morphing color.(sensoriopaso.com)