Berthe Julie Lucie Mouchette (nee Lion)(1846-1928) had a considerable influence on the Australian scene. I confess I have never heard of her but if I had taken my French studies at school more seriously I would know that Berthe was the founder of the Alliance Française de Melbourne, Victoria and that the Berthe Mouchette Poetry Competition plays still to this day (commenced 1894) a key role in the promotion of Francophone language and culture.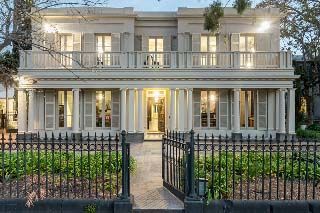 But how did Madame Mouchette get to Australia?
Berthe trained as a painter in Paris and taught art in various Parisian schools. In 1872 she married Nicholas Emile Mouchette. She continued to paint and exhibited in the Paris Salon several times. The story goes that in 1881 Berthe was at a lecture on Australia with her husband and sister (Marie Lion) and the three of them impetuously decided to immediately emigrate as it sounded such a wonderful country. Berthe's sister, Marie Lion, was a miniature painter and novelist who published as 'Noel Aimir' - an anagram of her name. A Melbourne edition of Marie's novel The Black Pearl was published in 1911. I hope they were never disappointed and certainly Berthe and her sister made a major contribution to our culture, so thank you.
While Berthe's husband Nicholas worked for the French consulate, she (as Madame Mouchette) taught art from her studio in Collins Street. And this is how I discovered her because our Clara Southern was one of her students. So were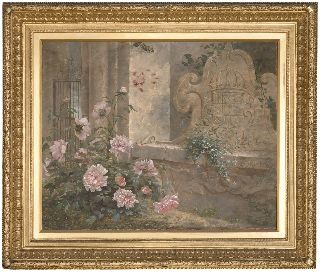 Portrait of Lucinda Gullet who was probably one of her students and is now in a private collection.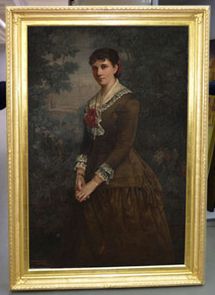 And Portrait of Patience and Catherine Hawker also in a private collection but unfortunately I couldn't locate a copy which is a shame as apparently this painting shows that she used photography for her portraits.
I have discovered that Berthe taught China painting. Here is her article about how to decorate plain white china published in the Evening News in 1884
https://trove.nla.gov.au/newspaper/article/109873693?
She is also reputed to have introduced to Melbourne, the skill of how to paint in a style that resembled real tapestry. It's worth reading this article to learn how she taught this skill to her students who held an exhibition of their works.
https://trove.nla.gov.au/newspaper/article/137588012
Nicholas Mouchette died suddenly in October 1884 and the following year Berthe, with her sister, purchased Oberwyl Ladies College in Burnett Street, St Kilda from Mme Elsie Pfuend a Swiss lady who had started the school in 1867. It was here that Berthe and Marie started the Alliance Française de Melbourne.
Berthe continued to paint and exhibit and in 1886 she showed an oil view of Oberwyl and a portrait of her late husband in the Victoria Court at the Colonial and Indian Exhibition in London, along with a collection of work by her pupils that included sculpture, drawings, oil and watercolour paintings and 'Imitation Tapestry'. Madame Mouchette's work as an artist and educator was acknowledged in 1889 with an order of the Palmes Academiques.
It is not known why but in 1892 the sisters auctioned their collection of paintings, etchings, prints and teaching illustrations and moved to Adelaide. It is probable that their business skills were not as good as their artistic ability. The following year they were both exhibiting members of the South Australian Society of Arts. In Adelaide Berth founded another branch of the Alliance Française and was associated with the Theosophical Society. Berthe was also an examiner in Oral French at the University of Adelaide. They both continued to teach painting, drawing and French taking time off in about 1901 to travel to India for approximately four years following their interest in Theosophy.
There can be no doubt that Bertha and Maria were remarkable women so you won't be surprised to learn that in May 1915 they headed off to Paris to help tend the war wounded. Unfortunately Marie became ill and they returned to Adelaide early in 1916. Marie died in 1922 and Berthe returned to her beloved home country (they always considered themselves French) and died in Normandy in 1928.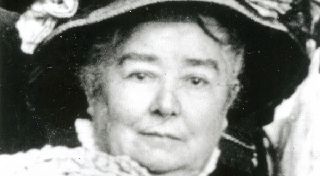 Tomorrow we're going to visit some Beavers in Canada.
Note:
My research has revealed a link between Margaret Preston and Berthe Mouchette. It has been suggested that Margaret Preston might have taken lessons from Berthe though there is no proof. However, they were later to share studios in the same building in Adelaide. Margaret Preston for my overseas subscribers is a very well known Australian artist who by the way had several different aliases.
Warning:
If you are researching Berthe Mouchette be careful as Mouchette.org is an interactive website created in 1996 by a virtual person, a pseudonymous character, an Amsterdam based artist who calls herself Mouchette. There is no link between the two.