If I have a favourite Abstract Artist it would have to be Frank Bowling who said: The possibilities of paint are never-ending.
(Tate Britain Exhibition Guide)
Throughout his career, Bowling has investigated the tension between geometry and fluidity. His large, ambitious paintings are known for their distinctive textured surfaces and colourful, luminous quality.
All images unless otherwise stated are from my own photographs.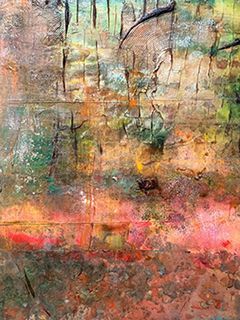 The Frank Bowling Exhibition at the Tate Britain was organised into Rooms and together we are going to journey through these rooms as I showcase the development of the Frank Bowling world of creativity.
Room One: Early Work: Life, Politics and Personal Narratives
Frank Bowling was born in 1934 in Guyana (British Guiana) South America. In 1953 he left his home town New Amsterdam and travelled to London. From 1959 to 1962 he studied at the Royal Collage of Art, London alongside such artists as Derek Boshier, David Hockney, and FR.B. Kitaj.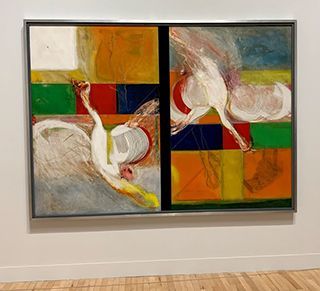 Big Bird (above) was created with oil paint and velvet fabric on canvas in 1964. In this painting the loosely geometric background (reminiscent of the grid-like compositions of Dutch artist Piet Mondrian, 1872-1944) contrasts with the expressively abstracted figures of the wounded birds. Bowling was particularly interested in Mondrian's use of geometry and colour and wrote his graduation thesis on Mondrian. Bird Bird won for Bowling the Grand Prize for painting at the First World Festival of Negro Arts in Dakar though Bowling was ambivalent about being categorisewd as a black artist. (Paraphrased from the Tate Exhibition Booklet)
Bowling had a very strong interest in social and political issues which he often wove in with his own narrative. This is exemplified below in Beggar No 6 (below) from his Beggar Series which was painted in 1963 following his first return visit to Guyana.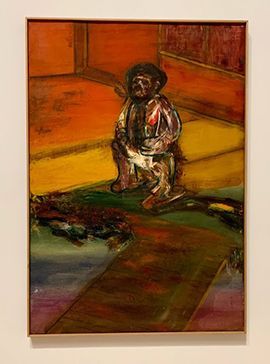 Bowling remembers his mother giving food to beggars in the street and Bowling had to wash their hands and feet before they could eat.
In this painting the expressive rendering of the figure, his mouth open in distress, contrasts with the more abstract way in which the street, pavement and background have been painted.
Room Two: Photographs into Paintings
The years between 1964 and 1967 was a period of great change in Bowling's life. He moved from London to New York and spent the next ten years working there bringing together many different pictorial approaches, sources and techniques.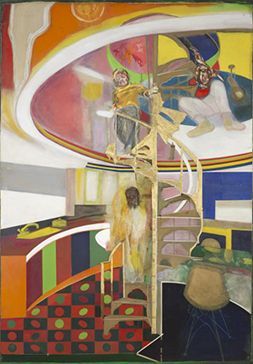 Bowling carefully worked out the composition in order to achieve a sense of dynamism. The central motif is the spiral staircase connecting the painting studios at the Royal Collage of Art to the Victoria & Albert Museum. Bowling based the work on photographs he had staged. In the painting he appears swinging from the top of the staircase and again at the bottom. In-between is writer Paddy Kitchen who was married to Bowling at the time. The painting fuses several different painting styles. It suggests rebellion against conventions and epitomises a moment of transition in the artist's life.
Room Three: The Map Paintings
I love maps and thought that Bowling's Map Paintings (1967-71) were interesting but the images seem to lose their impact when transformed to the blog page. These paintings consist of fields of colour overlaid with stencilled maps of the world and silkscreened images... and reveal Bowling's interest in the way identities are shaped by geo-politics and displacement.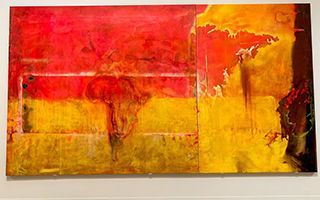 Room Four: The Poured Paintings
As the name of the room suggests, Bowling began to pour paint onto canvases to produce layered effects of contrasting colours.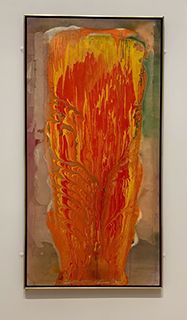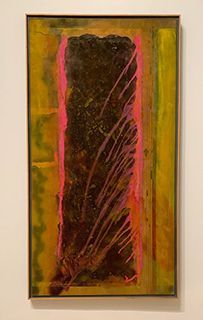 Tony's Anvil (below) is a homage to British sculptor Anthony Caro (1924-2013) who was known as 'Tony' by his friends. Bowling wrote of Caro:
Caro's sculpture, for a long time, blinded me to all other work in this area   
...and dazzled me by its inventiveness and variety- those boundless, new 
juxtapositions of such ordinary found things. 

In its bold use of primary colours, Tony's Anvil exudes the energy and strength of vision that Bowling admired in Caro. It also signals his desire to complete with the formalist artists he felt aligned with, such US painters Jules Olitski (1922-2007) and Larry Poons (b 1937)
Very soon I will showcase some sculptures by Sir Anthony Caro and some of the works by Jules Olitski and Larry Poons.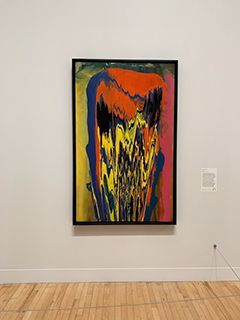 Tomorrow we will continue to look at the later works of Frank Bowling where colour and texture take over from line and shape.
Credit:
All images unless otherwise stated are from my own photographs. The notes that accompanying the images above have been taken from the Tate Britain Exhibition Booklet.