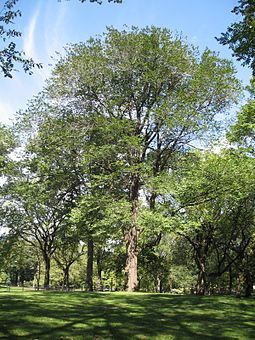 On the AnArt4Life blog at the moment we have rolling posts showcasing such diverse subjects as: still Life paintings, pubs, coastlines and trees - with the occasional art crime or mystery thrown in: diversity is our strength.
Today John Pickup brings you a few of his favourite trees inspired by the post A testament to trees, written by M.B. in Tanzania, and the lyric poem Trees by American poet Joyce Kilmer.
Kilmer's poem was written in February 1913 and was first published in Poetry: A Magazine of Verse in August 1913 and included in Kilmer's 1914 collection Trees and Other Poems. The poem, in twelve lines of rhyming couplets of iambic tetrameter verse, describes what Kilmer perceives as the inability of art created by humankind to replicate the beauty achieved by nature.1
The Joyce Kilmer Tree (above) in New York City's Central Park, located near several World War I monuments, was planted after the poet's death. 1
Mirroring the configuration of the Joyce Kilmer Tree is the first of John Pickup's trees - photographed in the glorious landscape on the border between New South Wales and Queensland.
This tall eucalyptus hero looks out across Wollumbin (Mount Warning), a mountain in the Tweed Range in the Northern Rivers region of New South Wales, Australia, which was formed from a volcanic plug of the now-gone Tweed Volcano. The mountain is located 14 kilometres west-south-west of Murwillumbah, near the border between New South Wales and Queensland.1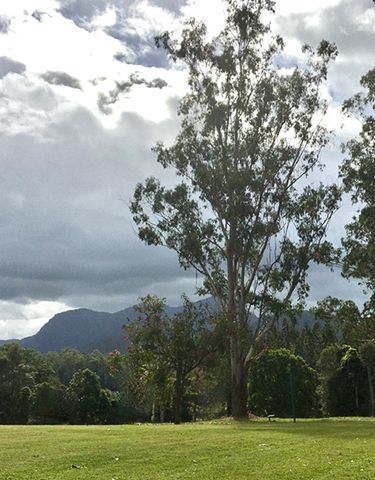 Still in Northern New South Wales, John a very experienced photographer, has captured this remarkable twin tree near near Yamba - a town at the mouth of the Clarence River. The first European to visit the area was Matthew Flinders, who stopped in Yamba Bay for six days in July 1799.1
There is so much to explore in this image emitting palpable atmosphere - the perfect backdrop for a mysterious play. Please let your eyes wander the scene and take in the tonal changes and textures.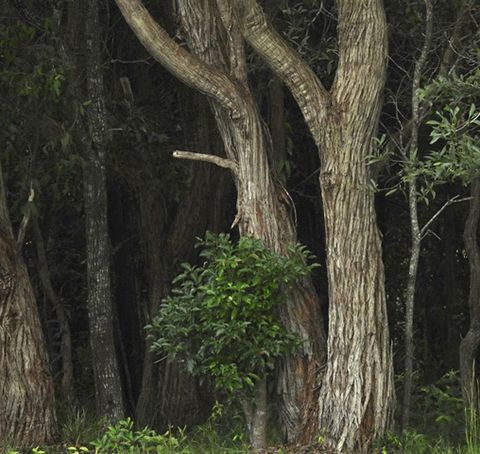 John's next photo is also atmospheric but this time heralding the morning light with the soft golden touches of the sun on the leaves. The image was taken in the parkland near the Century Mine northwest of Mount Isa in North West Queensland.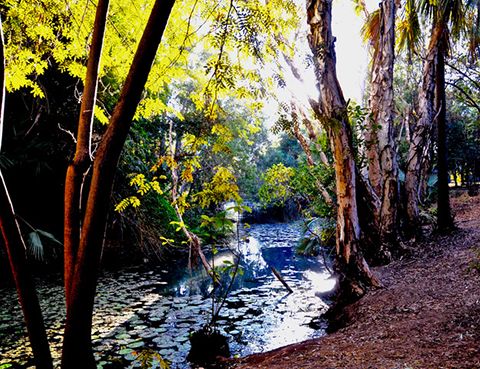 And then John reminds us of the destructive nature of humans illustrating how a tree can survive for hundreds of years only to have its life ended by humans.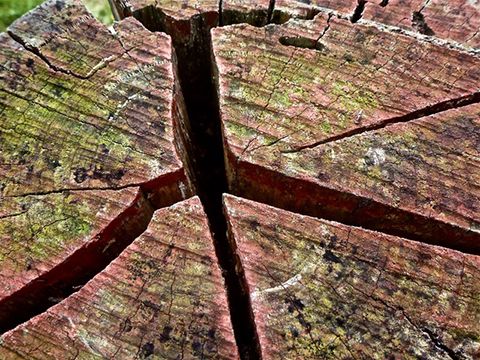 One of the most remarkable facts about nature the world over is the symbiotic relationship that exists between the various living flora and fauna. John's last photo of the Tawny Frogmouth - at home.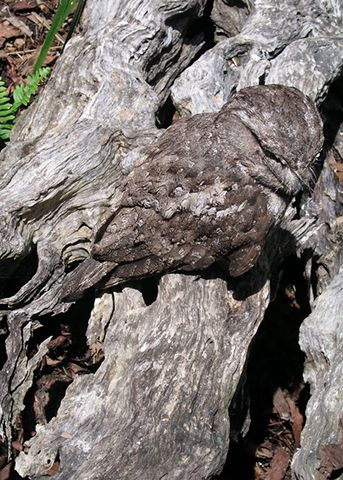 Joyce Kilmer's poem Trees has been set to music and sung by many famous people. Today John has chosen Nelson Eddy to perform for you.
Credits
1. en.wikipedia.org