Fences, Posts and Gates - Storyline to Country: Focus on Fences
Australia is huge, a vast country with big skies and some very long fences. In fact we have two very, very, very long fences.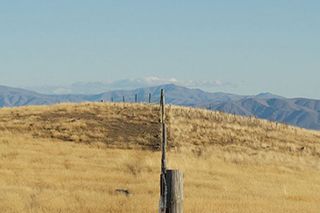 The first, the Rabbit Proof Fence (left above) is world renowned because of the film of the same name which recounts the true story of two Aboriginal girls who walked for nine weeks along the 1,500 miles (2,400 km) of the Australian rabbit-proof fence to return to their community at Jigalong, north Western Australia.3
There are, in fact, three Rabbit Proof Fences (now the State Barrier Fence) in Western Australia: the original No. 1 Fence crosses the state from north to south, No. 2 Fence is smaller and further west, and No. 3 Fence is smaller still and runs east–west. The fences took six years to build. When completed in 1907, the rabbit-proof fence (including all three fences) stretched 2,023 miles (3,256 km) and No 1 Fence 1,139-mile (1,833 km)) was the longest unbroken fence in the world. 3
But an even longer fence - and not quite as well known - is the Dingo Fence or Dog Fence (below right) which runs for 5,614 kilometres and is one of the longest structures in the world.3
The Dingo Fence (also known as the Great Barrier Fence and the Wild Dog Barrier Fence 11) is a pest-exclusion fence that was built in Australia during the 1880s and finished in 1885, to keep dingoes out of the relatively fertile south-east part of the continent (where they had largely been exterminated) and to protect the sheep flocks of southern Queensland. It runs from Jimbour on the Darling Downs near Dalby through thousands of kilometres of arid land ending west of Eyre peninsula on cliffs of the Nullarbor Plain above the Great Australian Bight near Nundroo.3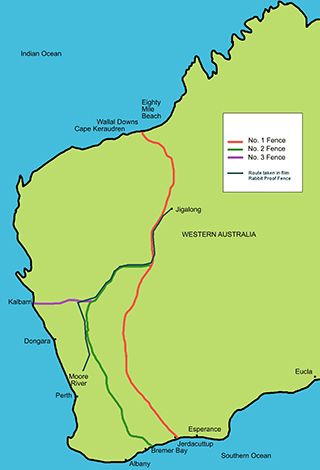 The Rabbit Proof Fence was also often called the Emu Fence and below you can see why in this image from Australian Geographic.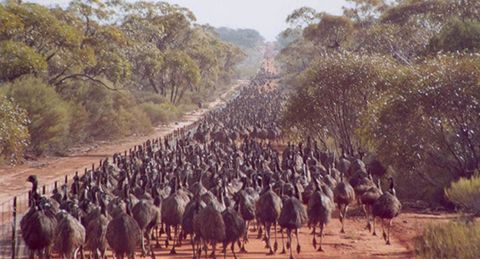 So... who looks after these incredible fences?
Here in Australia we have what are called Boundary Riders - the term going back to the 1800s and referring to a station (big farm!) employee whose job it was to ride the boundaries of the property checking on the fences and stock that might have escaped.
Our contributor John Pickup OAM, the last of the Brushmen of the Bush has a wonderful painting of The Boundary Rider which is my favourite painting by John and much better than T.S.Gill's Boundary Rider who isn't even depicted on his horse!!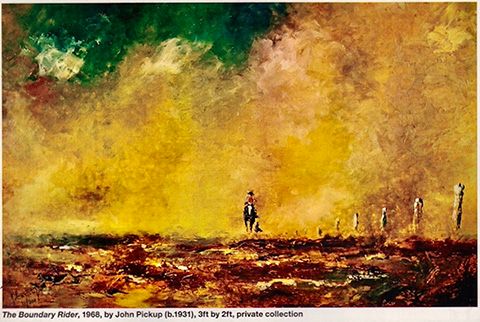 Below is a modern day boundary rider where we see Kevin Geale tending the Dingo Fence in Corner Country where the state boundaries of New South Wales, South Australia and Queensland all meet. We will come back to this part of Australia in another post.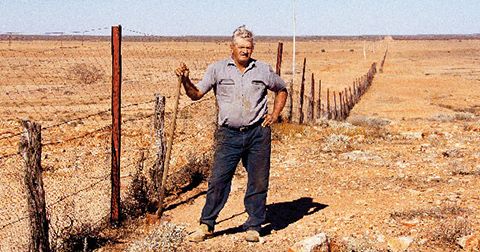 Most of Australia's rural fences are across farming land which is not nearly as arid and barren as you have just seen in the above images.
This scene below could be Central Victoria, Southern New South Wales or in the south of South Australia.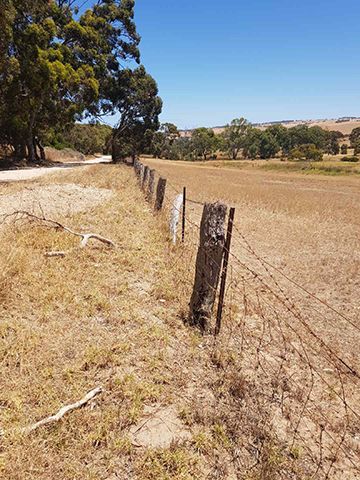 In Anne's childhood stamping ground however, in Central Victoria, there are pockets of lush green areas, many of which have been subdivided into hobby farms - each with a neat, well cared for, neat fence.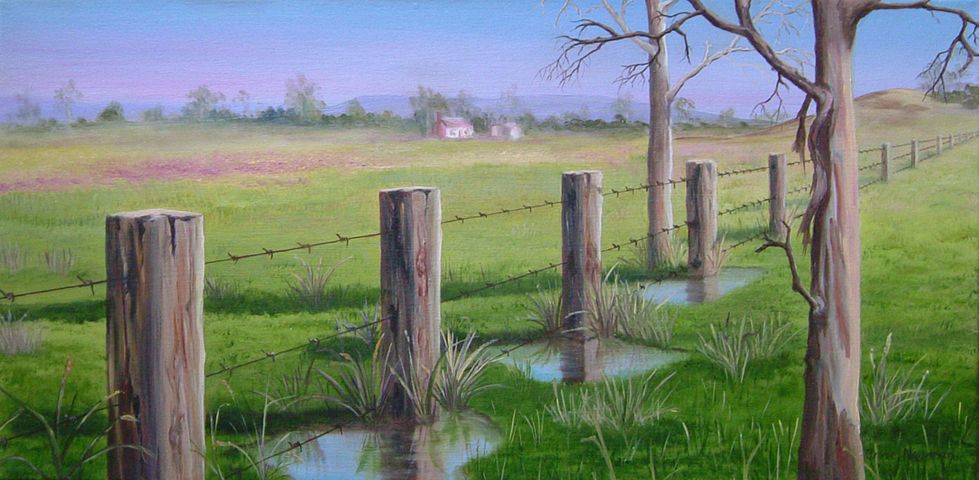 We will leave you with painting of a fence by one of Rowdy's favourite artists - Sir Hans Heysen (1877-1969). Heysen was a German-born Australian artist and is one of Australia's best known landscape painters. Heysen also produced images of men and animals toiling in the Australian bush...He won the Wynne Prize for landscape painting a record nine times.3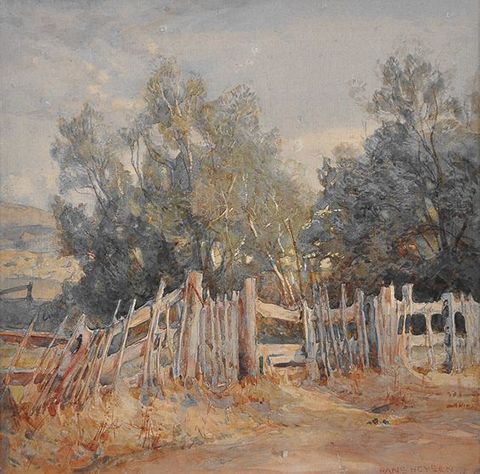 You can read more about Rowdy Wylie and John Pickup on our website under About Blog Team.
Credits
1. amusingplanet.com
2. richardtommycampion.wordpress.com
3. en.wikipedia.org
4. commons.wikimedia.org
5. australiangeographic.com.au
6. pinterest.com.au