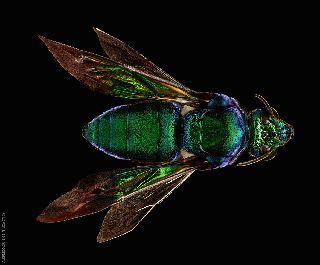 Orchid Cuckoo Bee, Exaerete frontalis (Hymenoptera Apidae). Image: Levon Biss
Thanks to B of Brisbane I have been introduced to the incredible Microsculptures created by Englishman Levon Biss. Biss is a commercial sports photographer and at first became interested in photographing insects his son had found in their garden. He became so fascinated with the insects and beetles that he ended up photographing specimens from the archives of the Oxford University Natural History Museum. Biss has held many exhibitions but I couldn't find any current ones for the latter part of 2019: the last being in the Netherlands earlier this year.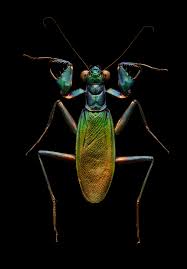 When Levon Biss photographs an insect, he doesn't just use one shot. Instead, he uses "macrophotography" to shoot thousands of images of a single bug in order to come up with a 3D-like model of it. (vice.com)
I highly recommend you visit the website of Levon Biss to study and be enthralled by the images.
As B of Brisbane said to me: The site is interactive, in that you can focus on any particular area of the bugs anatomy that may arouse your curiosity.There are several insects featured, so you can spend hours just looking at the majesty of some of natures jewels. It's fascinating, enjoy!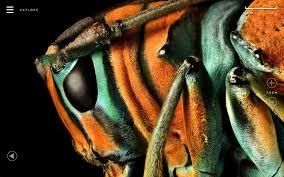 Please take the time to watch the video which shows Levon Biss at work, photographing the beetles, insects, etc and then printing the images for exhibition. You will be amazed. Thank you B of Brisbane for alerting us to this artist and his wonderful photographs.
And I am delighted to announce we have a new subscriber to the Blog. A welcome aboard to M of Melbourne. Our little community is growing and Jane, Caroline and I are thrilled with the many positive comments that are being sent to us. A special thank you to all of who enjoyed my little venture into the world of science. My confidence is now so high I might just dabble a little further in the future.