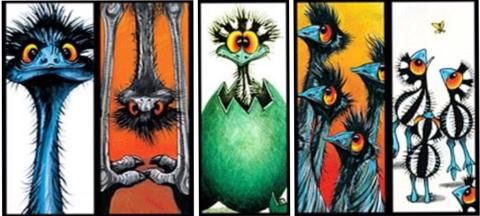 Over the last week or so we had some fun with comical wildlife photos and guessing our favourite Jos Coufreur emu portrait.
Another artist that loves to paint animals and especially emus is Wendy Binks.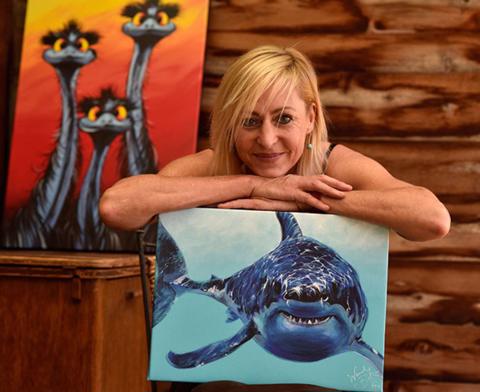 Wendy grew up on a dairy farm in the beautiful town of Denmark in the south of Western Australia and from an early age developed a keen interest in animals and the outdoors.
After her graduation with a BA in Art & Design from Curtin University in 1982 (majoring in ceramics), Wendy based herself and her business Stunned Emu Designs in Fremantle, Western Australia.1
I came across her work during my trip in outback Queensland in July 2021 where our guide was often asking us to look out for emus – her favourite animal and before long we were all sharing her enthusiasm.
Although Wendy is based in Western Australia and her main outlet is located in the Fremantle markets, just south of Perth, I found a small gallery near Cairns that sold her work.
I fell in love with this one, titled "Someone to look up to" and couldn't resist buying a print.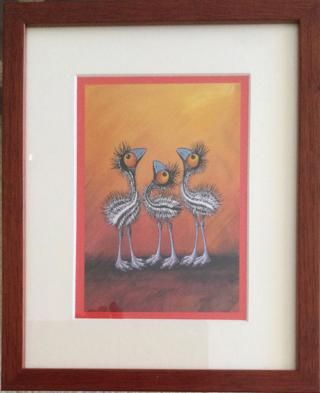 Aren't the emu chicks cute? I smile everytime I look at it and can imagine their mother, keeping an eye on them from above. Wendy's art appeals to all age groups, in particular children.
The enthusiasm of children for her designs prompted Wendy to write her first children's picture book, Where's Stripey, with Stripey being a baby emu as the main character. Having written, illustrated and self published the book to great acclaim, it won two awards including the prestigious Western Australia Premier's Book Award, Children's Section.
Stripey was such a popular character that as well as producing a Stripey plush toy, Wendy produced two more books starring Stripey: Scrambled egg which was shortlisted for the WA Premier's Awards and Invisible Me.
Where's Stripey has become a best-seller, having sold over 100,000 copies.1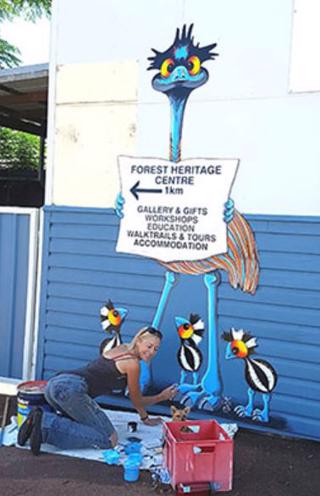 Wendy has many strings to her bow – designing items such as calenders, plush toys, finding time to volunteer on several conservation projects and a love of adventurous activities including rock climbing, scuba diving, cave diving, trekking, mountain biking, rogaining and kayaking.
Browse Wendy's website below to view more of her quirky art, read about her many talents and the baby emu Stripey. For teachers and parents there are free activity sheets and videos and fun resources for use in the classroom and at home.
Credits
1. wendybinks.com.au