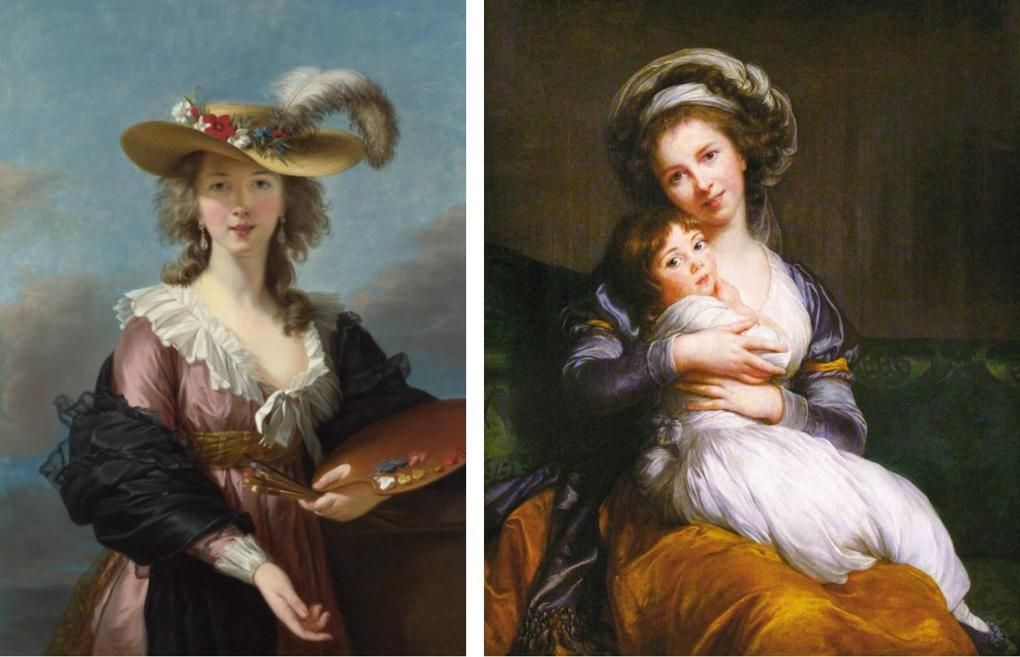 In yesterday's post on Versailles I noticed the portrait I chose of Marie Antoinette was by Elisabeth Louise Vigée-Le Brun. The artist credited for the ceiling in the Hall of Mirrors was by Charles Le Brun. I wondered if there was a connection and delved into google where my research uncovered an interesting story.
Firstly though who was Elisabeth Louise Vigée-Le Brun?
Sources for the details below are - nationalgallery.org.uk and raked.com.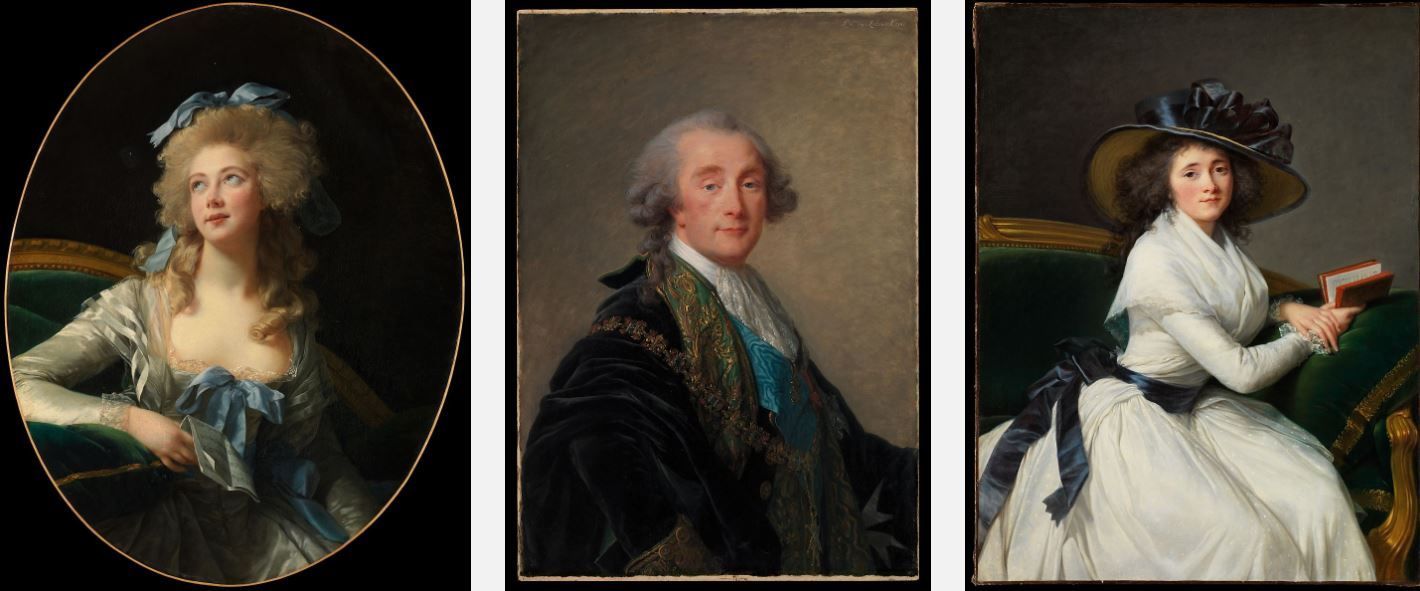 Born in Paris in 1755, Elisabeth Louise Vigée-Le Brun's journey to fame and success was rapid. Having received some training from her portraitist father, who died when she was 12, she was encouraged to continue her artistic studies – although, being a woman, she did not have access to formal training – and by the age of 15 she had already developed a modest clientele for her portrait - three shown above.
By the age of 19, her works had gained so much attention that her painting materials were seized because she'd been operating as a professional artist without guild or academy membership. She swiftly joined the Académie de St Luc, at a time when very few women were admitted, and by the age of 20, she was established at court.
Her fame skyrocketed in the late 18th century, when she was patronised by Queen Marie-Antoinette; of whom she painted some 30 portraits. It was royal intervention that led to her admittance to the Académie Royale in 1783, having been previously rejected.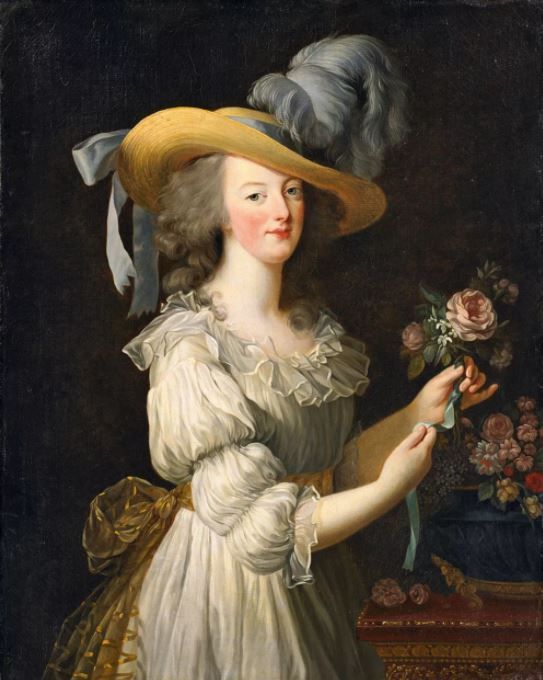 In 1783, she exhibited for the first time in the Salon. Her portrait of Marie Antoinette shows her in a simple cotton gown known as a robe de gaulle (above left). The thin white muslin fabric is airy and loose, cinched at the waist with a sheer golden sash. Full sleeves and a softly ruffled neckline add volume to the otherwise unstructured shape. She doesn't wear any jewels or embellishments, just a wide-brimmed straw hat tied with a ribbon band, topped with a few relatively modest plumes.
To our modern eye the painting has a graceful and arcadian feel to it. The scene is refreshingly natural when compared to the ornateness of the typical Rococo-era portrait.
Adapted to Parisian fashion by the dressmaker Rose Bertin, this muslin dress was the Queen's favourite during her stays at the Petit Trianon, away from the court. The visitors of the Salon were shocked by this portrait: in their view the Queen was not dressed as befitted her rank.
This portrait had an impact that reverberated through the world in ways no one could have foreseen. It flipped the textile industry on its head, lighting the fuse laid out by a fast-changing world of exploration, enlightenment, and rebellion. It caused cotton, and the institution of slavery it stood on, to explode.
The painting was withdrawn, but Vigée-Le Brun then quickly painted a second portrait (above right) to be exhibited before the end of the Salon. Repeating the pose of the first painting, she dressed the Queen this time in a classic blue-grey silk dress, marking the implicit support of Marie-Antoinette for the silk-weavers of Lyon.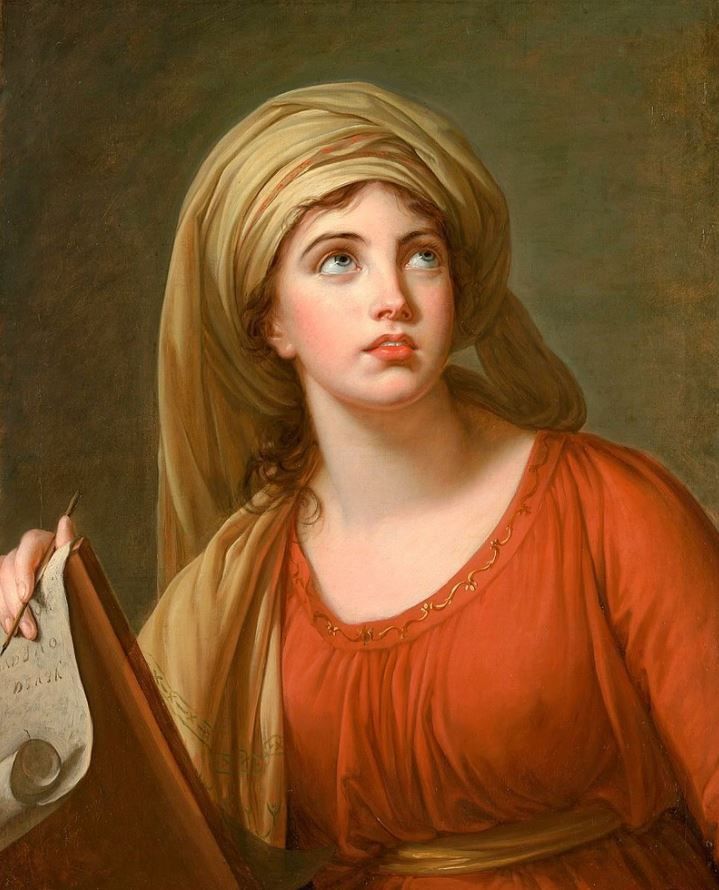 Now to solve the mystery. In 1776 Elisabeth married the art dealer, Jean Baptiste Le Brun – his great-great-uncle was Charles Le Brun - the painter of the Hall of Mirrors ceiling! No doubt these artistic families moved in the same circles.
The marriage was not a success, largely due to her husband's gambling. In 1789, she left her husband and country. Fearing the progress of the Revolution and a slanderous press campaign against her due to her association with the Queen, she fled to Italy with her young daughter, Julie.
Despite living in exile, working and travelling across Europe, and raising her daughter single-handedly, Elisabeth was able to maintain a successful career. Her portraits, distinct for their emotional tenor, continued to be commissioned by European nobility and royalty as shown in the three examples above.
Elisabeth was able to return to live in France in 1802 where she died in 1842 at the age of 86.
Her tombstone epitaph says: Ici, enfin, je repose (Here, at last, I rest).
All details with thanks to websites nationalgallery.org.uk and raked.com.