Easing the pain at the Isabella Stewart Gardner Museum with Sophie Calle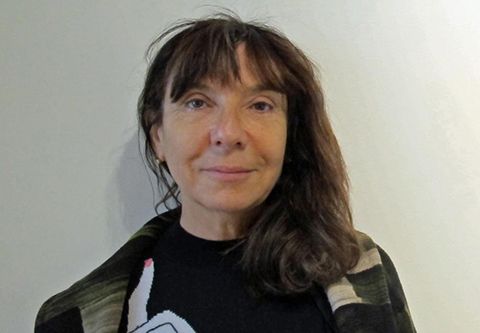 Sophie Calle (born 9 October 1953) is a French writer, photographer, installation artist, and conceptual artist. Calle's work is distinguished by its use of arbitrary sets of constraints, and evokes the French literary movement of the 1960s known as Oulipo. Her work frequently depicts human vulnerability, and examines identity and intimacy. She is recognized for her detective-like ability to follow strangers and investigate their private lives. Her photographic work often includes panels of text of her own writing.2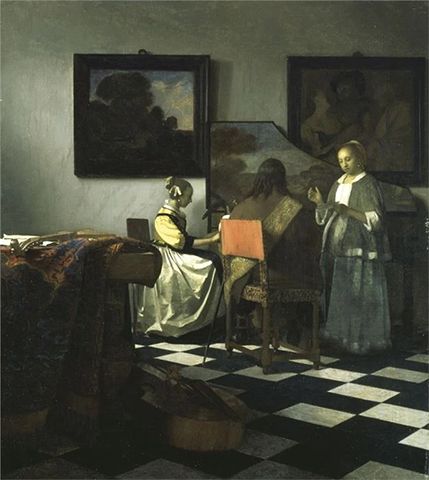 In 1990 an exhibition of Calle's work opened at Boston's Institute of Contemporary Art. During her time in Boston, Calle frequently visited the Isabella Stewart Gardner Museum and was especially intrigued by Jan Vermeer's The Concert in the Dutch Room. Just weeks after her opening, the painting was one of thirteen masterpieces stolen from the Museum. Calle reached out with an idea.3
With the support of then-director Anne Hawley, Calle came to the Museum in the fall of 1990. She spent time in the galleries, looking at the collection and the locations of the missing works. In front of the newly empty spaces, Calle asked curators, guards, conservators, and other staff members what they remembered about the missing artworks. The resulting body of texts, an amalgam of different people's responses, were framed and paired with photographic images, showing the empty spaces where the works once hung. Together the two components constitute a portrait of the stolen pieces, as well as a meditation on absence and memory, and a reflection on the emotional power that works of art can hold on their viewers. The series titled, Last Seen …, shifted the idea of the theft from one of loss and sadness to one of creativity and life.3
Hawley remembers the conversation she had with the artist that would ultimately become part of the series.
"I'll never forget sitting with her in a chair next to the table where the Vermeer had been placed in the Dutch room, and recalling my memories of that picture," Hawley recounted. "Which of course is a woman and a harpsichord, a man with his back to you who's playing the lute, and then a woman who is facing you about to sing. And it also has this strange effect on you because it's people making music, but of course it's silent."1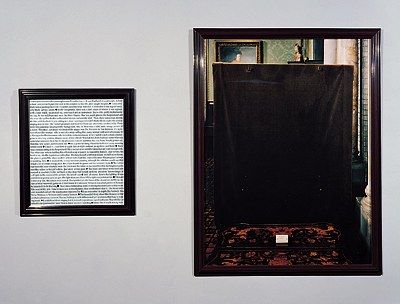 The Last Seen series was not shown at the Gardner Museum at this time but in 2013 Calle returned to the museum with a new exhibition titled What do you see?
Again Calle interviewed people in the Museum's Dutch Room, but this time she did not mention the missing paintings to the staff and visitors with whom she spoke. She asked each viewer to respond to what they saw before them.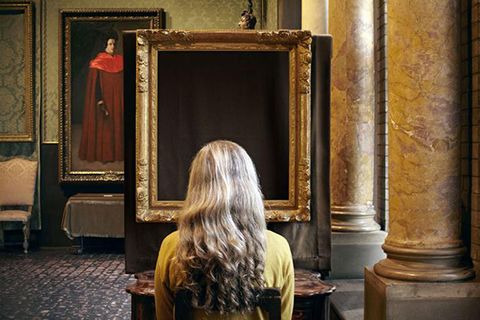 The current exhibition includes anonymous text excerpts from those interviews. They're enlarged on the walls of the museum's new contemporary gallery and paired with larger-than-life photographs of the stolen arts' empty frames, which still hang in Mrs. Gardner's historic palace like relics of a bad dream — or hopeful tokens.1
In the show's audio tour, curator Pieranna Cavalchini reads a few of the collected memories:
The beautiful thing about this Vermeer is that you have silence in a concert. You are looking at such stillness and yet you know they're making music. I hear them singing, but it seemed very private and quiet and pure. You felt like an intruder, you wouldn't want them to know you were watching. I didn't like it much, not my style. 1
The real empty frames still hang in the museum's ornate palace because Mrs. Gardner's will dictates that nothing be changed after her death. They're barren and waiting, like ghosts, Cavalchini mused. The curator says the staff is tuned in to their presence.1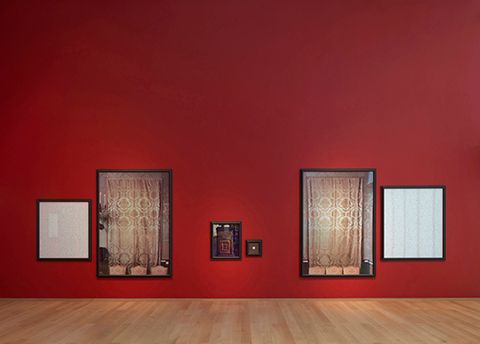 Late Mail
Today we welcome P from the glorious state of California in the USA who has joined as our latest subscriber. It is wonderful that we are enjoying sharing the art in our lives around the world. Don't forget that you can use our email [email protected] if you would like to send in some ideas - especially for our monthly mailbags - with the first for March coming up in a couple of days.
Credits
1. wbur.org
2. tate.org.uk
3. gardnermuseum.org
4. moma.org
5. marthagarzon.com