Recently I had the pleasure of visiting the Cranbourne Gardens, near Melbourne, an arm of the Royal Botanic Gardens Victoria. As you can tell this is an Australian Garden, with 170,000 Australian native plants featured in contemporary landscaped display gardens.
The Australian Garden is surrounded by remnant bushland and wetlands - a protected site of State significance for biodiversity conservation, where 370 species of native plants can be found, 20 native mammal species and 11 amphibian species. (Credit: www.rbg.vic.gov.au)
A desert landscape forms the centre of gardens, a dramatic expanse of red soil, featuring the Ephemeral Lake Sculpture, by Mark Stoner and Edwina Kearney, a ceramic work suggestive of water. It evokes the ephemeral nature of water in arid Australia and the salt-encrusted surface left after pools have evaporated.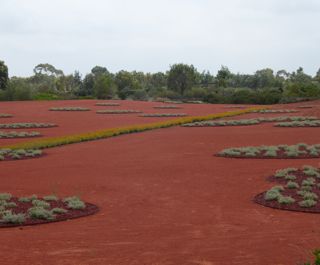 Surrounding the arid zone, are sections representing various Australian landscapes - bottle trees, native flowers, eucalypts.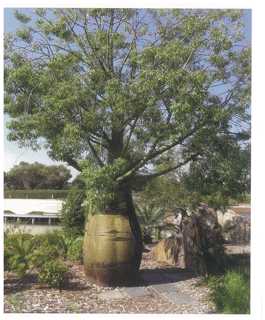 Sculptured rusty steel structures represent etched rocky coastlines with tessellated rock formations.
Shaded cottage gardens and native trees showing off their artistic trunks.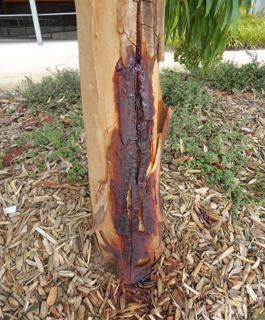 Tranquil waterways and a river walk featuring mallee eucalypts, including endangered species, some with leaves like silver dollars and beautiful minni-ritchi bark that peels the off the truck in small flakes; as well as fabulous grass trees.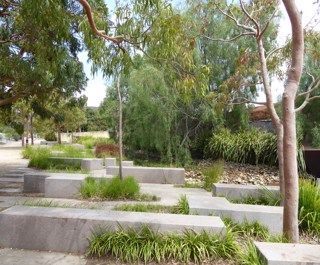 This walk is capped with earlier plantings and rises above the garden – here an aerial view. The bridge made of white circles represents the giant lily pads seen in the tropical north of Australia.

The garden caters for everyone: children can splash about in the water on a hot summer's day or learn more about Australia's native plants and animals. Join the shuttle for an informative talk about the gardens or just to hitch a ride!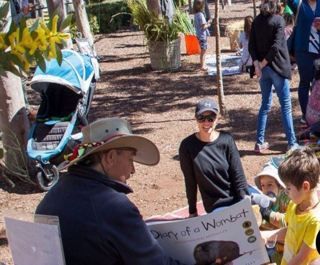 If your planning a trip downunder or you are a local, enjoy a day or just a few hours in this fascinating garden. There is a cafe or pack a picinc to enjoy in the gardens or the surrounding natural bushland, where BBQ's and a picnic area are situated.
All images are my own photos or are taken from the guide book I purchased at the gift shop, unless otherwise stated.
POST SCRIPT
For more images of the planet life at the Cranbourne Gardens check out a previous blog Who am I?.