Cornwall: The Artists' Magnet
When I decided to revisit Britain after 21 years I gave considerable thought to where I wanted to go. Britain, to me, is like a massive banquet offering course after course of delicious, delectable morsels. London was of course top of the list for a million and one reasons. Dorset came next on my list as I wanted to once more return to one of my ancestoral homes. More on Dorset and the art scene there later. But I found a great yearning to revisit Cornwall and not because I do have a good dose of Cornish DNA. As an artist I was drawn to the magnet that Cornwall has been to artists for hundreds of years. I wanted to soak up the scenery which has inspired so many and none more important than JMW Turner.
Joseph Mallord William Turner (1775-1851) arrives in Cornwall 1811
In the summer of 1811, long before either of the Tamar bridges at Saltash was built, a young JMW Turner crossed the river by rowing-boat. As he jumped ashore he had his sketch book and pencils tucked away safely in his backpack. From here he was to spend the next few weeks walking through Cornwall, drawing what he saw.(cornishbirdblog.com)
Here are some engravings based on Turner's sketches.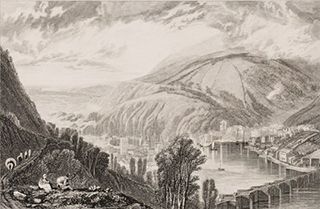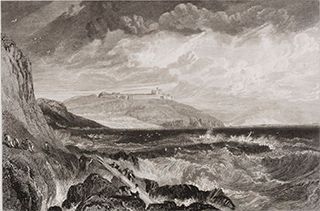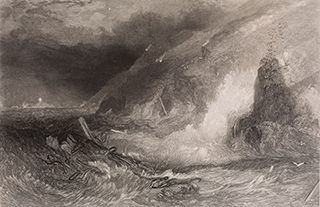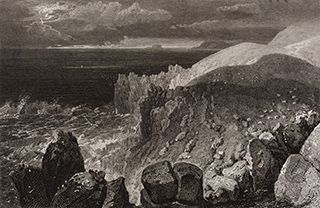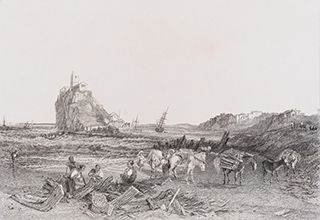 And now to enjoy some of the rich palette Cornish light creates but still through the eyes of Turner and his 1811 journey to the west of England.
I love Turner's Saltash with the Water Ferry for it's control of the soft browns.
This picture is a product of Turner's journey to the west of England in summer 1811 and was exhibited at the artist's private gallery in 1812. Saltash is in Cornwall, across the Tamar River from Devonport and Plymouth. Ruskin described the painting in a letter of 1852 as what the mind sees when it looks for poetry in humble actual life. The sky is damaged, but the lower half of the painting is well preserved. (metmuseum.org)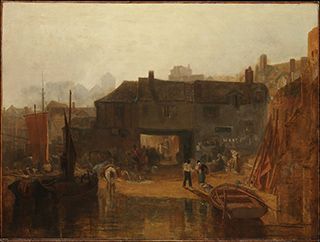 And below is Falmouth Harbour, Cornwall.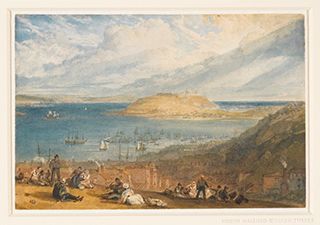 St Michael's Mount, Cornwall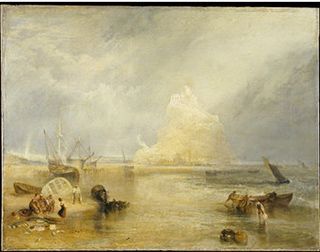 About a year ago when the blog was a fledgling I knew only a little about Cornish art history. Thanks to subscriber Chris O'Brien of New York I now head into Cornwall knowing so much more. Chris has introduced me to so many Cornish artists especially Mary Jewels and Alfred Wallis.
I have already emphasised the close relationship that exists between Australia and Cornwall through migration which commenced in large numbers from the 1850s. But we forget that many of the descendants of these early settlers from throughout Britain often returned to their homeland roots, especially the artists seeking to learn from the waves of change taking place in the art scene of Europe.
In Australia we have a favourite female artist in Margaret Preston. For the next couple of days Jane is going to share with you her experience of attending an exhibition held in Ballarat titled Becoming Modern: Australian Women Artists 1920-1950. You will meet some early Australian female artists including Margaret Preston in Jane's blog but here is a little teaser to get you interested in her works if you aren't aware of this fantastic artist.
What most people don't know is that during WWI, Margaret Preston (nee McPherson) and her friend and fellow artist Gladys Reynell helped to rebuild shattered lives. In 1904 they travelled to Europe and the UK and were based in England after the invasion of France where they continued to practice, study and teach art.
Gladys' brother Carew Reynell, manager of Reynella winery (South Australia), enlisted as an officer with the 9th Australian Light Horse and died at Gallipoli. Her other brother Walter Rupert Reynell (Rhodes Scholar and Neurologist) was working with shell-shocked soldiers at Seale-Hayne Hospital in Devon. He invited Gladys and Margaret to become more useful to the war effort by teaching pottery, weaving and other crafts to the patients.
Below is a photo of some of the shell-shocked soldiers to whom Margaret Preston and Gladys Reynell taught basket-weaving at the Seale-Hayne Neurological Military Hospital, Devonshire (UK). Preston is just out of camera to the right, but her black Scottish Terrier Little Jim can be seen sitting next to her in the bottom right-hand corner.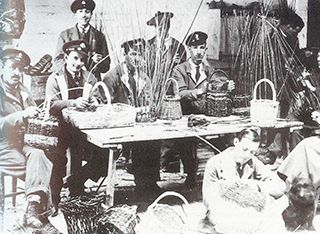 (Credit:mosman1914-1918.net)
Follow this link to read more about Margaret Preston & Gladys Reynell.
Even if you don't paint, sculpt or create in any way, you can't be untouched by the beauty of this English county.
Every time you stop you can't avoid breathing in the air of creativity that wafts across the landscape. Here are a few of my photos from my time in Cornwall - perhaps to inspire you.