Michelle Clarissa Reddicliffe leads us towards Clarice Cliff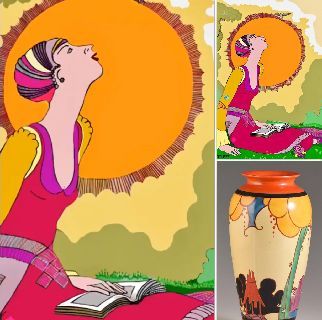 As I have said on many occasions- there are amazing coincidences in art. Last week with some subscriber friends I was discussing the English ceramic artist Clarice Cliff: an artist I had quite forgotten.
Facebook this morning alerted me to some new art works by English artist and subscriber Michelle Reddicliffe and to my delight- Michelle's latest work (especially the colours) are based on a Clarice Cliff's SummerHouse Vase created in about 1931.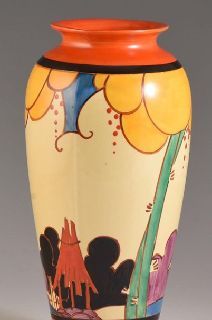 To make the connection even more exquisite Michelle's middle name is Clarissa which makes for a perfect linguistic composition. I just love it when I can paint with the configuration of words. And now onto the works of Clarice Cliff and Michelle Clarissa Reddicliffe.
First, let us learn a little more about the artist who inspired Michelle Reddicliffe's latest work. Clarice Cliff was born in Tunstall, Stoke-on-Trent in 1899 and was an active ceramic artist from 1922 to 1963, commencing her working life and career in the pottery industry at 13 years of age. Whilst working Clarice also studied art and sculpture at the Burslem School of Art in the evenings.



(Credit: claricecliff.com)
By the 1920s Clarice Cliff's talent was beginning to be noticed and she came under the mentorship of Arthur Colley Austin Shorter*, one of the owners of the A.J.Wilkinson factory (Newport, Burslem) where Clarice worked. Colley Shorter arranged for Clarice to do short courses at The Royal Collage of Art and to visit Paris. Eventually Clarice and Colley married in 1940.
In 1927 Clarice was given her own studio at the Newport Pottery which Colley Shorter also owned. *Here Cliff was allowed to decorate some of the old defective 'glost' (white) ware in her own freehand patterns. For these she used on-glaze enamel colours, which enabled a brighter palette than underglaze colours. She covered the imperfections in simple patterns of triangles, in a style that she called 'Bizarre'. (Wikipedia) Below is an example of an early Original Bizarre pattern on an Athens shape jug showing the simple use of triangles.

(Credit: Wikipedia)
Clarice Cliff's famous Bizarre wares style was officially launched in 1927.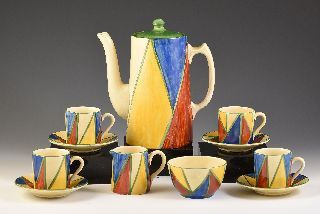 (Credit: andrew-muir.com)
To fuly understand the appeal of Clarice Cliff pottery you need to be aware of her understanding of shape and colour. There is no better example of her technique than that exemplified in Cliff's Viking Boat, one of the shapes she was credited with designing. This is a Cliff Pastel Autumn Viking Longboat Table Centre made in about 1932. Note the subtle angles on the bow and the ingenious composition of the decoration design, blending the shields into a landscape scene of stylised trees.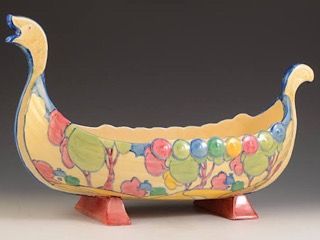 (Credit: Wikipedia)
Many of the shapes she employed in her works were angular and geomeric which definitely have elements of the Art Deco style. Cubist and Abstract patterns are also present. All styles that were being practised at the time. Below is an example of Cliff's Ravel style named after the composer and was produced from 1929 to 1935.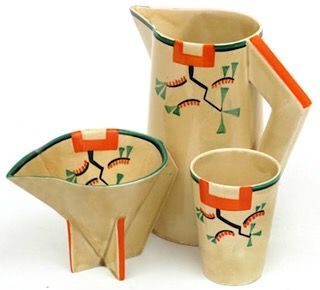 (Credit: Antiques Reporter)
The simplicity of her designs combined with the vibrant colours attracted the buyers.
One of Clarice Cliff's most famous and successful designs was the Crocus. And who doesn't love these delightful flowers.
In 1928 Clarice produced a simple, hand painted pattern of Crocus flowers in orange, blue and purple, each flower being constructed with confident upward strokes. Then green leaves were added by holding the piece upside down and painting thin lines amongst the flowers. Being made from the individual brushstrokes, the Crocus pattern was clearly completely hand-painted, and the vibrant colours instantly attracted large sales. (Wikipedia)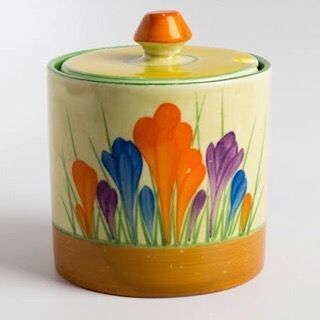 (Credit: pinterest.com)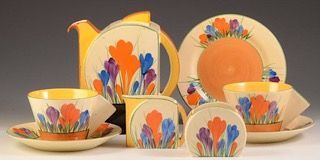 (Credit: Andrew Muir)
Initially, Clarice had just one young decorator produce Crocus, Ethel Barrow. But as orders flooded in by 1930 a separate decorating 'shop' was established underneath the top floor of the building which housed the 'Bizarre' shop, and Ethel became responsible for training young painters how to do the pattern. Twenty young women painted nothing but Crocus 5½ days a week, for much of the 1930s. Crocus was unusual in that it was produced on both tableware, tea and coffeeware, and 'fancies', novelty items made primarily as gift ware. The pattern had many colour variations, including Purple Crocus (1932) Blue Crocus (1935), Sungleam Crocus (1935) Spring Crocus. It was even produced after the war, the final pieces with Clarice Cliff marks being made in 1963, though Midwinter (who bought the factory) continued to paint it to order until as late as 1968. (Wikipedia)
Clarice created many designs and her incrdible talent and versatility can be seen if we look at her Applique range which at first featured only two patterns: Lucerne as illustrated in this jardiniere below.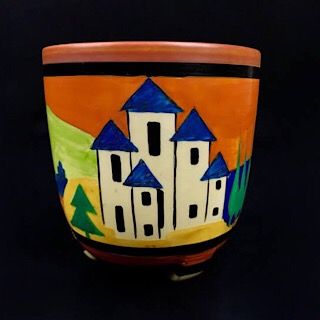 (Credit: Hemswell Antique Centres)
And Lugano shown in this Blue Tolphin jug c. 1930.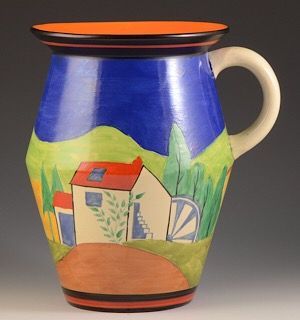 By 1932 the Appliqué range had 14 patterns: with Avignon, Windmill, Red Tree, Idyll, Palermo, Blossom, Caravan, Bird of Paradise, Etna, Garden, Eden and Monsoon in addition to the original two. (Wikipedia)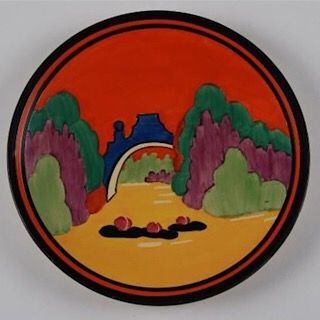 Following her husband Colley Shorter's death Clarice sold the factory to Midwinter's and retired to their home Chetwynd House. The first Clarice Cliff Exhibition took place at Brighton (East Sussex) from December 1971 to January 1972. Clarice reluctantly provided comments for the catalogue, though she refused an invitation to go to the opening. She died suddenly soon after at Chetwynd House on 23rd October 1972. Clarice's Centenary year was celebrated worldwide in 1999.
I have used the following websites for these notes.
https://en.m.wikipedia.org/wiki/Clarice_Cliff
https://claricecliff.com/home
Michelle Reddiclife is an inspiring artist from Sheffield in England. Please follow this link to read the blog on her work.
Also watch her on this video creating an image:
Michelle Reddicliffe Inspired by Clarice Cliff Colours
For those of you who are on Facebook check out the Posts by Michelle Reddicliffe. Michelle has also introduced me to the works of Susan Vera "Susie" Cooper (29 October 1902 – 28 July 1995) who was a prolific English ceramic designer working in the Stoke-on-Trent pottery industries at the same time as Clarice Cliff from the 1920s to the 1980s. Scroll down through Michelle's Facebook posts and you will see two excellent entries on Susie Cooper.