Storyline to Country: Focus on Community
Chatting about fences and gates has made me think more about communities and of course we are constantly reminded about a sense of place and community in the wonderful paintings by Tendai Makufa.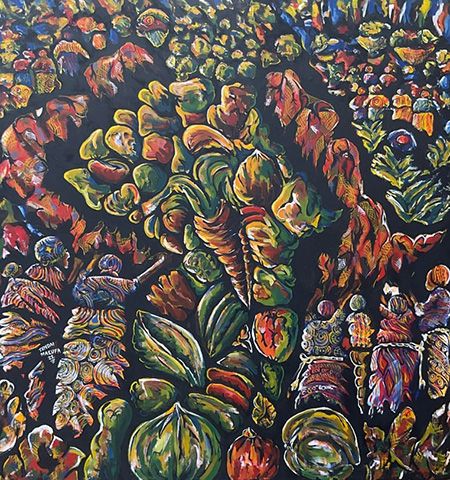 Rowdy Wylie alerted me to a photograph taken Across the Indian Ocean in India - a photograph taken by the Australian cricketer Steve Waugh which also exemplifies dramatically a sense of community. Steve Waugh said: If you want to fall in love with cricket again, there's one very particular place you need to go...It's the dusty grounds of the Azad Maidan in Mumbai — a packed patch of earth that's home to 22 cricket pitches and thousands of passionate fans and players.1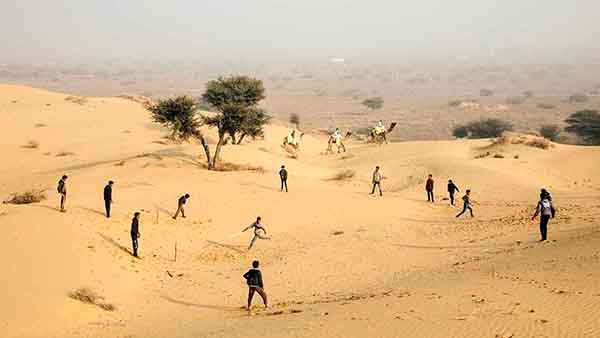 On Steve Waugh's first visit to India: he was a self-described boy from Western Sydney who was "wet behind the ears and lacking in life experience".
"It was like landing on another planet," he says.
"I was, however, immediately captivated by the spirit and energy of the people."
So, at the start of this year, Waugh returned.
This time with camera in hand and a plan in mind: to delve into the world of cricket in India in all its kaleidoscopic forms.1
Steve, along with acclaimed photographer Trent Parke, toured India snapping cricket on the beaches, the deserts and the mountains. The record of their trip has been turned into a new photography book, The Spirit Of Cricket, and a documentary of his trip is available on the ABC iView channel.
Follow this link to read the whole story Steve Waugh on cricket in India and the spot that will make you love the game again.
Of the photograph Rowdy has commented: I really like the colours of the foreground sand… the light… the distant atmospheric mist.. and apparent remoteness… I think this scene highlights the "power" of sport in uniting the people of the country and the local communities…....India's style of "beach cricket"!!!
Communities do come in all shapes, colours and sizes.
I grew up in a country town in Central Victoria and spent my first two years of teaching in a small rural hamlet coming face to face with the problems faced by rural communities. I also lived for a year in Darwin when it was just a town with a tin shed for an airport.
And I have family and close friends who have grown up in remote outback Australia where it is a daily challenge to survive largely against the natural elements of drought, flood and bushfires.
Every country town has a pub, and often several, which in the past have been a male dominated environment.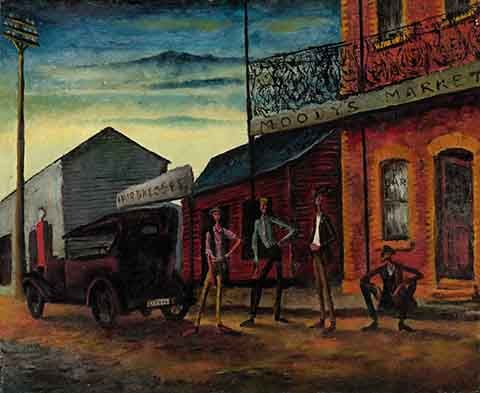 When Rowdy Wylie and I showcased the works of Clarrie Cox we found he had painted many of the national icons. Some very grand: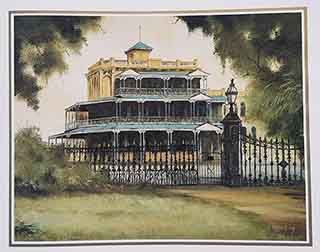 Others not so grand but equally important to the folks who depend on it for more than a drink or two.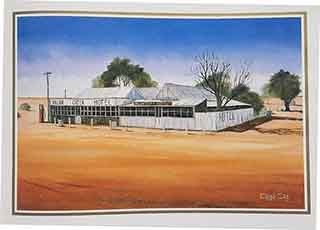 When disaster strikes everyone makes for the local pub which becomes a haven of safety and comfort. But even when life is running smoothly the local is an important meeting place as highlighted in an article The challenges of keeping a small-town pub going by Larissa Romensky 1.
Meet Julie Harrigan who runs (at least ran in 2016) the Elmhurst Pub in Western Victoria. Mother Elmhurst as she is known said: the publican held a very important place in the town..."You care for people, you listen to what people are saying and how they're saying it, and if there's something not right, your role is to very quietly and surreptitiously just try and find out what's not right." 1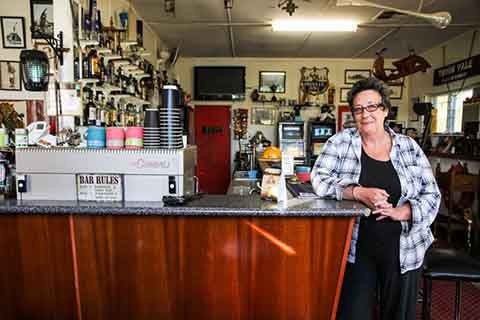 And if you prefer to have a cup of tea in a china teacup - that too is available.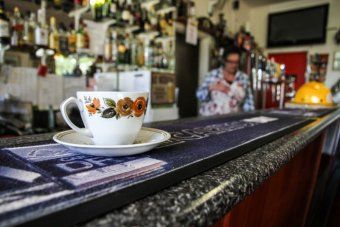 In Larissa Romensky's article five rural pub owners in Victoria share the ups and downs of running a pub in a small town as population numbers dwindle, football leagues fold and communities call upon their services for more than just pouring a beer. Check out the other pubs and stories by clicking here.
If you are planning a trip around Australia -
All over Australia you can find some very interesting and colorful pubs, some very old and with interesting histories, this provides a great way to include some history on your travel itinerary without actually having to spend time hanging around in boring museums. While in other parts of the world drinking establishments usually need to be in a town to provide a base of customers this is not the case in Australia. If you do some outback traveling you will come across pubs that can be hundreds of kilometres from the nearest town or population. The expression "build it and they will come" definitely applies here, no matter where you will build a pub, people will materialize to start drinking.
To find a list of pubs to visit click here. Have fun and don't forget to send us a post card.
And for overseas subscribers - as of this week you are very welcome to visit Australia - well 2/3rds of it!!!
In rural Australia apart from the pub, the church and maybe the bowling green, the other essential institution which keeps the communities alive and together is - the radio.
And as luck would have it our very favourite artist, contributor and friend John Pickup OAM ran the ABC Broadcasting Station in Broken Hill 1,142 kilometres from Sydney has recently produced a video on The Golden Years of Radio which we will be bringing you as a special feature very soon.
Credits
1. abc.net.au
2. artsandculture.google.com
3. Clarrie Cox Australia published by Currey O'Neil, South Yarra, Victoria, 1985. This book was produced as a follow up to Clarrie Cox Historic Towns of Australia, published by Currey O'Neil Ross, 1984.