I love this painting and had so many laughs creating the people and what they might be eating. "Mother" is using a Royal Albert teacup and drinking sherry in contrast to the others with their cheap wines. Sorry Brunswick people, you have moved on a long way from my early humorous portrayal of some of my best friends.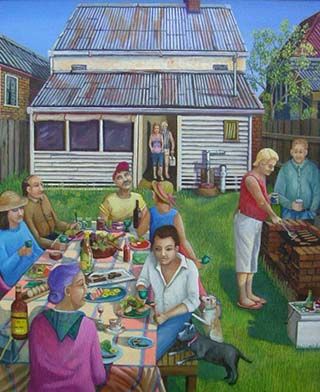 Brunswick Barbecue - Anne Newman
Original: Oil on canvas, w50cm x h60cm, framed  
The painting won a Highly Commended at the 2002 Ivanhoe Girls Grammar School Art Exhibition. My gastroenterologist loved the painting so much that I have now given it to him so that he can enjoy the humour we share.
Painting Status: Gifted