Britain's leading modern impressionist - Sherree Valentine Daines

Sherree Valentine Daines enjoys a position at the forefront of British art, and has done so for many years; described as the face of modern British impressionism, artist to the stars, (Daily Express) and the finest figurative artist we have here in the UK (Art of England). Technically brilliant, stylistically virtuosic and endlessly vigilant, she creates masterly evocations of some of the most beautiful elements of British life, from the elegance of the social whirl to the innocence of the children's seaside outing. The authenticity and accuracy of her observations are softened by her painterly, impressionistic approach, her subtle hand blending each detail into a creation of captivating timelessness. (Credit: SherreeValentineDaines.com)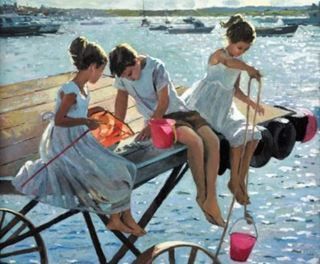 Sherree Daines is a favourite with celebrity collectors including members of the British Royal Family and former Prime Minister Sir John Major. Many famous names in the world of show-business have sat for her including Joanna Lumley, John Sessions, Lord Sebastian Coe and Sir Michael Parkinson. As the official artist of 2003's Rugby World Cup-winning team, she was commissioned to paint portraits of Jonny Wilkinson and Martin Johnson for a pair of commemorative Limited Editions (signed by both artist and player). In 2017 she was honoured to paint a commemorative 100th birthday portrait of Dame Vera Lynn, and recent sitters include celebrated British explorer, Sir Ranulph Fiennes and much loved chef and broadcaster Rick Stein.
(Credit: SherreeValentineDaines.com)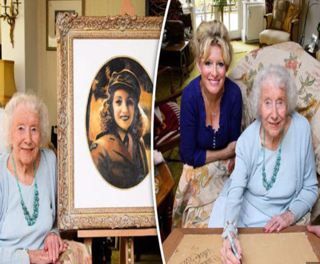 Sherree is Artist In Residence for the Cunard Line and I had the pleasure of viewing some of her work while cruising around New Zealand recently on the Queen Elizabeth. Born in Effingham in Surrey, after completing her early education, she studied at the Epsom School of Art, undertaking a fine art course. Borrowing money to stage an exhibition she soon realised her work was popular.
Her style has been influenced by impressionists including Renoir and Monet, as the works below clearly show.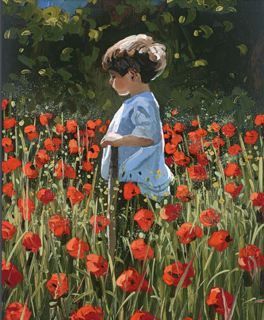 Daines images showcase afternoons in flower-filled meadows to the lawns of Ascot in the company of exquisitely dressed socialites and enchanting children. Inspirational and beautifully composed; once again, her expert handling of contrasting colours and textures has given these paintings an arresting authenticity, while her impressionistic approach creates a strong yet subtle sense of movement and vitality.
She is simply exceptional, and after more than 30 years as a highly successful artist she has a formidable reputation both at home and abroad. (credit:driftwoodcontemporary.co.uk)
In a way my paintings represent a diary of happy days and wonderful memories that I hope others can relate to and enjoy.
In May 2016 the organisers of The Queen's 90th Birthday Celebration event offered Sherree a commission to paint a portrait of the Queen as birthday gift for Her Majesty and was then invited to attend a private reception at Windsor Castle where the painting was presented to Her Majesty.
As you can see below the commissioned painting is a double portrait of the Queen and the Duke of Edinburgh in the setting of Windsor Home Park and includes Carltonlima Emma, one of Her Majesty's ponies.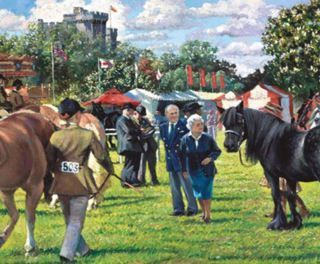 If you would like to enjoy more of Sherree's work, browse through this delightful catalog.
https://www.demontfortfineart.co.uk/mkg/newcollection-aug19-daines/