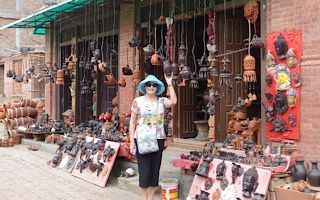 In May 2019 I spent a few daysin Bhaktapur in Nepal
Rather than noisy and congested Kathmandu, our travel agent suggested Bhaktapur, one of the 3 Malla kingdoms of the Kathmandu valley - Nepal's capital between 12th-15th centuries and until the devastating earthquake in 2015, the best preserved. The city developed to service the old trade route between Tibet and India and wears its Newari heritage. The 3 main squares are filled with towering temples, some intact, some in ruins, others being restored.
Here is an aerial view of Bhaktapur (Getty Images)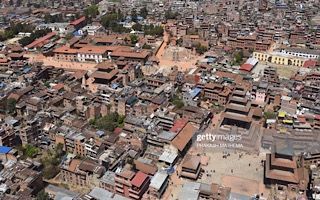 Cultural life spills onto the streets.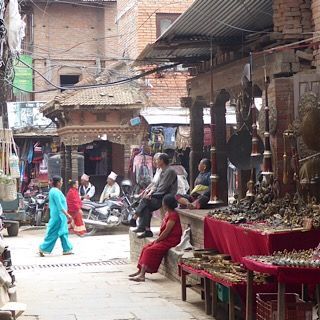 Along narrow alleys artisans weave cloth, chisel timber; courtyards filled with drying clay pots, locals gather to chat or pass the time of day on street corners, calling out a friendly namaste as we pass by, faces breaking into wide smiles.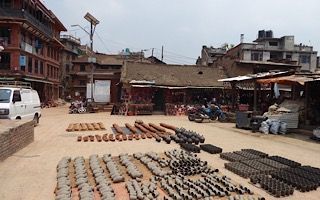 In Durbar Square (Durbar means Palace), a small group of Indian guys here on vacation, draw us into conversation, phones at the ready wanting photos with us! We two 60 something gals were pleased to see we still had what it takes! Below is a photo taken before the 2015 earthquake - golden gate and 55 Window palace on left. The building in the centre was badly damaged in 2015 earthquake. Now under restoration- out $15 entry fee to the city goes towards these works (wikimedia commons)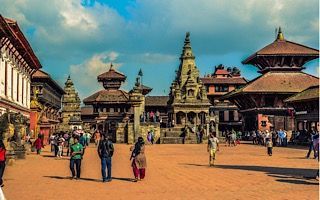 We admired the famous Peacock Window, known as the Mona Lisa of Nepal, dating back to the early 15th century, an excellent example of the local wooden fretwork.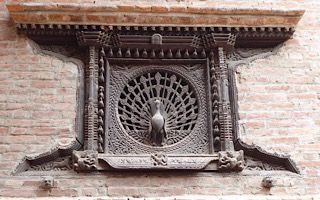 Then to Nyatapola Temple, 5 storeys towering over the square, the tallest temple in Nepal.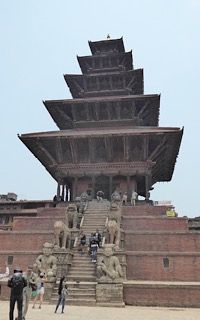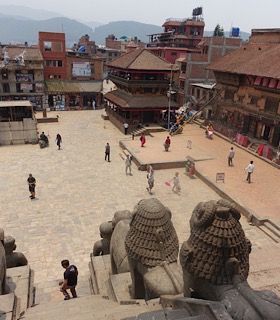 Next the Golden Gate, which dates back to the 18th century and opens to the courtyard of the Royal Palace.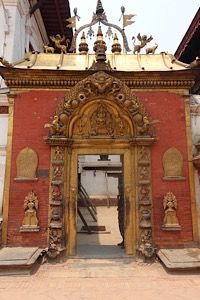 And the 55 Window Palace - yes 55 intricately carved timber windows adorn the upper level.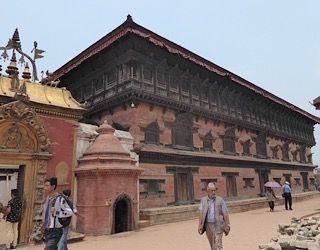 I was in Kathmandu in 1987 for just a few days and don't remember much, other than dirty, muddy streets and thousands of pigeons making a nuisance of themselves.
Streets are mainly paved in Bhaktapur, thanks to a German funded project in the 1970's, however no footpaths, making it tricky negotiating cars, buses and motorbikes, thankfully though a lot quieter than Kathmandu and the alleyways remain quiet, just street vendors plying their trade. The locals are gentle and friendly, many speak some English, happy to have a short chat or help us find our way around. The men are serious, while the women add colour in their beautiful saris.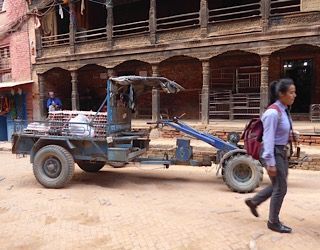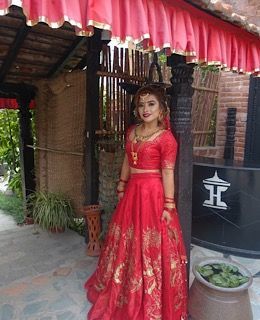 We are staying at a small hotel on the outskirts of Bhaktapur- Hotel Heritage, nestled among farmland, temples and some schools. We wake to gentle sounds of roosters crowing and Buddhist bells, later in the day laughing children. Originally a garment factory, the family had a vision to transform the property into a boutique hotel of just 25 rooms, which has won a string of awards.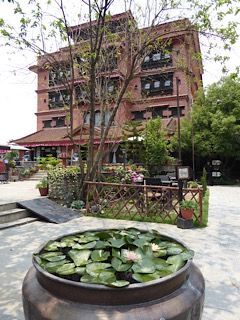 The hotel was built using century old bricks from Rana palaces, stones from 17th Century and integrates reclaimed timber and 16th century antiques. The furniture handmade by local craftsmen mostly using reclaimed wood from traditional Newari houses, Rana royal palaces and their residences. All the fabrics — curtains, cushions, bed coverings originate from the family factories. So much thought has gone into the design - each room quite different and feature detailed wood carvings, brass and copper crafts, terracotta works and Mithila paintings.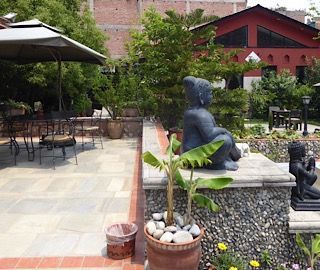 It's the low season, less than 6 guests, outnumbered by friendly attentive staff; usually we are the only guests at breakfast and dinner in the elegant dining room, enjoying delicious meals.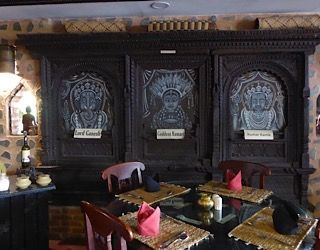 We are here for 5 nights, awaiting our Tibetan visas, the application forms 4 full pages and had to be written in our own hand. Bishal, our local guide was a great help and also briefed us on expectations in Tibet.
The local dog certainly knows how to rest and take it easy.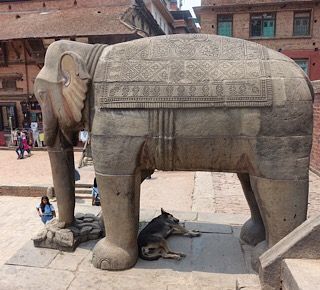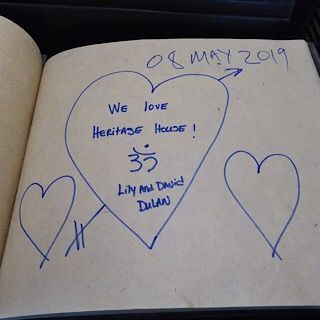 All photos are Jane's unless otherwise stated.