Belinda Wiltshire - Portraiture and Ceramics
Today we meet a contemporary Australian artist named Belinda Wiltshire based in the northern suburbs of Melbourne, Australia. Belinda works predominantly as an oil painter and ceramicist.1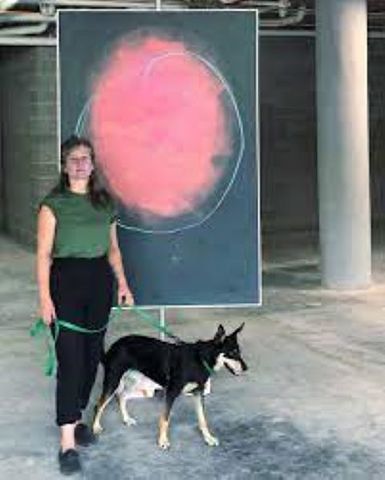 I was particularly drawn to Belinda's latest series of pottery, but she has also won a number of accolades for her painting.
These include being a finalist in the 2004 Brett Whiteley Travelling Art Scholarship, the 2012, 2016 and 2017 Black Swan Prize For Portraiture, the 2014 Benalla Nude Prize, the 2017 Kennedy Prize, and a semi-finalist in the 2015 and 2017 Doug Moran Prize For Portraiture.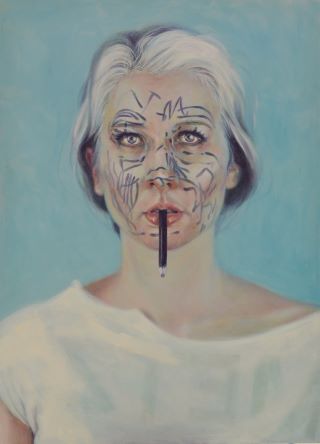 For someone who is relatively young, (in her early thirties), these awards are an outstanding achievement.
Even more remarkable, I think, is just how productive Belinda is. I wanted to write about her as I think the diversity of her art is extraordinary - Belinda can paint in the abstract genre, and also turn out pottery that is precise in its geometric patterns!
So that you can see what I mean, I think it is best to let you browse through Belinda's website yourself. Firstly, let's look at the themes of her portraits, if you'd like to click here ...........
I find it intriguing that Belinda has so many different perceptions of the world - from the people in her portraits to the messages being portrayed in the Existengia series and the Theia series.
In the News and Archive page of her website, Belinda has included some information about these series. About Existengia, she says:
"I've had this show bubbling away for a while now, and by a wonderful twist of fate I was invited to exhibit the entire series of works with 'NotFair' at their project space in Windsor, VIC." 1
"In 2019 I had an inkling that I'd like to make a body of work based around my new found fascination with micrometeorites. These tiny specks of space dust, when magnified seem almost handcrafted. These otherworldly jewels are literally alien to Earth and yet, here they are littered all around, sitting quietly, safe from the naked eye. However the more research I delved into, the clearer it became that the micrometeorites were already complete pieces of art in their own right. I needed to push past what was in front of me and toward the conceptual embodyment of this 'alien jewel'. What is a jewel to me? Is it a physical treasure or memento? Can a memento be an experience or feeling? A memory? Can a memory be a colour? I began to tap in to my own sometimes obscure memories and personal experiences, building them up on the canvas from a grain of realism and stretching them out through layers of representational colour and gesture. Each painting is intended to be slowly discovered by the viewer. A flash of evocative colour for the impatient, then a sense of movement and mood, and only then for those who have the time, lies a personal narrative at the core. The title of the series Existengia, is a portmanteau bringing together feelings of existential dread and nostalgia. To me, this is experienced in the realisation I am simultaneously standing on a rock hurtling through space held in place by gravity alone, all the while finding pause to appreciate the everyday beauty and privilege of a human existence." 1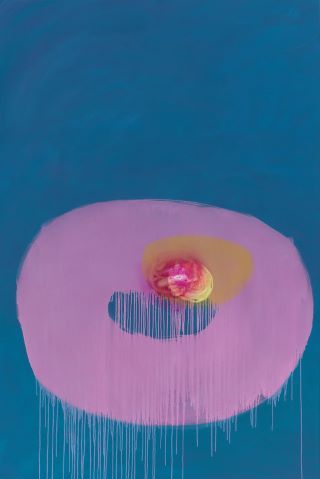 Belinda explains her Theia series as follows:
" The painting series "Theia" is seeded in the Giant Impact Hypothesis. – Theia, the hypothesised ancient planet is proposed to have collided head on with the early Earth around 4.5 billion years ago, the debris gathering around Earth to form the early Moon." 1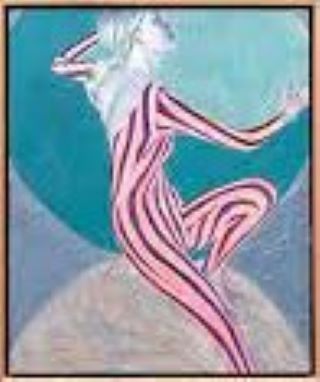 But in 2015, for a bit of fun, Belinda attended a wheel-throwing pottery class.
She dabbled in learning the craft for a few years, and then decided to focus on this art form more seriously, and she has now set up a dedicated studio for it.
Now, she floats freely between painting from her at-home studio, and working on her ceramic art at studio space in Preston.2
You might like to browse through Belinda's pottery themes as well.... Click here.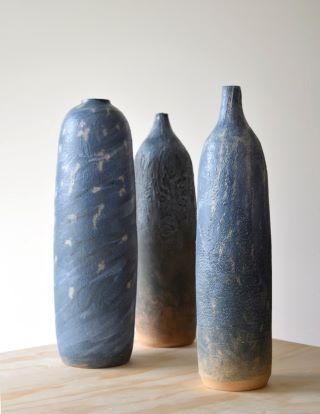 If you live in the area and would like to see Belinda's work first hand.....it is often for sale at The Maker's Market, and you can sign up to receive exhibition updates by Clicking Here.
Footnotes
With thanks to Belinda Wiltshire at belindawiltshire.com
With thanks to The Design Files