At Home with the Marvellous Movie Girls - Part 1
Before we find out about the art taste of the MMGs we have another new subscriber to welcome to our AnArt4Life blog. A warm welcome to A.L. in Donvale, Melbourne who has just joined us. And now to tell you a little about the MMGs.
We used to meet monthly for a night at the cinema, but since March 2020 our Marvellous Movie Girls (MMGs) group has not been able to go to the movies due to being in lockdown.
Covid-19, the invisible enemy, has had a devasting effect on the world and here in Melbourne it is hard to believe these eerie and ghostly images from our freeways are real.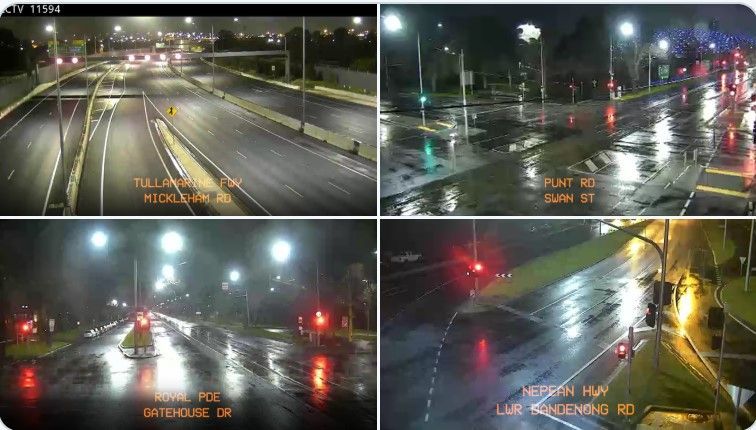 So how do we negotiate these unprecedented times?
We turn to communicating with our family and friends via phone and email.
Suddenly our little MMG WhatsApp group became particularly important as it provided a connection and validated that we are not in a bubble on our own. Instead of sharing movie reviews we were sharing tips and hints for making and wearing masks, snippets of news including pics of the newly arrived grandchild, or puppy, along with the usual funny jokes to lift our spirits.
Knowing it would be still months before we could visit each other again I thought it would be great to create a post on a favourite piece of artwork or the like, from each member of the MMGs. This would provide a great way to remain connected and have some fun albeit remotely from each other: similar to the post Jane did earlier on At Home with Jane.
How delighted I was when everyone in the group agreed to be a part of this, so I hope you enjoy the diverse vignettes as much as I do.
Jenny
My mother lived until December 2019, she was 97 years old and still had her love of art, although no longer able to paint. She started painting at quite a late age, having joined the Malvern Artist Society in her fifties and she just loved it. She was quite good and won first prize in the Malvern Art Show, with the prize being her painting hung in the Malvern Council Chambers for 12 months. She was very proud of this achievement as were all her family. After this she did get several commissions to paint for people, but she found this rather stressful, as she preferred to paint for the sheer enjoyment and choosing her own subjects.
She went through phases of switching her medium and could not decide whether oils or watercolours were her favourite, but the family loved them all.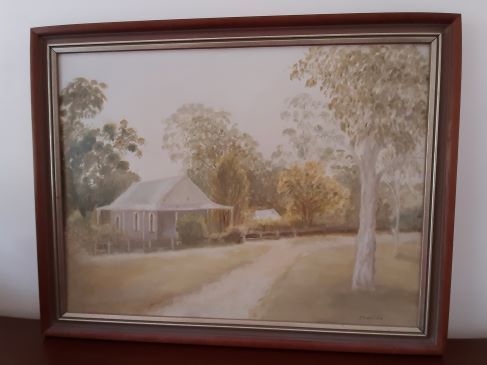 The artwork that I particularly wanted to share was painted by my mother, not long after the Ash Wednesday bushfires. The fires raged for 12 hours, in the south eastern part of Victoria and into South Australia and were declared the worst bushfires for a century. There were 75 deaths and thousands injured, while 3700 homes and buildings were destroyed. My parents had a house in Anglesea and were there when the fires started. The police came knocking on their door telling them to evacuate, which they did immediately, driving to Geelong where they stayed in a motel until it was safe to return.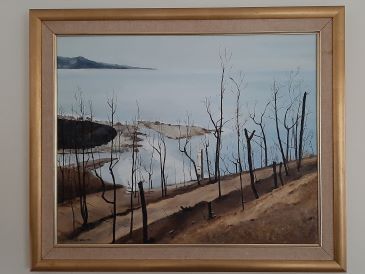 The painting was painted from a photograph that my mother took once they were allowed to return. It is taken along the Great Ocean Road, between Anglesea and Lorne. The painting has been on the wall in our family home, where my mother lived until just recently. It has always been a family favourite of my mother's artwork, because of all the memories attached to it.
We all felt it portrayed the devastation that the fires did, not only to peoples' lives, but to the bush.

Reflections from Karen
The experience of living through a pandemic and worrying about what the world will be like as we regain our normal lives has made me quite reflective about happier times, when I was able to experience life in ways that are currently just a dream.
One of those very happy times was travelling to Europe with my beautiful daughter. It was only a few years ago, but gosh it seems completely like another world now. The city we were both very excited to see was Paris and to experience that together was really special. We did of course visit the usual Parisian tourist places and greatly enjoyed them, but as with most travel, it was the unexpected and surprising events that have stayed with me.
Visiting Sacre Coeur Basilica (my request!) is one of those days that makes me very happy to reflect on – but for what came after we left the church rather than the church itself. Sacre Coeur sits high on a hill, and access to it is either via the 200+ stairs or to use the chugging little cable car. We opted for the cable car on the way up and walked down the stairs at the end of the day.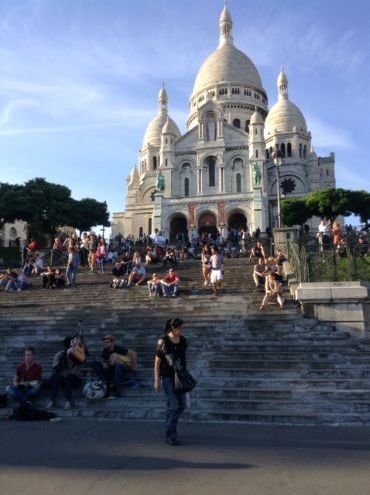 Whilst touring the Basilica was really interesting, the highlight for me came when we went for a walk around the back of it. We came across a small park, which was filled with artists actively painting in a range of genres. The day was perfect with the sun shining and not too many people around. The artists were happy to be observed as they painted, and several were willing to engage in a French/English chat with us. I think they were more interested in talking with us because of my daughter, and several asked to paint her which we politely declined. It was a light-hearted fun day and I really wanted to buy a painting to keep as a tangible reminder.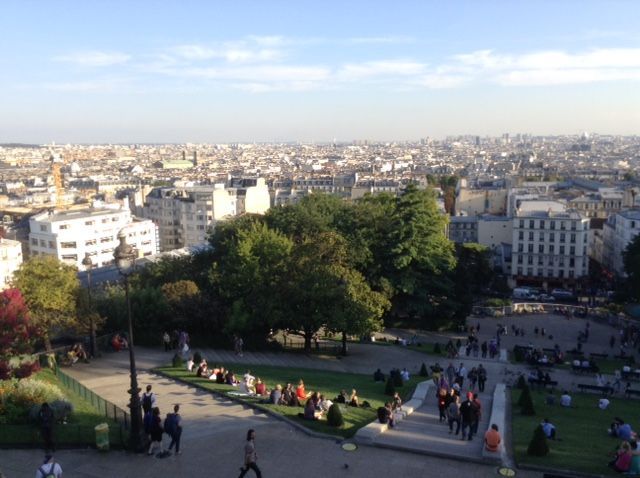 There was a coffee shop opposite the park where we sat outside trying to decide on which one we liked best from those we had seen. Once of the artists came over to us and showed us one of his paintings which is the one we instantly decided on (photo attached). Unfortunately, I do not know the artist's name, but this little picture makes me happy every time I walk past it. I had it framed very soon after we came home, and I have written on the back that it is to go to my daughter - eventually!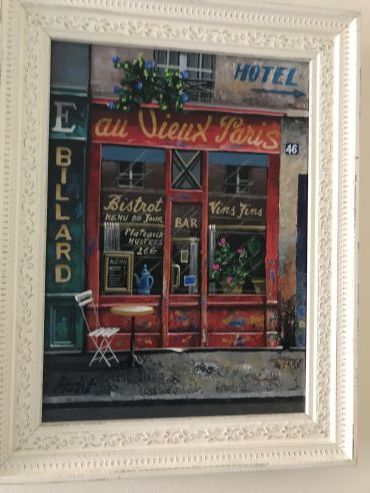 The wisdom of hindsight is a great teacher, and it reminds me to treasure all special times, no matter how small. So, I am going to try and find some positives out of this current circumstance we all find ourselves in. But in the interim, reflecting on happy times will do me just fine!
MBB
Below is an original sketch of Better Loosen Up drawn by a good friend of mine Maryanne Lillecrapp using her special oil pencils that she buys straight from Germany. All Maryanne's art pieces are originals because of these oil pencils that allow her to capture the shades and depth of colour in each individual horse from the photos she takes of them.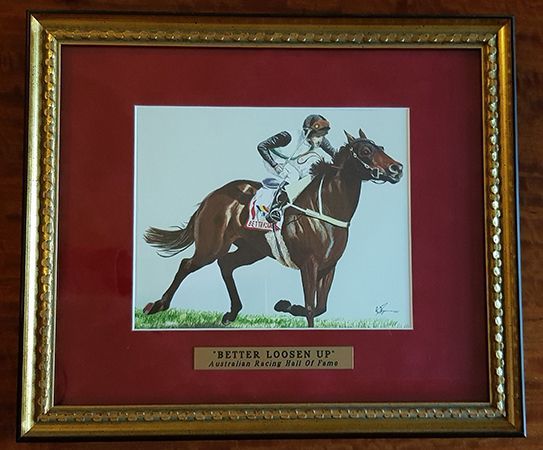 I was lucky enough to have this one specially given to me in 1991 from Maryanne and Australia's number one racehorse caller Bryan Martin. Better Loosen Up was owned and raced by my late Uncle Gabe Farrah and connections. He was the only Australian horse to win the Japan Cup in 1990 as well as many Group races all around Australia and was announced Australia's Champion Racehorse of the year in 1991.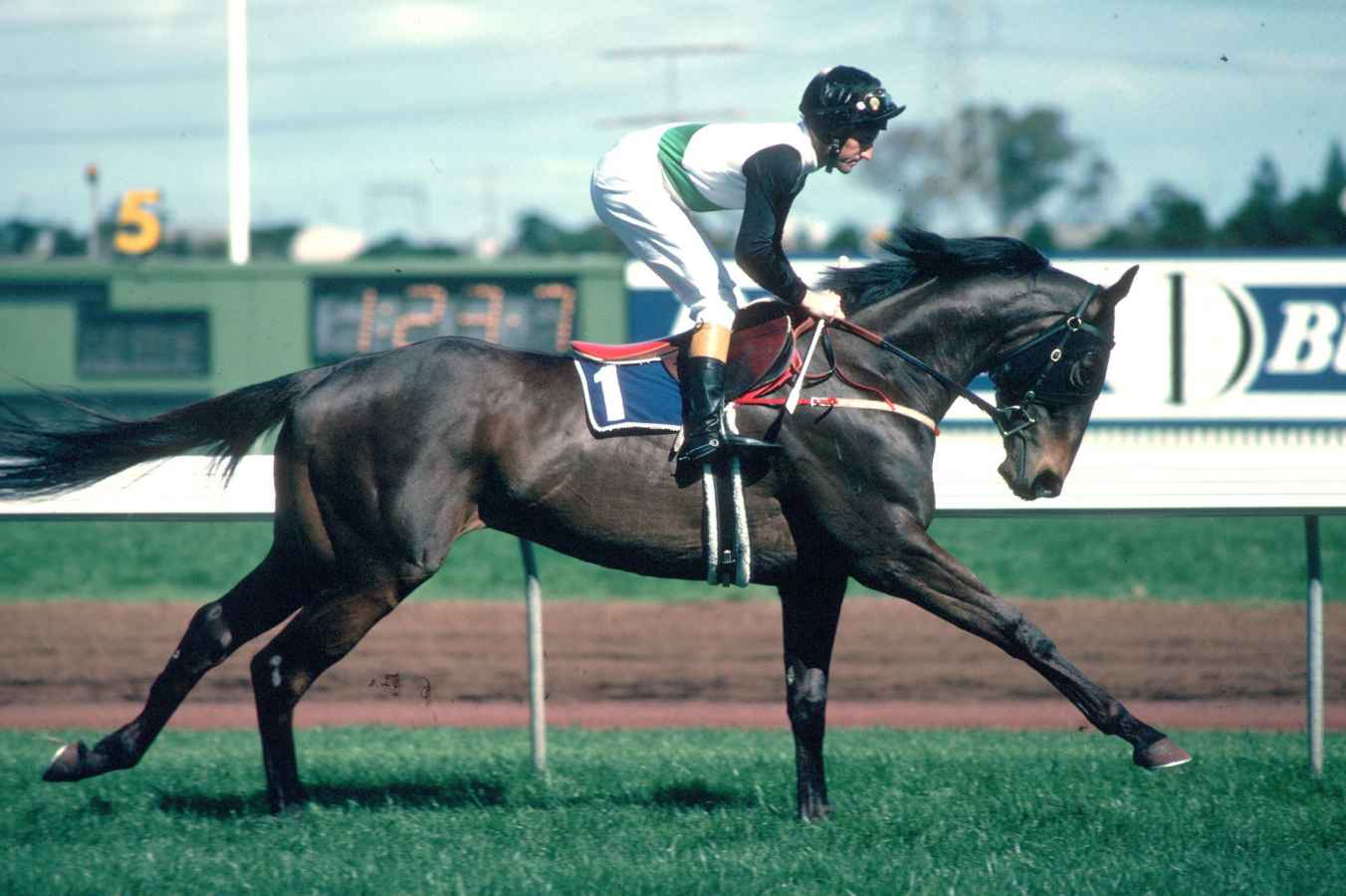 I was lucky enough to travel with my parents and uncle to see him win in Perth, South Australia, New South Wales and of course many Group 1 races here in Victoria.
He was trained by David Hayes and ridden by Michael Clarke.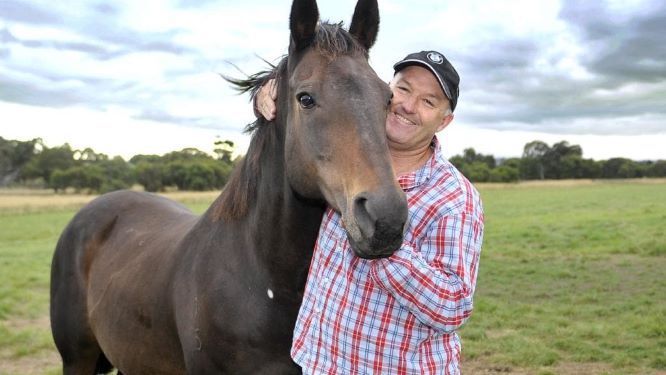 BLU short for his name, holds a special place in my heart and he walked the red carpet at the Crown Palladium in 2004 that I helped organise when he was entered into The Racing Hall of Fame . He sadly passed away in March 2016 aged 30 at Living Legends Equine Park a home for retired racehorses .
Rest Peacefully BLU
Interesting Fact from Caroline
Better Loosen Up was an enigma. Said David Hayes: "He's a terribly lazy horse. Before the Japan Cup, he ran the worst final gallop of any of the runners. Yet he came out and ran the second fastest time ever, and beat the strongest field ever". Credit text Living Legends
For those that would like to see Better Loosen Up race, you can watch him here at The Japan Cup, in front of 164,000 spectators and other trademark come from behind finishes in the Cox Plate and Turnbull Stakes.
Tomorrow, other members of the MMGs will invite us into their home to highlight a favourite artwork or memory.