Arthur Boyd: An Introduction to his Landscapes
Arthur Boyd, Self Portrait, 1935, oil on canvas, © Bundanon Trust ①
There is no doubt that Arthur Merric Bloomfield Boyd AC OBE (1920-1999), painter, potter and printmaker, stands out as one of Australia's most illustrious painters throughout the greater part of the C20th.
From birth, Arthur Boyd was surrounded by art and artists as his parents were the renowned William Merric Boyd and Doris Lucy Eleanor Bloomfield Boyd - members of the Boyd Dynasty of Artists we have been reviewing over the past months.
Arthur's family lived in the Australian suburb of Murrumbeena, Melbourne, in their home called Open Country where all members engaged in painting, sketching and modelling in clay.
Here is Arthur's painting of Open Country, painted when he was 14 years old and showing the brown weatherboard house seen through the trees and long grass.
Arthur Boyd, House at Murrumbeena 'Open House', c1932, oil on board, © Bundanon Trust①
Arthur left school when he turned 14 and went to work in his uncle's paint factory; his wages going to support the family.1 He was largely taught by his parents but he also attended art classes at the National Gallery School in Melbourne.
Below is another of Arthur's early oil paintings, Storm Sky, created when he was just 13 years old when his prodigious talent was beginning to show. The stormy sky is the dominant feature of this painting. A view across open country towards mountains lies in the foreground of the work. Reverse: thick red-brown paint has been painted on the back.1
Arthur Boyd, Storm Sky, 1933, oil on board, © Bundanon Trust ①
In this post I am going to concentrate on Arthur Boyd's landscapes because Throughout his oeuvre Arthur Boyd drew great inspiration from the Australian landscape, developing much of his art in response to particular places.2
And I have chosen three locations to illustrate the growth of Boyd as a painter and the maturing of his artistic style.
We will commence with a few examples of Arthur's early works created in Victoria when he was growing up. Then we will look at a few produced in the glorious English county of Suffolk, which Arthur found inspirational, and where he added yet another home base in Ramsholt. The post will conclude with landscapes from the Shoalhaven area of New South Wales which became his Australian home and final resting place.
The images shown in this post were made possible by the Bundanon Trust which is located on land overlooking the Shoalhaven River, near Nowra in New South Wales. The Bundanon property was a gift to the Australian people in 1993 by Arthur and Yvonne Boyd.3
Growing up surrounded by so many artistically talented people meant that there was no shortage of mentors. But it was Arthur's paternal grandfather Arthur Merric Boyd who seemed to have had the greatest influence.
When a teenager, Arthur lived with his grandfather for three years on the Mornington Peninsula, Victoria, and here he learnt much about the painting of landscapes. The two examples below were completed when Arthur was a young teenager and as the location for both these paintings is on the peninsula we can assume that his grandfather was guiding from behind the easel.
What is apparent is the confidence that the young Arthur had in brush control and in fact you can see evidence of his later mature style in the quickly executed dashes of tree branches.
Arthur Boyd, Arthur's Seat on a misty morning, 1936, oil on canvas, © Bundanon Trust ①
As Arthur approached adulthood his paintings begin to show stronger colours and dramatic brush strokes which herald his later works. And perhaps his love of the colour blue, so dominant in some of his Shoalhaven works, grew from such scenes as shown below.
Arthur Boyd, Hastings Victoria, c1937, oil on board, © Bundanon Trust ①
But being surrounded by artists was not enough for the young Arthur Boyd who set off for Europe in late 1959 with his wife Yvonne and their children. Artist, writer and publisher Gavin Fry explains the context of this move in that:
Arthur Boyd was of a generation that knew if they were to find real acceptance in their own country it had to be earned first on the international stage. The cultural cringe that dominated Australian life in the first half of the twentieth century made it obligatory to leave these shores as soon as possible to make one's mark in the wider world, with recognition in London considered the ultimate goal... Arthur Boyd followed his close friends Albert Tucker (1914-1999) and Sidney Nolan to England in 1953 and was soon showing, along with a strong Antipodean cohort, in the major commercial galleries in London.
Boyd gravitated to the suburb of Highgate Hill, close to the rural parkland of Hampstead Heath...buying a substantial property in Hampstead Lane, Highgate. The London life suited the Boyds and he worked in a range of disciplines, including etching and ceramics alongside his painting and designs for tapestry and the theatre. Despite being away from Australia for more than a decade, he still made the Australian landscape central to his work. Major commissions took him back to Australia on a regular basis, but England seemed to suit his temperament as a place to work.
While subjects from mythology and the bible dominated his major works, which he produced on an ever larger scale for large public commissions, he still found the time to make trips out into the country to paint the landscape.
He was particularly drawn to the flat coastal country in the county of Suffolk, to the point where he decided to take a long-term rental on an old Gamekeepers cottage at Ramsholt, near the mouth of the River Deben, some two hours drive from London. Ramsholt became the inspiration for many landscape paintings, in which he found echoes with the country near the Boyd family property at Harkaway and on the Mornington Peninsula, where he had painted as a teenager. 4
Below is Arthur Boyd's Suffolk landscape with fence which, for me, illustrates a marriage between the soft English countryside and the golden light of Australia which was never far from his palette. Again the unfettered brush strokes are evident if you look closely.
Arthur Boyd, Suffolk landscape with fence, 1973, oil on canvas, © Bundanon Trust ①
Below is one of my favourite Arthur Boyd paintings where he has created a magical dance within a Suffolk copse on a copper backdrop. His characteristic fleeting brush strokes are visible where the lines of the composition almost 'frolic' around the scene. Amongst the soft muted greens and blues are those wild antipodean lines which you will see pushed to dominance in Boyd's later works. And note - Boyd's works are beginning to morph into a more imaginary world.
Do take time to study the exquisite foreground in this painting.
Arthur Boyd, Suffolk copse, 1977, oil on copper, © Bundanon Trust ①
In the 1970s Arthur and Yvonne Boyd returned to Australia and eventually settled at Bundanon on the stunningly beautiful Shoalhaven River in New South Wales. He did however continue to return to his homes in the UK and Italy until his death in 1999.
Arthur Boyd was prolific in his creativity, his subject matter, his techniques and style and much of his work requires close analysis, especially in terms of the mythological or biblical themes that are imbued with symbolism. He was a man and artist of great passion with a strong social conscience and deep love of humanity.
But today we are intending only to enjoy the visual impact of a very small selection of his landscapes and perhaps one day we will return to take a more in depth review of some of his more controversial paintings.
Living and working in the Shoalhaven area enabled Boyd to create some of his most seminal works and to secure the Australian bush in the public imagination as both a representation of national identity and eternal values.1
Arthur Boyd painting in his studio at Bundanon, 1995, © Bundanon Trust Archive ①
It has been said that Boyd's work ranges from impressionist renderings of Australian landscape to starkly expressionist figuration, and many canvases feature both.5
I am going to show you three of Boyd's paintings from his Shoalhaven works where he became so closely attached to this landscape that he was able to paint it from memory.
As Janet McKenzie has observed; 'The natural beauty of the Shoalhaven area caused Boyd to marvel constantly. His paintings are a celebration of the grandeur and wonder of Nature. It is to Boyd's credit that a single landscape can inspire such diversity of work. He gives us the impression that in life there are infinite possibilities, as long as we train ourselves to see.' In his 1970s paintings of the Shoalhaven River, Boyd depicted the sandstone escarpments and untamed shrubbery using crisp lines and fine detail. However later works...employed a looser painterly technique, as the artist grew to recognise the subtleties of the region.... Boyd would at times paint with his hands, a method which enabled greater intimacy with and devotion to the subject. This physical act allowed the artist to paint with strong intent, capturing the essence of the landscape and its many nuances.6
Arthur Boyd, Shoalhaven quartet 1, 1988, silkscreen print on paper, © Bundanon Trust ①
You can't put Arthur Boyd's landscapes of the Shoalhaven in a box. The quintessential mix of expressionism and impressionism with a dash of the abstract only just begins to define them for me.
The Shoalhaven works, in all their forms and intentions, recreate the beauty of the landscape against the piercing blue that characterises these pieces and emotional responses can be felt from both the artist within and the viewer beyond. There is an engaging exaggeration of line and shape within the compositions yet the overall visual impact remains paramount.
What is special about the Shoalhaven paintings is that here Boyd has discovered his joy of light. 1
Arthur Boyd utilised a great variety of materials to convey his perception of the natural world. The last two works to be showcased today move away from Boyd's love of oil paint where the artist can merge into the scene, especially as mentioned earlier Arthur often resorted to painting with his fingers.
Below Shoalhaven quartet, 1991 is a silkscreen print on paper: the movement in the trees and foliage is magical.
Arthur Boyd, Shoalhaven quartet , 1991, silkscreen print on paper, © Bundanon Trust ①
And it is that magical tone that also attracts me to the Green parrot over Shoalhaven (below) where harmony announces that every natural feature has its place: in spite of the shock of the dramatic black lines and shapes of dying tree trunks and bark that seek to unsettle.
Arthur Boyd, Green parrot over Shoalhaven , 1996, collagraph print on paper, © Bundanon Trust ①
We have come to the end of today's viewing of some of the Arthur Boyd landscapes. Tomorrow I will return to look at another of his landscapes with a different persepctive.
But where better to conclude than inside the working studio of Arthur Boyd.
Boyd's working studio remains one of the most significant artistic sites in the country. Left as it was when he finished working there in 1998 the studio unpacks the working method of the artist and was the place where many of his greatest artworks were created, including the painting of the Shoalhaven bush on which the tapestry which now hangs in the Great Hall of Parliament House in Canberra was based.
Walking through the grounds at Bundanon, along bush and river tracks, it is possible to witness many of the scenes of rocks, orchids, spotted gums and birds immortalised in Boyd's late paintings.1
Arthur Boyd's studio as he left it © Keith Saunders ②
Concepts involve the future, possessions don't.
Arthur Boyd, late 1990s 1
If you are interested in Arthur Boyd, and learning more about him and his works, I can recommend you read the excellent article below by Clarissa Seba-Montefiore.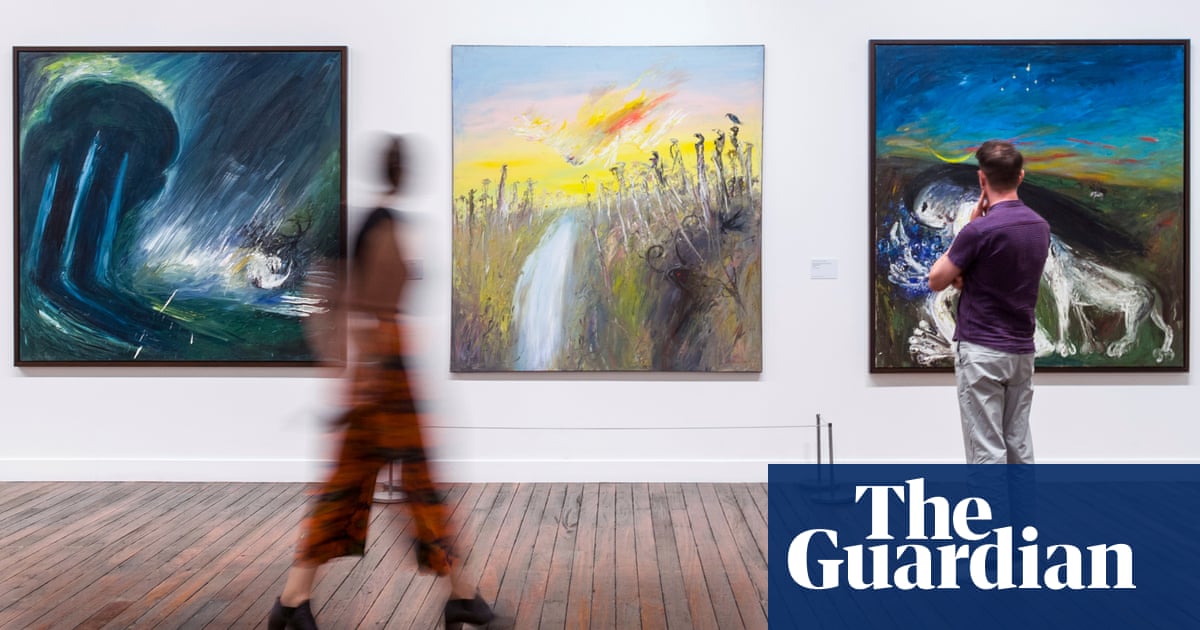 COPYRIGHT
©① Arthur Boyd's artworks are reproduced here with permission of the Bundanon Trust.
Bundanon Trust Bundanon Trust supports the development of arts practice across all disciplines through its artist in residence program; operates a residential education program for children and adults and presents a dynamic, on-site public program, including concerts and special events, open days and group visits. Bundanon Trust is a custodian of the Boyd family art collection, the historic Bundanon Homestead and Arthur Boyd's studio. Bundanon Homestead is open every Sunday between 10am-4pm. Riversdale is open to the public only for special events such as the Riversdale Concert Series. Please see the Bundanon Trust Website for more information.
©② The photograph of Arthur Boyd's studio as he left it was taken by professional photographer Keith Saunders and is shown here with his permission. In the near future we will be reviewing some of the Keith Saunders works but in the meantime please check out his website at keithsaundersphotograph
And for Instagram users:-
@sidetake201
@pinholeeditions
@keithsaundersphotography
Footnotes
1. Bundanon Trust (bundanon.com.au)
2. nga.gov.au
3. shoalhaven.com
4. menziesartbrands.com
5. en.wikipedia.org
6. deutscherandhackett.com
Postscript
Recently I was invited to visit the family home and garden of Arthur Merric and Minnie Boyd. Not only is it a beautiful property filled with the sound of past Boyd Dynasty family life, it has been lovingly restored to its former glory by a wonderful couple. More on this coming up in the blog very soon.