It's hard to find a person who doesn't like the Art Nouveau period, short as it was, lasting from about 1890 to 1910 and being replaced by Modernism. It is an international style of art, architecture and applied art, especially in forms of decorative art.
Being inspired by natural forms and structures, especially the curved lines as seen in plants and flowers, made it a particularly attractive style.
This beautiful art nouveau window is in the Art Nouveau Museum in Riga, Latvia.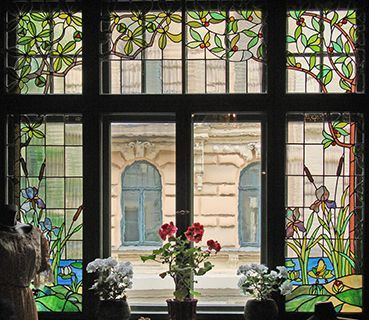 The most famous name associated with the Art Nouveau style is American Louis Comfort Tiffany (1848-1933), designer and creator of lamps, jewellery and of course windows - stained glass windows.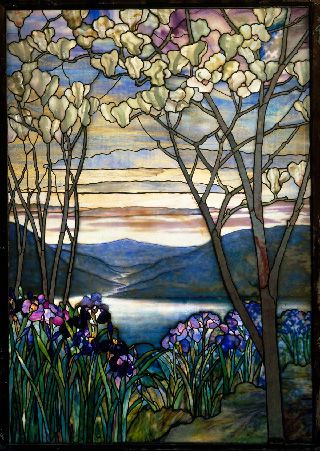 This Tiffany Studios window (above) was designed as a memorial to the Frank family of New York and was originally installed in a mausoleum of a Brooklyn cemetery. The River of Life theme is prevalent in Tiffany landscapes created for memorials. The years between 1900 and 1910 were the height of ecclesiastical window production for Tiffany Studios and figural windows were in high demand. Landscape windows, such as this example, were an appropriate alternative that provided beauty and nature in such scenes. 2
Tiffany started out as a painter, but became interested in glassmaking from about 1875... In 1879 he joined with Candace Wheeler, Samuel Colman, and Lockwood de Forest to form Louis Comfort Tiffany and Associated American Artists...lasting only four years. The group made designs for wallpaper, furniture, and textiles. He later opened his own glass factory in Corona, New York, determined to provide designs that improved the quality of contemporary glass. In 1881 Tiffany did the interior design of the Mark Twain House in Hartford, Connecticut, which still remains... 3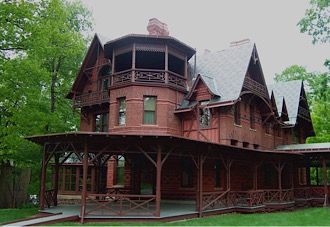 As we are concentrating on windows at the moment here are a couple of window panels from the Mark Twain House.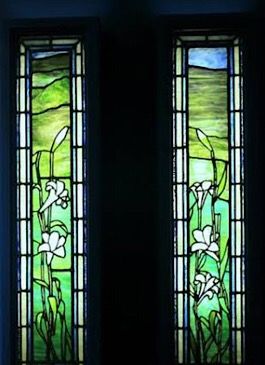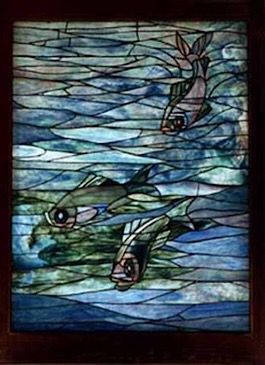 But Tiffany's new firm's most notable work came in 1882 when President Chester Alan Arthur refused to move into the White House until it had been redecorated. He commissioned Tiffany...to redo the state rooms, which Arthur found charmless. Tiffany worked on the East Room, the Blue Room, the Red Room, the State Dining Room, and the Entrance Hall, refurnishing, repainting in decorative patterns. He also installed newly designed mantelpieces, changed to wallpaper with dense patterns, and, of course, added Tiffany glass to gaslight fixtures and windows, and added an opalescent floor-to-ceiling glass screen in the Entrance Hall.3
Below is a painting reflecting the Tiffany works for the White House Red Room titled Composition in Red and Gold by Peter Waddell.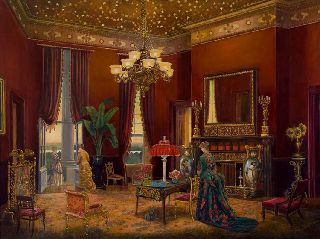 Much of Tiffany's additions were removed in the Roosevelt renovations of 1902, which restored the White House interiors to Federal style in keeping with its architecture.
In 1885 Tiffany established the first Tiffany Glass Company which, in 1902, became known as the Tiffany Studios. In the beginning of his career, Tiffany used cheap jelly jars and bottles because they had the mineral impurities that finer glass lacked. When he was unable to convince fine glassmakers to leave the impurities in, he began making his own glass. Tiffany used opalescent glass in a variety of colors and textures to create a unique style of stained glass. He developed the "copper foil" technique, which, by edging each piece of cut glass in copper foil and soldering the whole together to create his windows and lamps, made possible a level of detail previously unknown. This can be contrasted with the method of painting in enamels or glass paint on colorless glass, and then setting the glass pieces in lead channels, that had been the dominant method of creating stained glass for hundreds of years in Europe. 3
Many of the early churches in American are blessed to have Tiffany created windows. I really like the ones in the Emmanuel Episcopal Church, Pittsburgh.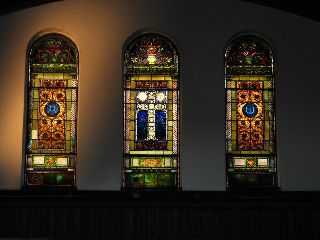 If you are interested in the use of stained glass in windows please check out this excellent article on Tiffany Glass.
The use of the coloured glass to create stained glass pictures was motivated by the ideals of the Arts and Crafts Movement and its leader William Morris in England. If you are interested, please check out the post I wrote some time back on William Morris.
Tiffany's competitors in glass making were Oliver Kimberly & Frank Duffner (founders of the Duffner & Kimberly Company) and John La Farge, all having learned their craft at the same glasshouses in Brooklyn in the late 1870s. John La Farge is particularly interesting as he was a pioneer in the study of Japanese Art, the influence of which is seen in his work. During his life, La Farge maintained a studio at 51 West 10th Street in Greenwich Village, which now is part of the site of Eugene Lang College at the New School University. This is an example of one of his windows titled Dawn in the Woods in Springtime and Sunset in the Autumn Woods as seen below.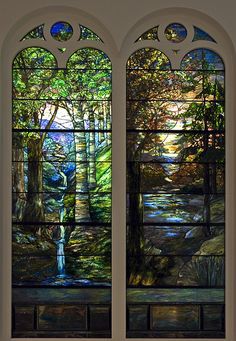 In 1893, Louis Comfort Tiffany built a new factory called the Stourbridge Glass Company, later called Tiffany Glass Furnaces, which was located in Corona, Queens, New York. Tiffany hired the Englishman Arthur J. Nash to oversee the making of the glass as the Glass Chemist.
Nash is to a great extent responsible for the magnificent works created by Tiffany. In 1900, at the Exposition Universelle in Paris, Tiffany won a gold medal with his stained glass windows The Four Seasons made from Favrile glass, no doubt created by Arthur J Nash and his son Leslie H Nash, who also worked for the Tiffany firm. Here are The Four Seasons.3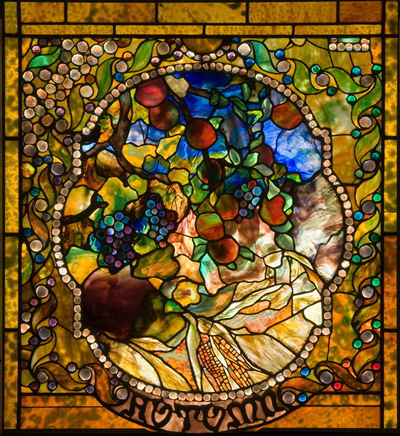 In 1902, Tiffany became the first Design Director for Tiffany & Co., the jewelry company founded by his father  Charles Lewis Tiffany in 1837.
Credits
1. art.nouveau.world
2. metmuseum.org
3. en.wikipedia.org
4. thevintagenews.com
5. flickr.com
6. pinterest.com
7. White House Historical Association
8. Pittsburgh History & Landmarks Foundation
9. morsemuseum.org