Art Murals of Sandringham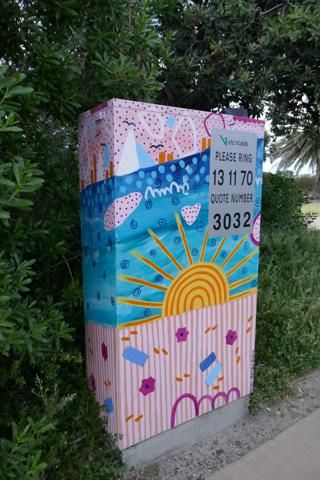 Over the last few months, I have noticed that blank walls and traffic light signal boxes were being painted with attractive art murals in my suburb of Sandringham, a beachside area of Melbourne, Victoria. The colourful art works are being funded by a grant from the Victorian Government to our local Bayside Council.
I read on the Bayside Council website that:
Many graffitists respect street art as an art form and do not like to 'tag' over it. If street art is installed on public assets such as signal boxes and bridges, it limits the areas where graffiti can be done.
Input was sought from local residents to assist with developing the themes that characterise our neighbourhood.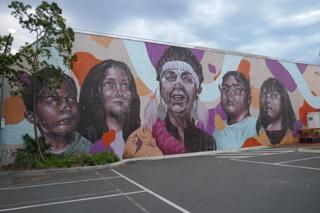 Two artists were chosen as part of the street art mural project to bring colour and life to Bayside's shopping precincts and foreshore and to deter graffiti. Jason Parker is the senior artist on the project and will be mentoring and working in collaboration with Daiana Ingleton.
Jason Parker is a fine artist/mural artist from New Zealand, currently living in Melbourne, Australia.
His work is designed to be ambiguously evocative and emotive, rendering the spirit, states of consciousness, and capturing dreamlike moments. Jason often paints visual metaphor-type portraits, figures, and scenarios capturing the moments and feelings that language fails to express.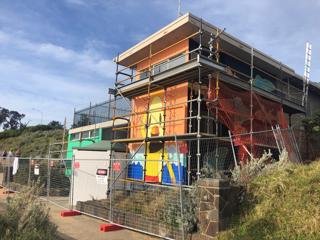 I had the pleasure of meeting Daiana Ingleton when she was working on the wall art at the Sandringham Life Saving Club.
Daiana is a young aspiring mural artist who uses colourful and cheerful illustrations as a basis for her mural painting. Daiana seeks to uplift her local community with bright walls that bring a sense of wellbeing and childlike imagination. A wonderful opportunity to showcase her skill.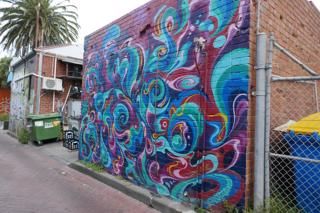 I am sure you will agree that art murals are a great reason to deter graffiti, allow budding artists to gain employment and provide aesthetically pleasing art works for all to enjoy - rather than boring blank walls.
Its a win-win for everyone!
Credits:
all images are my own
all details taken from bayside.vic.gov.au/graffiti-and-street-art-project