Appreciating the Soul of Houses: Windows
There are some artists who are interested in recreating The Soul of a House - as I define it. This might be the recreation of a special interior scene or focused on a feature such as a doorway, or a corner in a room. Today we are going to look at images of windows because looking in and looking out tells much about the house and its occupants.
American realist artist Andrew Wyeth loved to focus on Windows. My favourite is Wind from the Sea.
A close second is another Andrew Wyeth painting titled Frost Bitten.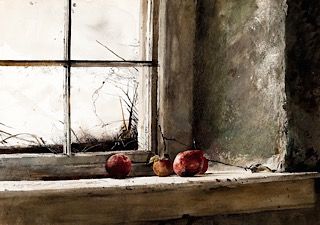 To see more windows as created by Andrew Wyeth and please follow this link for Finding Refuge in Wyeth's Windows.
For this post on Windows I have, where possible, chosen images without a distracting human or animal figures which obviously add a different perspective to the creation. French artist Henri Matisse (1869-1954) loved to paint windows so I will show you a couple of his creations. Can you imagine sitting in this chair and soaking up the serenity? I can. It sounds a perfect way to spend some time away from the busyness that surrounds our daily lives.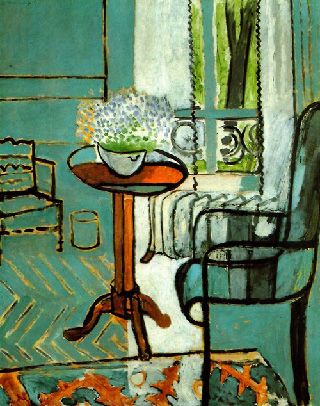 And how simple and how delightful is Open Window, Etretat also by Matisse.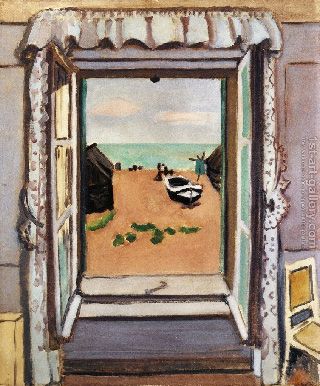 We will be looking in more depth at the works of Russian-French artist Marc Chagall (1887-1985) but today I'm including this wonderful example of looking at Paris Through the Window.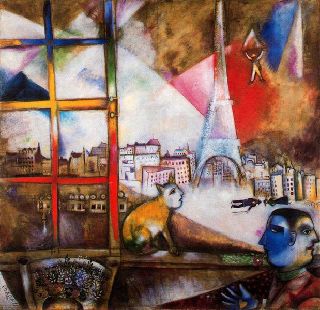 Chagall is known for his glorious stained glass windows which you can enjoy through this link.
Adolph Friedrich Erdmann von Menzel (1815–1905) is probably unknown to most of you but he is considered to be one of the most important German artists of the C19th. First known as Adolph Menzel, he was knighted in 1898 and changed his name to Adolph von Menzel. I particularly like his take on this window with the implication that inside the house is much warmer than outside. This is a cosy and comfortable room.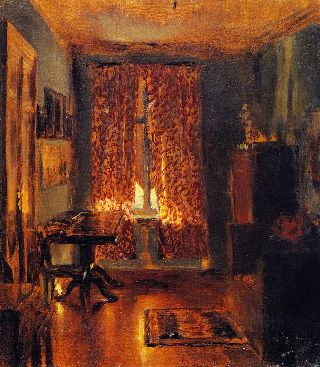 And this painting, also by von Menzel, is a charmer where you are invited to venture outside into the garden, which offers more pleasures and perhaps adventures.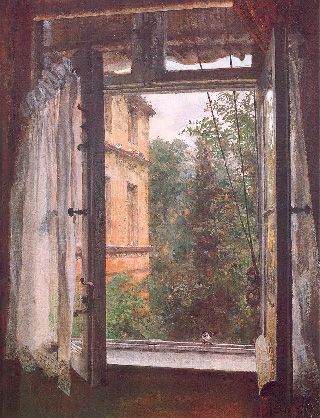 And the last of the von Menzel works for today is The Balcony Room which has much in common with the Matisse painting above except that two chairs implies company with which to enjoy the serenity of sitting in the sun. However, on closer examination you will notice that one chair is turned away, implying that someone is absent. Think about your own interpretation.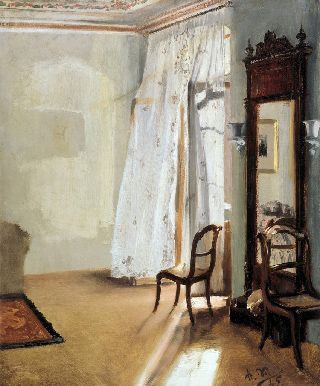 I'm going to conclude today with a photo not a painting - the windows to the soul of one of my family homes at 128 Wills St Bendigo, Victoria, Australia.

The windows were designed and created by my paternal grandfather Harold King Newman. To my knowledge, the windows and chimney pots are all that were preserved when the house was demolished earlier this year.
I want to conclude today's blog with a huge thank you to all the subscribers who have enjoyed My Favourite House Painting Exhibition. I've had many compliments and I'm purring with content.
Credits
1. hyperallergic.com
2. priorhouse blog
3. 1st-art-gallery.com
4. marcchagall.net
5. pinterest.com
6. artexpertswebsite.com
7. magnoliabox.com