An alternative view of nature: "Quantum memories"
I was fortunate yesterday to be able to go to a new exhibition at the National Gallery of Victoria (the NGV, as we call it). It's called Triennial 2020 and is the third exhibition of it's type in Melbourne.
For anyone living in Melbourne, it is definitely worth going to see. It is an exhibition of sculpture and photographs, and much of it challenges the norms of modern life. It also challenges the way we see things, where things are not always what they seem.
I could spend hours summarising the purpose and aim of each room you walk into, but I won't spoil the voyage of discovery for those who are able to see it.
Today, instead, I will focus on the very first exhibit, which hits you in the face as you move into the gigantic foyer of the NGV, (itself a vast visual space of light and angles). You are confronted by a huge media wall – 10 metres by 10 metres – showing constantly changing images of what appears to be crashing waves in beautiful vibrant colours. It is mesmerising to watch, not least because the screen appears to have white frame, yet the images look like they are bursting out of the screen towards you.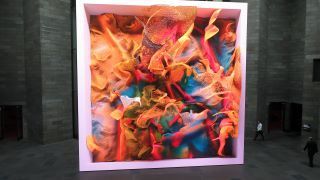 It is the work of Turkish born, LA-based, new media artist Refik Anadol and is his most ambitious project to date.
He aims to create an alternative reality, an alternative view of nature by using a quantum mechanics computing machine to compile over two hundred million images (that are publicly available on the internet) into complex algorithms, which seem real, but are not real…..
But better for you to see it in motion for yourself!
Isn't it amazing!? It is probably better to let Refik Anadol explain the project and its installation at the NGV in more detail for himself……
If you would like to read more about Refik Anadol and his other projects, click here.