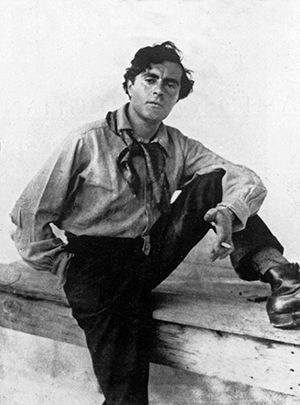 As we come to the end of Passover I am going to share a few works by the everlasting creativity of Italian Jewish painter and sculptor Amedeo Modigliani - best known for his beautiful elongated portraits. But there was much more to Amedeo than his expertise in painting beautiful women.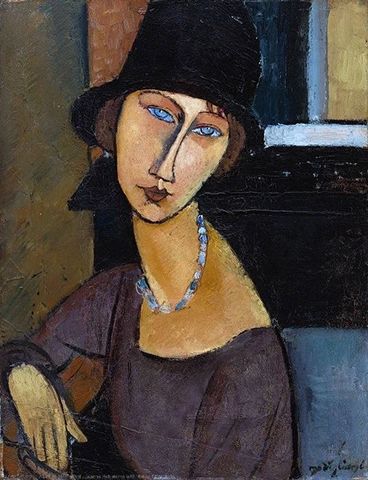 We can learn a great deal about this artist from an article Revealing the Real Modigliani By Elin Schoen Brockman.3
Brockman explains how: Modigliani arrived in Paris in 1906, the year Alfred Dreyfus was vindicated. But anti-Semitism lingered, intensified by an influx of Jewish immigrants from Eastern Europe, including artists such as Marc Chagall and Chaim Soutine. Unlike those other artists with their thick foreign accents, Modigliani, with his Italianate panache and fluent French, could have "passed." He chose not to and famously went around Paris proclaiming his Jewishness.3
Brockman's article was a review of an exhibition: "Modigliani Unmasked", at Manhattan's Jewish Museum in 2018 curated by art historian Mason Klein who said of Madigliani:
"His embrace of his Jewish otherness, at a time of intense xenophobia and anti-Semitism, was deliberate and self-affirming."3
Although direct references to Judaism are rare in Modigliani's art, Brockman points out that he makes his Jewish heritage explicit in two paintings in the exhibition, the first being The Jewess, one of Modigliani's early portraits.3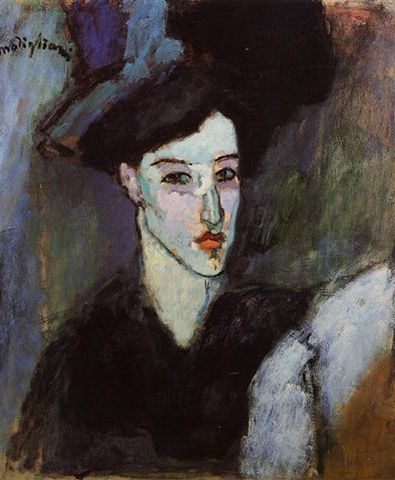 The painting of The Jewess was the first painting sold by Modigliani when he came to Paris in 19065 and was purchased by Paul Alexandre who is the subject of Paul Alexandre in Front of a Window, which, according to Mason Klein incorporates Judeo-Christian symbolism.3
Sadly Klein didn't explain his understanding of the symbolism in this painting and so I have included a Comments Box at the end of the post and hopefully someone will be able to further our knowledge of this extraordinary painting.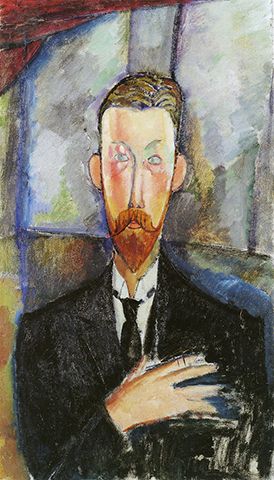 I want to know share my favourite Modigiliani painting with you - Gypsy Woman with a Baby painted in 1919.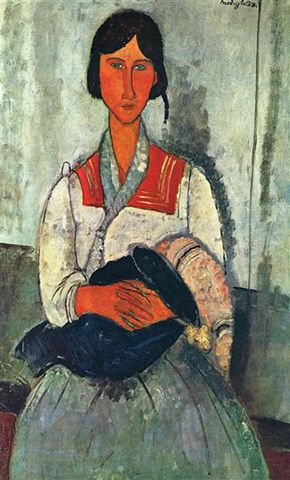 Zimra Chickering in her article Contemporary Jewish Art and the Celebration of Passover 7 has said of this painting in the Passover story, Yokheved, the mother of Moses, takes brave actions to protect her child from persecution, as the Egyptian Pharaoh ordered all Jewish baby boys to be killed. Her protective tendencies are mirrored in the mother's loving grip in Modigliani's "Motherhood". While he did not intend to paint Yokheved, the universal strength and emotional resilience in motherhood is evident in both figures. 7
As the horrors of the war we are all witnessing at the moment play out before us, it is the images of the women, being forced to flee their country with their children while the men remain behind to fight, that is most dominant in my mind during this Judeo-Christian period of reflection and hopefully learning.
To read more about the style of Modigliani please follow this link to read about Modigliani's Window into the Soul.
And a VERY HAPPY ORTHODOX EASTER TO ALL MY GREEK, UKRAINIAN AND RUSSIAN FAMILY AND FRIENDS - MAY YOU ALL HAVE A BLESSED DAY OF CELEBRATION, FRIENDSHIP AND LOVE.
Credits
1.hadassahmagazine.org
2. mutualart.com
3. Revealing the Real Modigliani by Elin Schoen Brockman, hadassahmagazine.org, September 2017
4. wikiart.org
5. theartstory.org
6. pubhist.com
7. Contemporary Jewish Art and the Celebration of Passover
by Zimra Chickering Mar 24, 2021, (emorywheel.com)