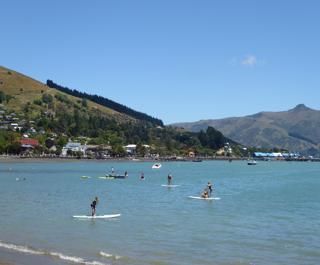 Over the Christmas and New Year period I was thrilled to cruise around New Zealand on Cunard's Queen Elizabeth. As with all my travels, art is a drawcard. From the Art Gallery on board the curator regaled us with fascinating lectures on the lives of several modern artists; to Burnie - a fabulous rhododendron garden and in Dunedin the small city gallery punches above its weight; all to be featured in future blogs. Today lets start in Akaroa, located on the east coast of the South Island.
Nestled in a beautiful sheltered harbour, surrounded by volcanic hills along Banks Peninsula, colonised by the French, it exudes a feeling of light airy sophistication, where French flags fly with pride. It was a delight to wander the waterfront and browse through shops.
The garden at The Giant's House was the highlight and a sight to behold. When owner/artist Josie Martin first turned the soil at The Giant's House about 16 years ago, her initial digs produced shards of broken crockery from Akaroa's early days.
The china belonged to the heritage of the house, so I decided to try my hand at mosaic, said Josie, who had always held a desire to create on a large scale. She began by plastering the pieces she'd found onto the front steps of her home, formerly known as Linton, a grand maison set on a hill above the township, originally built in 1880 of totara and kauri wood for Akaroa's first bank manager.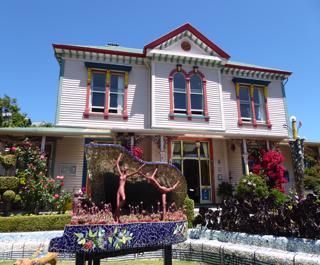 From these small beginnings came her first large-scale installation Place des Amis, a town square with a fascinating ensemble of larger-than-life characters created out of sculptured cement and mosaic. The oversized figures surround a fountain, and watching a ballerina who dances on top of it.
It took three years and lots of drawings and experiments with concrete and mosaics, said Josie, who often wondered if she would ever finish it.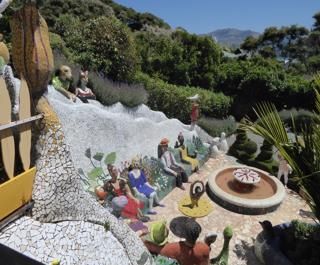 Josie describes her intriguing garden as "a continually growing, interactive work in progress." It combines her twin loves for horticulture and the arts. Surprises abound: it's an extraordinary mix of sculptured walls, mosaic steps, welded steel sculptures and other creations set amid roses and flower gardens, vegetables and citrus trees.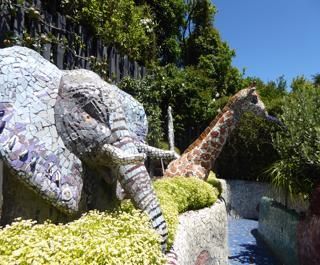 Her latest big-build is a five metre giant, which, no doubt, would delight the young child who looked up from the street below many years before, and declared that the maison it must be the home of a giant, thus giving her home its name.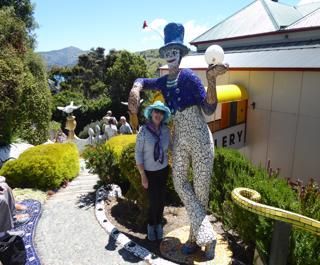 Ever adventurous, Josie is mindful of the larger world and other ways of seeing. Her elegant abstract sculptures are seriously playful and a celebration of life. They are surreal, whimsical and flamboyant, organic and eccentric –quite obvious as we see her sitting at the outdoor mosaic piano decked out in purple hat and stockings!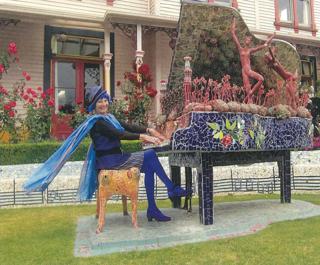 Constantly changing metamorphizing forms refer to her interest in horticulture reflecting the zany balance of nature.
As a well-known New Zealand artist, Josie has attended dozens of art residencies in as many different countries and regularly travels aboard. I arrive home fresh with lots of new ideas of things I'd like to work on and it definitely inspires ongoing work.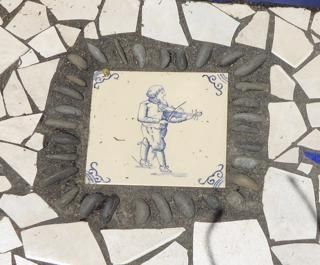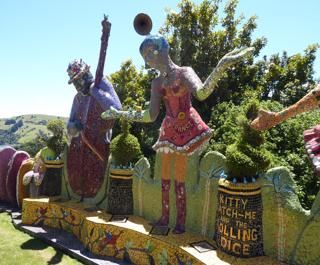 Join in an aerial view of this magical garden.
You may be inspired to stay at the The Giant's House which is a B&B with fabulously quirky interiors - or simply visit and linger in the tea garden.
Credits:
Text taken from russleyvillage.co.nz and a brochure at The Giant's House.
All photos are mine own, unless noted.