A Sense of Place: Part One
I've been thinking about A Sense of Place for a long time - certainly from before a time when, for each of us, our sense of place has been threatened and challenged. Over a series of posts I am going to examine what it means to have a sense of place. With such a complicated topic where should I begin?
At the Door I think - because the entry point into anyone's sense of place is most likely to be their actual front door to their home.
My front door is nothing special though it was recently painted by the Macedonian Shepherd who is, I will now reveal, my handyman. But for some, their front door is important and an essential element to their sense of place.
Ilona Baliūnaitė (from the BoredPanda staff) has put together an article on London's Most Beautiful Front Doors with the link given below to the article where you can vote for your favourite front door. And here are three of Ilona's selected doors.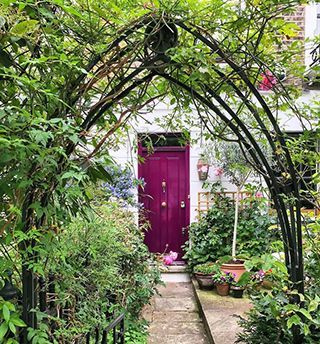 Inside my home I have four spaces that add up to give me my immediate sense of place and each of these spaces contain elements that link to other aspects of my life that also contribute to my sense of place. We all do this. We gather around ourselves: works of art, furniture, photos, ornaments, books etc that possibly are more significant than their immediate presence in your environment might suggest. Sometimes we share the significance of a painting, a piece of furniture for example, but mostly we don't. We have collected along the way all manner of possessions: selecting and building what we need to make our sense of place.
The first of my spaces is my living room which contains several pieces of significant furniture which link back to my birth home Bendigo (in Central Victoria). My father was an artisan who restored furniture hence the most dominant natural element in my place is wood. I've chosen to show you this piece of furniture which my father recreated using a cabinet from his uncle's dentist surgery (bottom of the cabinet) and the top was made using doors from a cabinet he purchased at an auction sale plus he added the drop down desk (middle) and shadow boxes on each side in the middle to fill in the spaces! Inside are most of my ornaments collected over many, many years.
This cabinet is like a mind map to my past.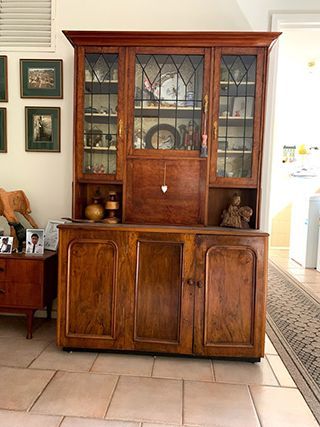 And also in this living room is a bookcase that connects to my sense of place in several ways. I have lots of bookcases but this one is special because it belonged to my favourite uncle who had a profound influence on my perception of the world and as he lived in Sydney the bookcase connects me to this glorious city.
It also contains my significant books: a full set (13 volumes) of the Oxford Dictionary, my collection of Emily Dickinson poetry plus other favourite poets, my collection of books on Scottish history, my favourite novels - yes To Kill a Mockingbird is in there but also many H.E.Bates. My sense of place must contain books.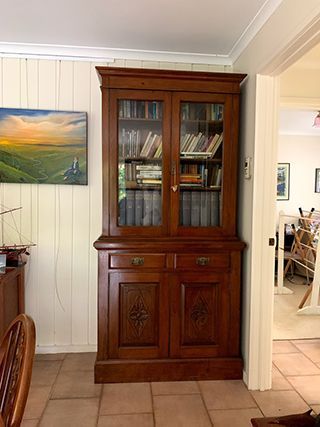 The next space in my home that contributes substantially to my sense of place is my studio which is going to be cleaned up as part of my forced semi-sequesterment. You can see the Macedonian Shepherd painting coming along nicely.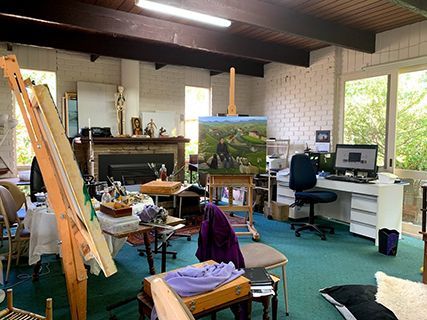 I thought at this point you would enjoy seeing some of the studios belonging to famous artists. Click on this bookmark.
My third space is my bedroom and study which contain two special corners. One corner contains my teddies, an L.S.Lowry print (given to me as a child by my favourite uncle who owned the bookcase above), an Edward Hopper print (my favourite American artist) and a Tunbridge Wells jewellery box which belonged to my mother. And of courses, who doesn't have a special place for significant photos? All linking back to the past. All securing my sense of place in this world.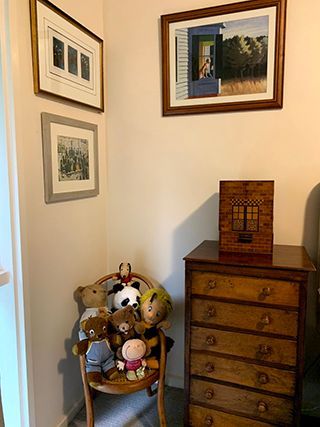 Lastly and most probably the most significant space is my garden. So far I haven't had to be tested by removing me from nature but I don't think I would cope well.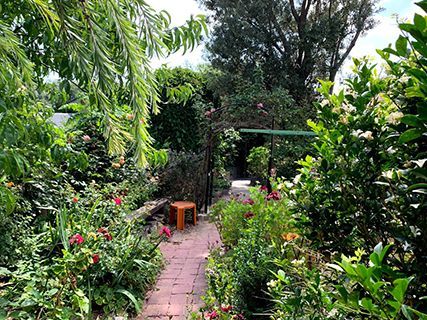 So now that you have a little idea of my ground space, spend a little time thinking about your own sense of place and the elements that combine to create the ground on which you stand.
Start by thinking of your beginnings, where you were born, where you lived as a child, as a teenager.
Your sense of place definitely arises from your beginnings even if you haven't thought about this. I'm interested in the origins of artists and how these beginnings have influenced their creative works. I referred to this in a past post on the Russian born artist Marc Chagall.
Marc Chagall's birth town of Vitebsk, originally in Russia but now part of Belarus, figures greatly in his works and is key to his sense of place. Below is his chilhood home built by his father in the early 1900s. It now serves as a House Museum containing a collection of household articles, as well as the copies of archival documents and works by Chagall, relating to the artist and his family's life in Vitebsk.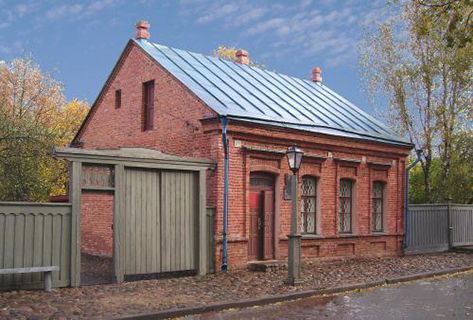 And this is the Marc Chagall Art Centre also in Vitebsk, established in 1992, it constantly exhibits graphic works by Marc Chagall (lithographs, wood cuts, etchings, aquatints). The Art Center's collection consists of a series of illustrations to Nikolay Gogol's poem "Dead Souls" (1923-1925), a series of colored lithographs from the Bible Scenes, made in 1956 and 1960; a cycle of colored lithographs "Twelve Tribes of Israel" (1960) and other works by Marc Chagall.(chagal-vitebsk.com)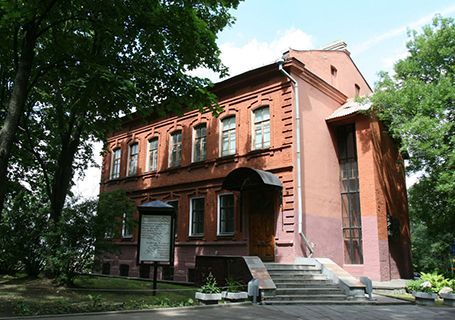 The Marc Chagall National Museum (Chagall Biblical Message) is a French national museum dedicated to the work of painter Marc Chagall - essentially his works inspired by religion - located in Nice in the Alpes-Maritimes.
The Nice National Marc Chagall museum, was created by the artist's will to bring together in one purpose-built place his most important biblical works : the 17 paintings which make up the Biblical Message.
Tomorrow we will return to look a little closer at Chagall's Vitebsk paintings and how they help define his sense of place.