A gallery of "seismique" proportions!
You may be aware that immersive, interactive art displays are the latest thing in the art world.
We've featured the fore-runners of these, being L'Atelier Lumieres in Paris, The Lume in Melbourne, and Lightscape at the Botanic Gardens, amongst others, all of which can be found under Installations in our TagCloud click here.
But one of the latest in out there light show experiences is called Seismique, in Houston Texas. In 2020, Steve Kopelman and Josh Corley teamed up to make use of a struggling shopping mall, dwindling in a post-covid world.
The result is that they have turned 40,000 square feet of space into 40 galleries (or galaxies as the creators like to call them)! They now jokingly say that "the only thing we kept from Bed, Bath & Beyond was the 'Beyond."
These 40 galleries use over nine million LED lights and over 111 projectors to create the various interactive exhibits!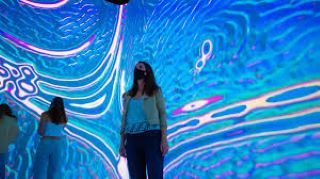 Upwards of 60 different artists and craftspeople have combined extra-terrestrial beings, artificial intelligence, immersive experiences, gamification, and dazzling displays of light, color, sound, and natural elements. It's all designed to stimulate the imagination, heighten curiosity, inspire wonder, and – most importantly – deliver an extreme dose of fun for both young and old. 1
Every room is different, from a Japanese-inspired undersea mural, to a fluorescent jungle, to a mirrored ballroom, and on to several interactive pods where kids can flip switches, push buttons, and rotate dials to see if anything happens! 1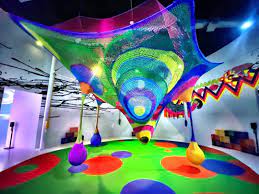 As part of its mission to support the local artistic community, Seismique reserved 12 of its 40 galleries for Houston-based artists to create their own unique vessels of intergalactic expression through wide-ranging art forms. Seismique is now the perfect venue to exhibit the works of established and emerging artists. 1
You can learn a little about some of the artists involved if you click here.
But Seismique is not just an immersive art museum. It also offers multiple event spaces for meetings, events, and live performances of all kinds, plus educational workshops for students across Houston who may be looking for technology-driven learning opportunities in S.T.E.A.M. (Science / Technology / Engineering / Arts / Mathematics). 1
If you live in Houston, Texas, you can go and experience Seismique for yourself! But for those of us from other parts of the world, the following 9 minute video is a great tour of what maybe experienced there!
Transport yourself there!
Footnotes
With thanks to the Seismique website, www.seismique.com